Syria - Syrian civil war
Syrian civil war
The Syrian uprising began in March 2011. The "reformer"
Assad
immediately started killing thousands to hold on to power. The West foolishly delayed helping the rebels, despite the fact Assad has long been one of their worst enemies.
A large part of the rebels gradually got taken over by jihadist vermin of all stripes. While Assad was helped out by Russia, Iran and Hezbollah. Weep for Syria.
The West should have acted quickly to kill Assad in 2011. What a tragedy that the West has no proper leadership.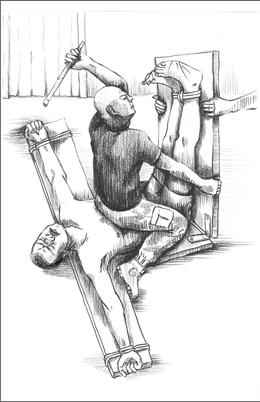 Syria: Documented Torture Methods
, report by Human Rights Watch of torture by Assad during the revolution, June 28, 2012.
Assad is truly his father's son now.
He is truly a brother of Saddam Hussein now.
See the full HRW report:
Torture Archipelago
, 3 July 2012.
And
press release
.
---
The dictator Assad responded to the rebellion by slaughtering tens of thousands of his people with advanced weaponry.
The "reformer" Assad
slaughters hundreds in Homs
as he tries to cling to power, Feb 2012.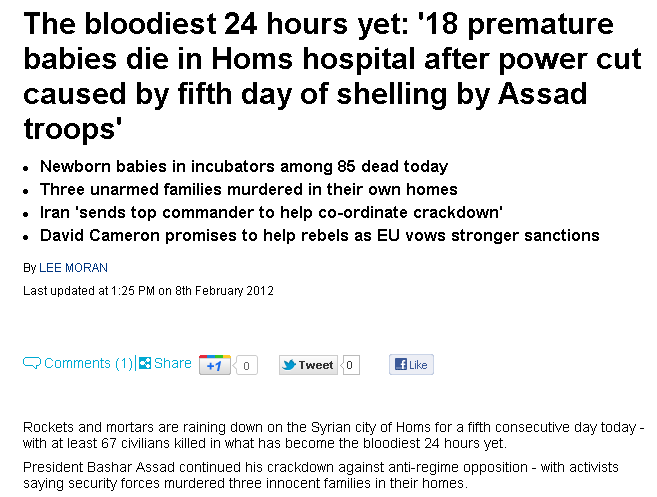 A typical headline from the Syrian uprising, as the dictator Assad slaughters his own people.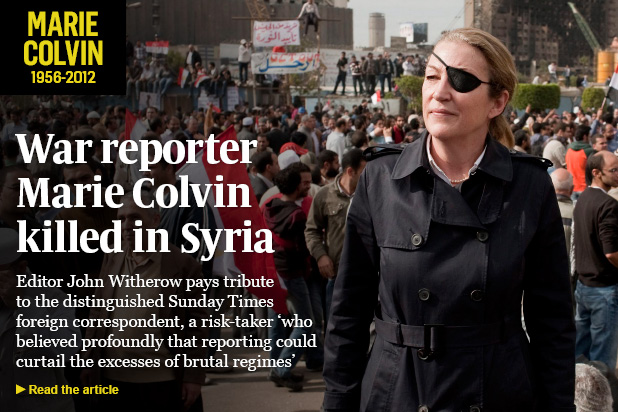 Marie Colvin, killed by the butcher Assad in Feb 2012.
From Sunday Times.
---
The pro-Assad cleric
Mohammed al-Bouti
(or
al-Buti
) was killed in a Syrian rebel bombing in Mar 2013.
The disgusting Mohammed al-Buti supported offensive jihad to forcibly convert the world to Islam and impose sharia law on all people. And more and more.
He supported jihad: "Its goal is the exaltation of the Word of God and the construction of Islamic society and the establishment of God's Kingdom on Earth regardless of the means. The means would be offensive warfare. In this case it is the apex, the most noble Holy War. It is legal to carry on a Holy War."
He supported forced conversion: "It may be said, 'What is the value of a faith in Islam which is a result of a threat? Abu Sufyan, one moment ago, was not a believer, then he believed after he was threatened by death.' We say to those who question: What is required of an infidel or the one who confuses other gods with God, is to have his tongue surrender to the religion of God and to subdue himself to the prophethood of Muhammad. But his heartfelt faith is not required at the beginning. It will come later."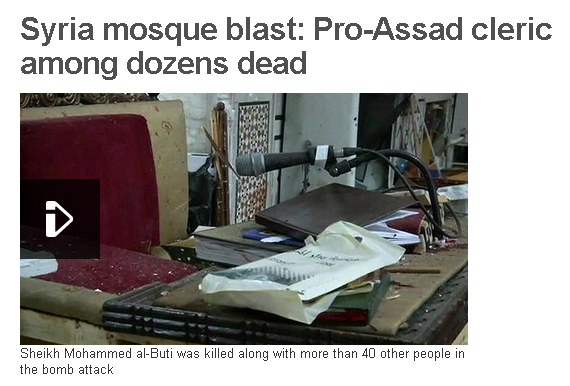 More blowback. The pro-jihad, pro-sharia, pro-Assad cleric Mohammed al-Bouti is killed by a Syrian rebel suicide bomber in Mar 2013.
Now that's ironic!
From
BBC
.


Jihad-promoting cleric Mohammed al-Bouti denies that his religion is peaceful. (English edition of his book Jurisprudence of Muhammad's Biography was published 1988.)
He then illustrates this beautifully by getting killed in a suicide bombing.


For any idiot (like Trump) who thinks that Assad is "anti-jihad":
Ahmad Badreddin Hassoun, the Assad-approved, Assad-supporting, Grand Mufti of Syria, threatens suicide bombing in Europe and the US, 2011.
---
Assad is an anti-American, anti-Israel butcher who must be overthrown. He is a state sponsor of terror. No westerner could possibly desire the survival of his regime.
However, this is the Middle East, where no revolution ends in anything good. The rebels have been joined by jihadists who are just as bad as (if not worse than) Assad. Weep for Syria.
Syrians celebrate the
suicide bomb attack on top Syrian regime figures
, 18 July 2012, which killed the
Minister of Defense
, the
deputy Minister of Defense
(and brother-in-law of Assad) and the
assistant vice president
(and former Minister of Defense).
Talk about irony. The Syrian regime supported the Iraqi jihadist suicide bombers for years. Now the Assad butchers get blowback.
But this also shows the increasing jihadist nature of the rebels. The crowds above display the black flag of jihad and chant "Allahu Akbar".
Max Boot, 18 July 2012, agrees that "It is hard not to see some element of cosmic justice here". But he is worried: "suicide bombing is never the weapon of the moderate. ... fighting in this way bespeaks a fanaticism that does not bode well for the future ... there is a great danger that America's hesitancy to get involved on the rebel side has ceded the momentum to jihadist suicide bombers."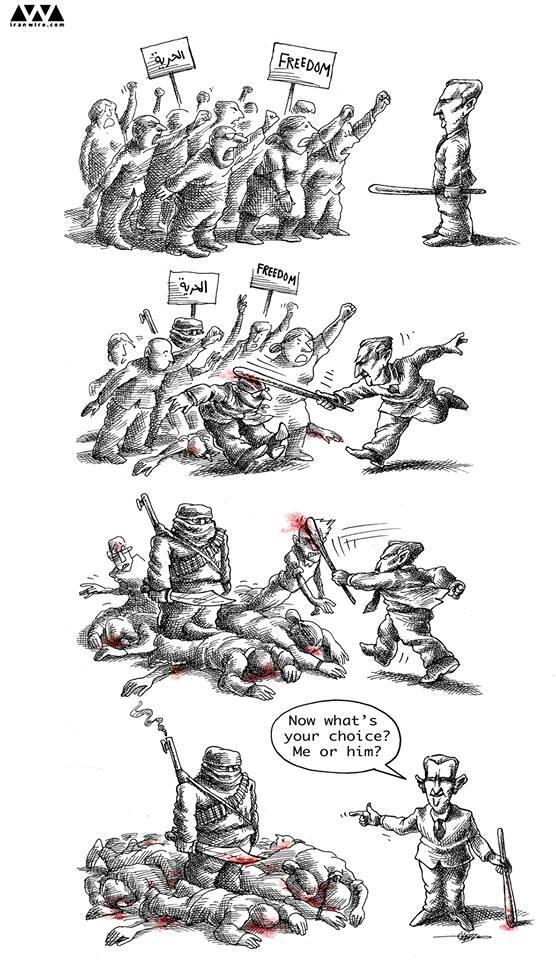 Sums up the tragedy of the Syrian rebellion.
By Iranian artist Mana Neyestani (lives in exile in France).
From here. See discussion.
---
Human Rights Watch
report on war crimes by the Syrian rebels in the 2013 Latakia offensive.

Syrian rebel supporter tweets during the Innocence of Muslims riots of Sept 2012.
He is spreading the idea that the Syrian rebels are terrorists that the West should not support.
Maybe we should listen to him.
---
Some English speaker among the rebels in
Kafr Nabl (also spelled Kafranbel)
, Idlib Governorate, Syria, is producing banners so eye-catching that people think they are Photoshopped. But they are real.
See image search of banners from "Occupied Kafranbel".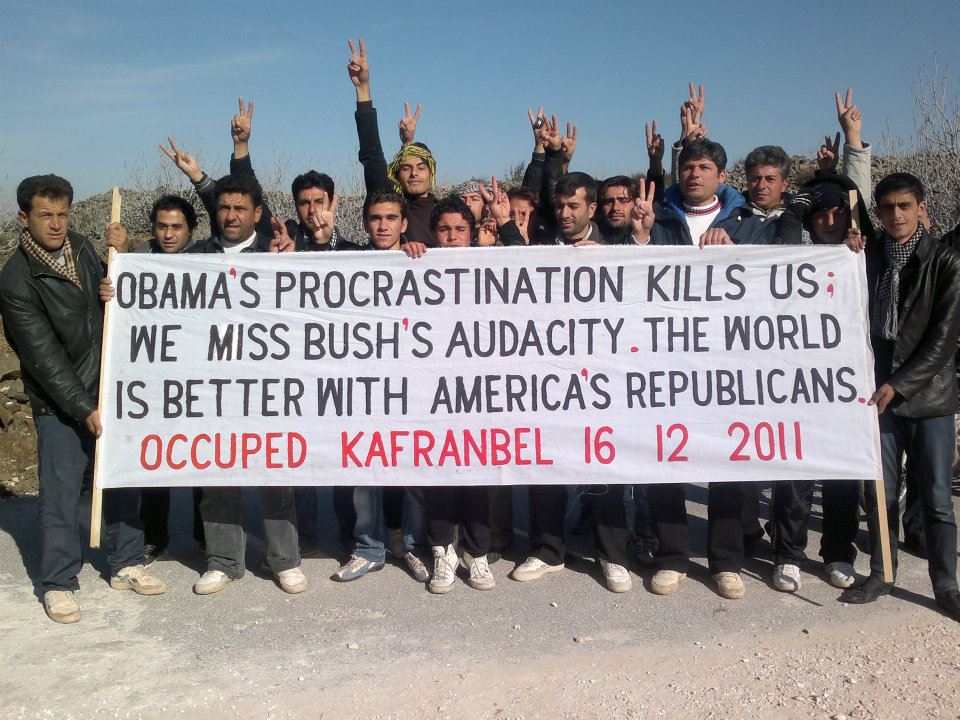 Syrian rebels against the butcher Assad hold a banner, Dec 2011, wishing Obama would support their fight.
Text of banner reported here and here.
Moe Lane shows it is a real banner and there are other similar ones.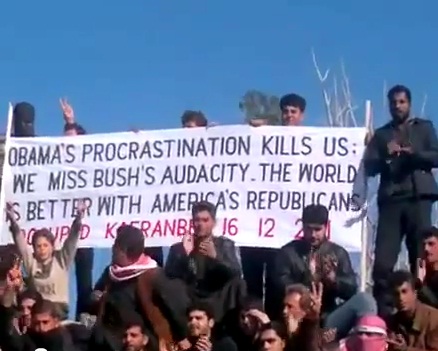 Screenshot from this video shows it is real.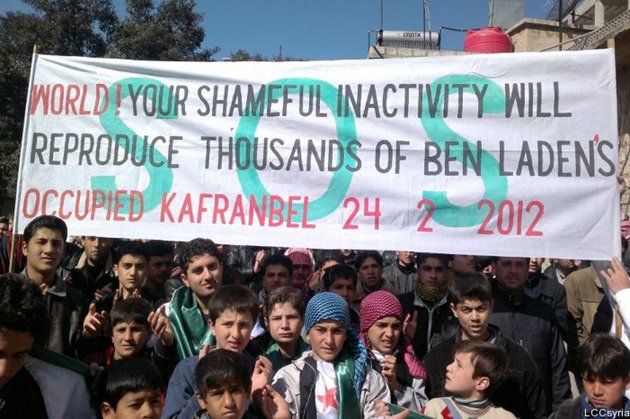 The same people produce this ill-advised banner in Feb 2012, as the world does nothing.
I don't really believe they are threatening us with Islamic terror. (After all, they said they liked Bush.)
But it sounds like a threat.
Well that's not going to make anyone help them. Idiots.
---
With
Iran and Hezbollah
backing Assad, and
the Sunni dictatorships and Sunni jihadists like Al Qaeda
backing the rebels, the Syrian civil war has become
a wider Sunni-Shia war
.
Leading Sunni cleric Youssef al-Qaradawi calls for war against Iran and Hezbollah, June 2013. Oddly, Stalin and Hitler aren't friends any more! "Sheikh Qaradawi said he was mistaken in his previous support of Hezbollah and Iran".

See video and transcript of Qaradawi: "I defended Hizbullah when it was fighting Israel. I defended them when the most important sheiks in Saudi Arabia warned against Hizbullah ... After all, I want to unite the Muslims and bring them together. The Muslims are fighting the Zionists. How could I possibly take the same position as the Zionists? But it turns out that the sheiks .. saw things more clearly than me."
Obviously I agree that Sunni jihadists should attack Hizbullah with everything they've got.
As Robert Spencer says, this might be bad news for Syria but good news for us: "This escalating Sunni-Shi'ite conflict over Syria could put a serious crimp in the jihad against the West."

The disgusting Sunni-Shiite violence that ruined Iraq under the Americans has come to Syria. And no westerner is to blame. Rather, Islam is to blame. And Assad, who for years encouraged the disgusting Sunni-Shiite violence in Iraq, is now suffering from it in Syria.

Hamas/MB/AQ falling out with Iran/Hizbollah/Assad. Maybe this is the only positive thing in the entire Arab Spring.

State-run Iranian news agency calls for destruction of House of Saud, Oct 2013: "What the world needs to realize is that the House of Saud is not just an enemy of Islam, it is indeed the arch-enemy of the entire human civilization."

Black comedy:

Atheist Suicide Bomber Kills Eighteen Agnostics. Parody of Sunni-Shia violence. "STOCKHOLM - In a frightening display of rising sectarian violence, an atheist suicide bomber blew himself up on a busy street in Stockholm three days ago; killing eighteen agnostics and wounding over thirty. ... prominent agnostic leaders and bloggers have already began urging retaliatory attacks in what is an ominous sign for the future of sectarian violence in Sweden. ... SALF, and the atheists they claim to represent, believe that there is no god, agnostics believe that there may not be a god. To outsiders, this difference in doctrine seems almost irrelevant; to believers it is a question of life or death. Therefore, such a small difference in doctrine can create such explosive hatreds, divisions and violence."
Sunni jihadist rebels on a sectarian rampage against the Shia in Hatla, Syria, June 2013.
They rant about jihad and Allah, and curse the Shia and the Christians.
They carried out a
massacre of Shia
and
blew up the Shiite mosque
.
Assad is the enemy of the West. And these jihadist rebels are the enemy of the West. Weep for Syria.
---
Who has done most of the killing of civilians in the Syrian civil war?
On the one hand, ISIS, with genocidal attacks on minorities in Iraq and Syria - and utter contempt for human life.
One the other hand, Assad, with an air force and advanced artillery - and utter contempt for human life.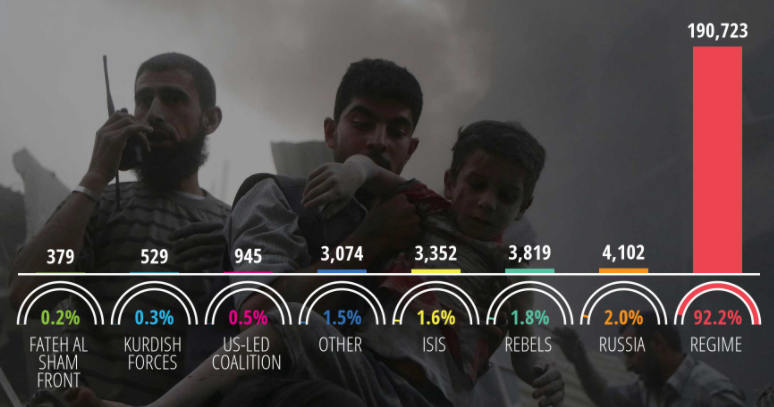 Who killed civilians in Syria, 2011-2017.
From
here
. Using the numbers from
Syrian Network for Human Rights
.
I find it credible that Assad, with an air force and artillery, killed the majority. But I do not find the low numbers for his opponents credible. This says ISIS only killed 3,300 civilians in Syria. Even if we accept that most ISIS killings were in Iraq, not Syria, this number seems way too low. Though I admit I cannot find any other estimate.
---
The debate on Western intervention came to a head in Obama's 2nd term.
Arguments in favour of attacking Assad:

Assad should have been killed or deposed years ago. He has long been an enemy of America and Israel.
Assad is actually killing far more people even than his jihadi enemies.
Killing dictators is good. Anywhere, anytime.
To deter chemical weapons use.
To inflict a defeat on Iran and Hezbollah.
This is a big opportunity to destroy Syria's strategic weapons, which threaten Israel whoever runs Syria.

Arguments against attacking Assad:

The rebels include jihadists and Islamists.
If the rebels win, there could be a massacre of Christians and other minorities.
If the rebels win, there could be an Islamist state which would be the same as or worse than Assad.
Obama is the wrong guy for the job. He doesn't know what he is doing. He doesn't understand the region. A guy who supported the Muslim Brotherhood in Egypt has no credibility when it comes to Syria.
---
After Assad's massive chemical weapons attack on civilians in 2013, Obama did nothing. Obama and his team are simply the wrong people in power at the wrong time.
One report shows so clearly how Obama's team are the wrong people to have in power:

Samantha Power thought Iran would not like Syria gassing its people because Iran was itself gassed in the past by Saddam.
What? Why on earth would the Iranian regime care if Syrians were gassed by the million?
Has she no clue how regimes like Iran think? They don't even care about the Iranian people, let alone the Syrians. The Iranian regime doesn't care about human suffering. Never has. Never will. It doesn't even know what you are talking about. Samantha Power is projecting her alien western values onto a regime that has not the slightest interest in them. As a tweet says: "Wow, they actually believe their ridiculous view of the world. They are like children."

Obama has no western allies:

Obama has spent much of his time in office snubbing American allies like Britain and Israel. And he seems not to have a clue what to do in the Arab Spring. (Supporting the Muslim Brotherhood, for Christ's sake.) So it is no surprise that (in contrast to Bush) he failed to assemble a coalition for Syria.
Obama's lack of credibility is perhaps the main reason the British voted No.
Barack Obama is proving an embarrassing amateur on the world stage compared to George W. Bush, Nile Gardiner, August 30th, 2013. "George W. Bush was widely mocked by the Left during the Iraq War, with liberals jeering at the "coalition of the willing," ... But the coalition also contained .. Great Britain, Australia, Spain, Italy, Poland, and 16 members of the NATO alliance, as well as Japan and South Korea. In Europe, France and Germany were the only large-scale countries that sat the war out". "As it stands, President Obama's proposed military coalition on Syria has a grand total of two members - the US and France."
"In marked contrast to Obama, President Bush invested a great deal of time and effort in cultivating ties with key US allies, especially Britain. The Special Relationship actually mattered to George W. Bush. For Barack Obama it has been a mere blip on his teleprompter. ... Obama simply hasn't bothered making friends in Europe, and has treated some nations with sheer disdain and disrespect, including Poland and the Czech Republic."

Charles Krauthammer, 5 Sept 2013, points out that Israel doesn't talk endlessly and do nothing. In fact, Israel has already attacked Syria. "Here's how deterrence works in the Middle East. Syria, long committed to the destruction of Israel, has not engaged Israel militarily in 30 years. Why? Because it recognizes Israel as a serious adversary with serious policies. This year alone, Israel has four times conducted airstrikes in Syria. No Syrian response. How did Israel get away with it? Israel had announced that it would not tolerate Assad acquiring or transferring to Hezbollah advanced weaponry. No grandiloquent speeches by the Israeli foreign minister. No leaked target lists. Indeed, the Israelis didn't acknowledge the strikes even after they had carried them out. Unlike the American president, they have no interest in basking in perceived toughness. They care only about effect. They care about just one audience - the party to be deterred, namely Assad and his allies."

Obama does nothing / gets played by Russia.

In the end, Obama backed down and did nothing. Well, he has some ludicrous plan whereby Syria will give up its chemical weapons for some unknown reason. All overseen by Syria's close ally Russia.
As Charles Krauthammer, 12 Sept 2013, says: "Putin doesn't care one way or the other about chemical weapons. Nor about dead Syrian children. Nor about international norms, parchment treaties and the other niceties of the liberal imagination. He cares about power and he cares about keeping Bashar al-Assad in power."
Russia's only military base outside the former Soviet Union is in Syria, at Tartus.
Russia has no interest whatsoever in Syria giving up weapons, and this plan will do nothing.

The Poles (1980) had Reagan. The Iranians (2009) and Syrians (2011) had no one.

I feel sorry for the Syrians that they had no Reagan to help them.
Imagine an American President who seized the chance in 2011 and launched a furious assault on Assad, helped democrats take power, and then strongly and endlessly asserted that all American support was dependent on the new regime respecting minority rights. Offering generous US aid, but no sharia and no persecution of minorities or the deal is off. The US could have built an ally. No American boots on the ground. No need for jihadis to fight. A truly great American President could have done this. Obama never could.

The above was my "Axes of the world" page in
2005
.
Since I am a neo-con bastard, I was describing Assad's Syria as part of the "Axis of Evil" since at least
2003
.
But Democrats like Barack Obama, John Kerry and Hillary Clinton do not think like the neo-cons. They did not see Syria as an enemy of America. So when the war broke out in 2011 they saw no pressing need to help topple Assad. They did nothing.
Finally, in 2013, they seem to think Assad is a bad guy.
By the way, my "Axes of the world" page itself had to be retired in the Obama and Trump eras, once it was clear that America was no longer leading anyone.
This was in retrospect the only real chance for the Syrian people:
The Romney-Ryan ticket in the 2012 US election.
They got 61 million votes, lest we forget. That America will come back some day.
---
Obama left the Assad regime in Syria largely alone. It was a war of choice. He declined to start it.
But he did start a campaign against ISIS. He had no choice. The Assad regime did not go around the world killing Westerners and forcing the West to fight it. But ISIS did.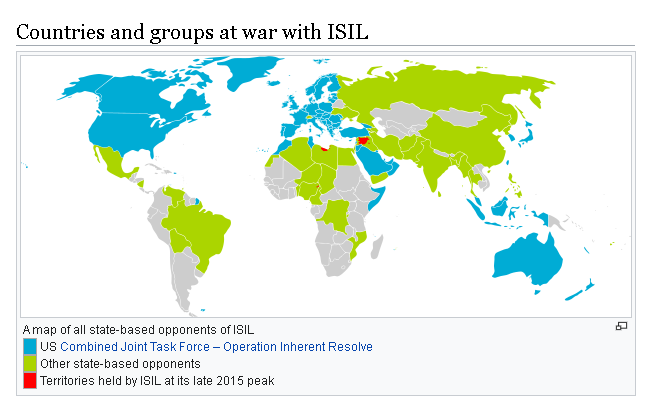 ISIS begged the whole world to go to war with it. And the world did. And ISIS was destroyed.
From
here
.
---
Trump inherited a successful campaign against ISIS, and a half-hearted campaign against Assad. He continued both.
Half-hearted campaign against Assad:

Ultimately half-hearted, because Assad did not threaten the West.
Assad carried on to more or less win the war.

Successful campaign against ISIS:

The anti-Assad rebels:

Israel has been involved in Syria in a very controlled way - purely to defend itself against Iran.

Israel has taken very seriously the attempt by Iran to establish bases in Syria to threaten Israel. There has been a relentless Israeli campaign of airstrikes against Iranian bases in Syria.
Good news: Iran is Pulling Out of Syria under pressure of IAF airstrikes. Analysis of 9 May 2020. "The blood-curdling warnings issued by Iran, threatening Israel with a terrible vengeance, have had no effect on the IAF. The Israelis, undeterred, keep on with their crippling air campaign. Iran, it turns out, takes a while to learn its lesson, but eventually it does so".