Bethlehem
The case of
Bethlehem
in the Palestinian Authority illustrates clearly the failure of western Christians to stand up for the rights of Christians in the Islamic world and the third world.
Bethlehem, birthplace of Jesus, is now under Islamic terrorist rule. And Christians in the West don't care.
Christians in the West sing hymns about Bethlehem every Christmas, but they don't care about the state of the real Bethlehem. Even worse, many of them support Islamic terrorist rule of Bethlehem.
Life for Christians under Islamic rule in Bethlehem today.
---
Bethlehem becomes Muslim:

Bethlehem was 90 percent Christian, 10 percent Muslim, in the 19th century.
Bethlehem was 85 percent Christian in 1948.
Bethlehem was 54 percent Christian in 1967.
Bethlehem was handed over to PA rule in 1995.
Bethlehem was 40 percent Christian in 1998.
Bethlehem was 15 percent Christian in 2009.
Bethlehem was 12 percent Christian in 2016.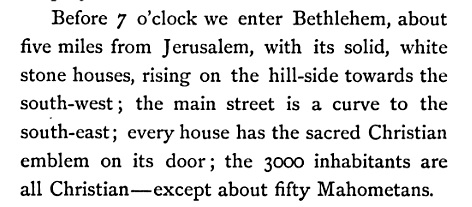 Report in 1868 that
Bethlehem is 98 percent Christian
.
From
p.116
of
The Olive Leaf: A Pilgrimage to Rome, Jerusalem, and Constantinople
by William Wyndham Malet (1868).


Report in 1871 that Bethlehem is 90 to 93 percent Christian.
From p.148 of Eastern Sketches by Ellen Clare Miller (1871).
Bethlehem today is 12 percent Christian.
---
The persecution of Christians in Bethlehem by Islamists is a case study in how the western Christian churches fail to stand up for third world Christians against their tormentors.
There were 20,000 Christians in Bethlehem in 1995, when Israel handed over Bethlehem to Arafat and his Islamic terrorists. By 2010, there were only 7,500 Christians in the town. A few more years of PA rule and Bethlehem will be entirely Muslim.
Articles:

The Catholic church:

Cardinal Cormac Murphy-O'Connor, head of the Catholic church in England and Wales, deplores the exodus of Christians from Bethlehem, Dec 2005. Yet he blames Israel rather than the true reason for the slow ethnic cleansing of Christians - Islamic fundamentalism and Palestinian Authority rule.

The Anglican church:

The idiot Archbishop of Canterbury, Rowan Williams (and here and here) bemoans the (Islamist) persecution of Christians in Bethlehem, Iraq and the Middle East, Dec 2006. And then he blames Christians and Jews for it, rather than the Islamists. He blames America, Britain and Israel for somehow having policies that "enrage" the Islamists and make them persecute minorities (which they would never do otherwise, apparently).
Rowan Williams "understands" rather than attacks the Islamist killers, torturers and persecutors of Christians, and even says we should give them what they want. The message they receive is that violence works, keep it up, and even escalate it. Far from standing up for Christians worldwide, he is encouraging their persecutors to keep going.

Peace on earth, but hatred towards Israel - Melanie Phillips on the Archbishop of Canterbury, December 18, 2006:

"the principal reason for the Christians' flight is Muslim violence. Indeed, if it were Israel's behaviour it would hardly be only Christians who were fleeing."
She quotes a report that says: "Every one of the more than twenty Muslim states in the Middle East has a declining Christian population. In fact, Israel is the only state in the region in which the Christian Arab population has grown in real terms - from approximately 34,000 in 1948 to nearly 130,000 in 2005."

More from Melanie Phillips on "the appalling misrepresentation of the Church of England of the plight of Bethlehem's Christians and the scapegoating of Israel for their situation by the Archbishop of Canterbury."
The Christmas libel, Melanie Phillips, 18 Dec 2007. "a few years ago Bethlehem was mainly Christian, now it is 80 per cent Muslim .. Might the fact that such a dramatic change occurred simultaneously with Bethlehem coming under Muslim control after Oslo ... just possibly have something to do with it?"
Hamas rally in Bethlehem in 2006. From
here
.

"Christmas 2007". From Dry Bones Blog.
And more.
---
The PA allows Christians who hate Israel and like the PA to speak and organise and travel.
It suppresses Christians who like Israel and dislike the PA.
Palestinian Christian churchmen visit Ireland, Apr 2013, and blame Israel for their problems.

One says: "In 1945 there were 32,000 Palestinian Christians in Jerusalem, now it's 10,000 to 11,000".
These are strange stats. Why just Jerusalem, rather than all of Israel? Maybe Christians prefer to live in Tel Aviv?
Anyway, according to these stats of Christians in Jerusalem, there has been little change (in fact, a small rise) in Christian numbers since 1967. Whatever he is complaining about took place before 1967, not since. Before 1967, Jerusalem was completely different.
The Christian clerics claim they are "second-class citizens" in Israel, and at "almost at every level of life there is discrimination". The article does not however list any examples of this "oppression".

Anti-Israel (and pro-Islam) Christians

It is sadly true that many Middle Eastern Christians blame the Jews rather than the Muslims for their problems. Why is a mystery.
I guess it is hard to escape the ingrained habits of 1,300 years of dhimmitude. For 1,300 years they had to please their overlords. And turning to, say, the tropes of Christian anti-Semitism is a lot easier than standing up to the jihad (which may get you killed).
Christians Beatify Their Palestinian Nightmare, Giulio Meotti, 22 May 2013.
It was even a Christian that fired the first shot of the modern global Islamic jihad: Sirhan Sirhan in 1968.

Why we don't hear Christians complaining:

What would happen if you disagreed with the anti-Israel churchmen? What would happen if you criticised the PA?
Richard Landes on how the silence of the victims in a tyrannical society is not understood by idiots in the West: "The silence is a direct function of the issue about which it does not speak. ... We in civil society do not have a clue how rare and precious our ability to speak up. This means that, faced with a choice between reading silence as evidence of calm, or as evidence of violence, we will naturally prefer the former explanation."
Christy Anastas
, a Palestinian Christian from Bethlehem, dissents from the Fatah line that all must follow.
In the video, the creepy Fatah hypocrite Saeb Erekat promises human rights some day, but not yet.
Then Christy Anastas speaks. She starts slow, talking about children encouraged to fight the IDF and getting killed. But already you notice she is not totally blaming the IDF.
It then gets more interesting. She blames the PA, not Israel, for the massive drop in the Christian population of Bethlehem. She says Christians in Bethlehem have to pay jizya protection money.
Her family home is right beside the Israeli wall. She notes the terrible impact the wall has had on their lives. But she does not blame Israel for building it.
It is all quite refreshing, though some religious codology comes in later. Israel won the 1973 war because of the western way of war, dear, not because of God.

Any Christian who speaks about life in the PA will, of course, have to leave. She flees to the UK. "I got threatened to be killed for sharing my beliefs and views. Well, Israel doesn't kill us or threaten us for sharing our views. Palestinians do. I was shocked, I was furious".
---
If Jesus came to Bethlehem today - he would be killed as a Jew within hours.
We take it for granted that no Jew could exist or live in Bethlehem.
Letter writer Terence Mendoza, December 31, 2007, points out how shocking this is. That if the biblical Joseph and Mary travelled to Bethlehem today, they would be slaughtered as Jews within hours. "Mary and Joseph, being Jewish, would be putting their lives at severe risk by entering this Judenfrei area."
A children's Christian book
(also
here
) asks what if Jesus were born today.
The sad answer is that if a Jewish family went into Bethlehem
today
, they would be killed.


The charity War on Want produced these Christmas cards in 2006, with a real feel of anti-semitism.
They did not, however, show what happened to Joseph and Mary after they entered Bethlehem.
As Jews, they were immediately killed by the Palestinians.

'If Jesus were to come this year, Bethlehem would be closed', Phoebe Greenwood, The Guardian, 22 December 2011.
A disgusting piece in a disgusting paper.
She notes the massive decline in the Christian population of Bethlehem, and blames it not on corrupt and oppressive Fatah rule, and Muslim persecution of Christians, but rather on ... Israel! She does not mention the massive increase in the Christian population of Israel.
She also shows no understanding that if Jesus really were to come to Bethlehem today, without IDF protection, he would be killed by the Palestinians.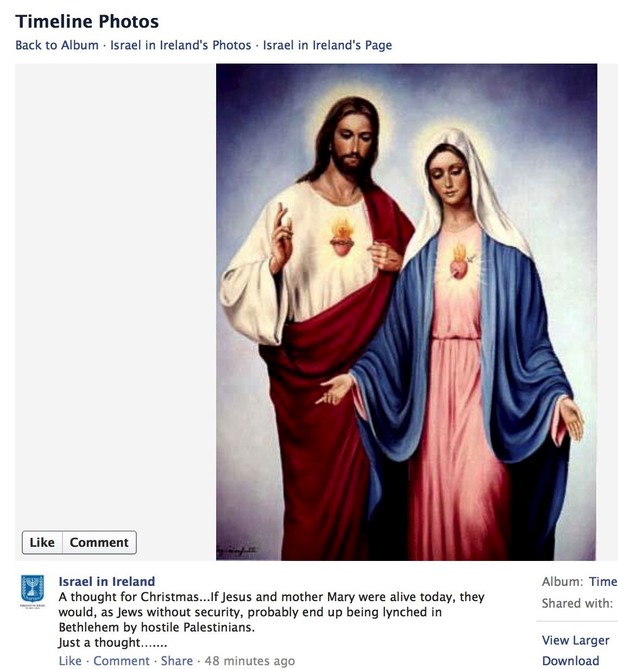 There was a controversy in Dec 2012 when the Israeli embassy in Dublin made this same point on Facebook.
The IPSC called them "racist" (also here) for saying the Holy Family would be lynched.
Well known anti-Israel activist Gary Spedding also called this "racist".
But it is obviously true, and I have stated it on my website for years.
No one attempted to show that the statement is false - that Jewish families can indeed wander safely round Bethlehem today without armed security.
---
Bethlehem would be better off as part of Israel.
Why Christians leave Mideast, Joseph Farah, 27 Dec 2005. "It is becoming an annual Christmas tradition - blaming Israel for the dwindling Christian population in formerly Christian towns like Bethlehem." In reality: "If the Israelis contributed in any way to the exodus of Christians, it was by withdrawing from Bethlehem and .. the West Bank" and leaving them at the mercy of the Palestinian Authority.

"Open Bethlehem" blames (of course) Israel for Bethlehem's problems.

Why not: "Free Bethlehem from Islamist rule"?
Or, if you really want to help Bethlehem: "Allow Bethlehem become part of Israel".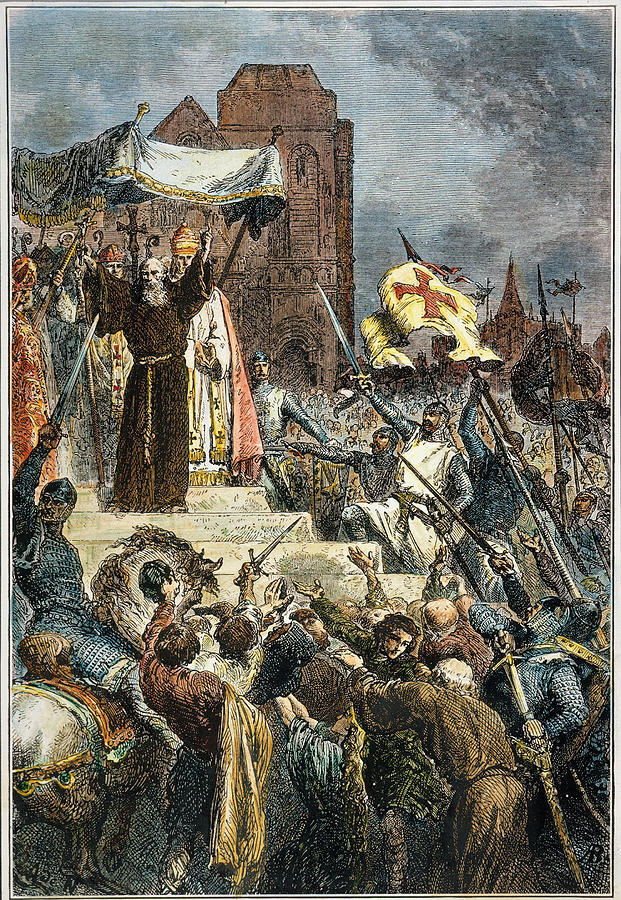 Peter the Hermit
preaches and leads the
First Crusade
in 1096 to liberate the Holy Land from Islam.
The Crusades
slaughtered around 1 million innocent people.
Image from
here
. See
here
.
Now, Christians are
happy
to see the Holy Land enslaved under Islam. They even seem offended if any parts are
not
enslaved under Islam.
---
While Christian population dwindles in Muslim Middle East, it thrives in Israel, May 17, 2009.

In 1914, Christians were 26 percent of the population of (what is now) Israel, Palestinian Authority, Jordan, Lebanon and Syria. In 2005 they were at most 9 percent.
Israel's Christian population grew by 25 percent from 1995 to 2007. Israel's Jewish population grew by 21 percent from 1995 to 2007.
Since 1949, the number of Christians in Israel has grown by 345 percent.

Stats of Christians in Israel: