Somalia
---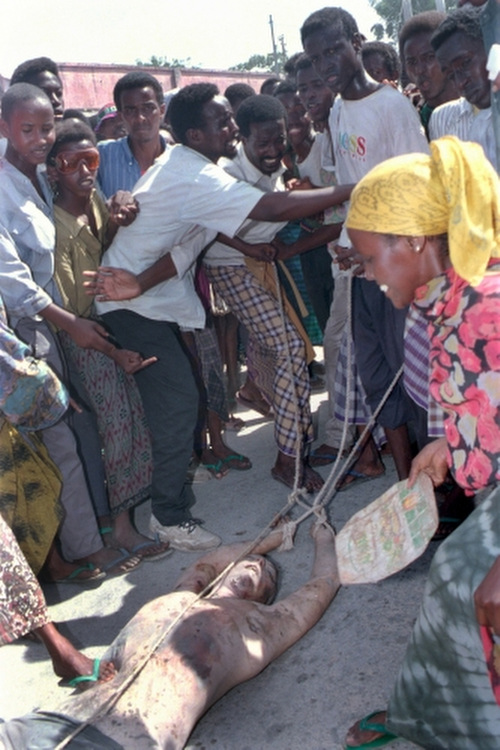 U.S soldier
William David Cleveland
being dragged through the streets of Mogadishu in 1993.
The Americans only went into Somalia because of TV images of the famine.
Their reward was to have their soldiers dragged through the streets.
The Americans withdrew, leaving the Somalis to their famine.
The Somali jihadists taught them the lesson: Don't try to help starving Muslims.
You might think that is a bad lesson to teach the Westerners. But jihadists do not think like you or me.
---
Many Somali pirates will be simple
criminals
. But it is also true that
Islamic warfare
has long (for centuries) justified such activity against infidel ships. And there is much evidence that jihadists in Somalia (Al-Shabaab) fund their war through pirate attacks.
Muslim pirates raided Christian Europe for booty and slaves for centuries before Europe grew strong enough to stop them.

Quote about the Islamic pirates of Aceh, Indonesia. From The Achenese, Christiaan Snouck Hurgronje, pub in Dutch in 1893-94. "To these peoples in whom the savage is as a rule not yet extinct, nothing can more attractive than the idea that they as Mohammedans are the lords of the world and that all infidels stand far below them while the privilege or obligation of depriving certain of the latter of life or property merely gives a new turn to their favorite pursuits of fighting and pillage. From Mohammedanism .. [Aceh] really only learnt a large number of dogmas relating to hatred of the infidel without any of their mitigating concomitants; so the Acehnese made a regular business of piracy and man-hunting at the expense of the neighboring non-Mohammedan countries and islands". Sounds like Somalia today.

The failed, semi-jihadist state of Somalia is the centre of modern Islamic piracy.
Somali piracy escalated around 2005 (but existed before then).
The Somali Pirates Are Jihadists, Robert Spencer, 15 Apr 2009.
Terrorism and Piracy: The New Alliance, Tara Helfman and Dan O'Shea, February 2011.

Maersk Alabama hijacking in Apr 2009.

The first successful pirate capture of a ship under the American flag since the early 19th century. Ended when Navy SEAL snipers killed all but one of the pirates. The surviving pirate is serving 33 years in federal prison in Indiana.
Captain Phillips (2013). Movie about the hijacking. Islam and jihad are not mentioned.

Leftist Johann Hari defends pirates, 4 Jan 2009.

He claims low rank pirates on pirate ships were better treated than low rank sailors on navy and merchant ships, which might actually be true, but look at his wording (in bold): "Pirates were the first people to rebel against this world. They mutinied against their tyrannical captains - and created a different way of working on the seas. Once they had a ship, the pirates elected their captains, and made all their decisions collectively."
Working! Robbing and raping is "working"!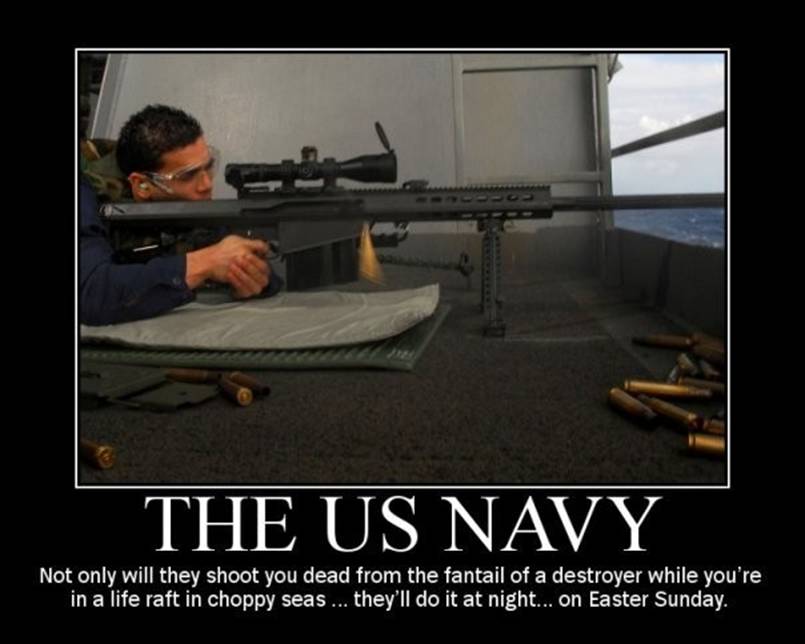 Tribute to the US Navy SEALs' epic shooting in the
Maersk Alabama hijacking
.
Found
here
.
---
Al Shabaab ("Al Qaeda in East Africa") is the same evil story we have seen throughout the 1,400 year history of
the violent religion of Islam
.
Their goal: Enslave all Somalis under Islamic sharia law. Forcibly convert or kill all non-Muslims.
Their tactics: Sickening massacres of innocents. Because they have no morality.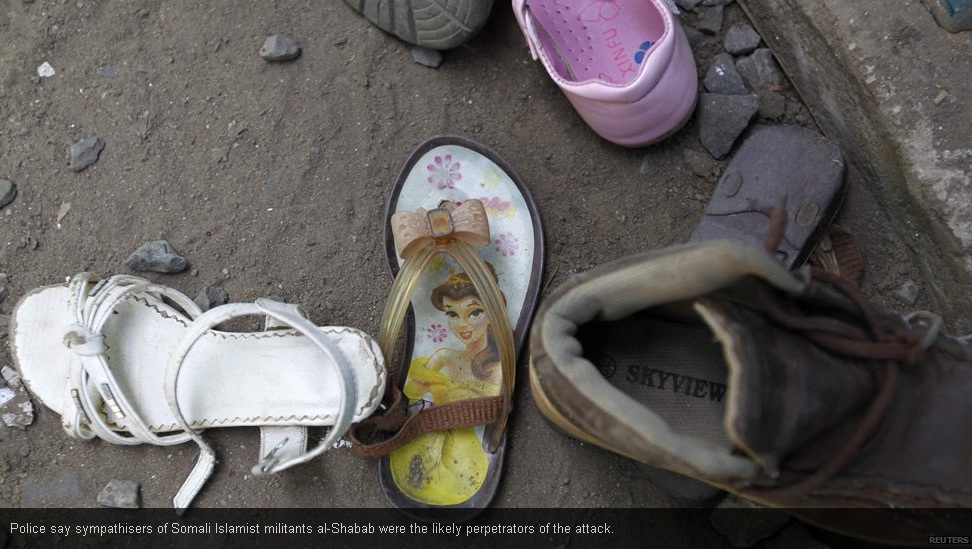 1,400 years of Islamic jihad summed up in one image:
Somali jihadists throw grenades at small Christian children at sunday school, Kenya, Sept 2012, killing one.
Image from
BBC
. Spotted by
The Jawa Report
.
---
As seen in Sudan,
famine
is one of the regular consequences of
jihad
.
---
Al Shabaab fighters attack women and children in a shopping centre in Kenya, Sept 2013. They round up terrified shoppers, and separate them into Muslims and non-Muslims. The Muslims are let go. The non-Muslims are killed.
The Guardian on Kenya
The Guardian
wrote an extraordinary stream of rubbish about Kenya.
The jihadists are fighting against capitalism:

Giles Foden, 23 Sept 2013, has got a brand new theory of the Islamic jihad. Despite the jihadists openly and endlessly saying they are fighting for Islam, Foden knows what they are really fighting for. "like al-Qaida before it ... al-Shabaab is really attacking the very idea of capitalism".
What? The killers identified non-Muslims and killed them. There is no ambiguity whatsoever in this naked display of religious terrorism. Like Eddie Holt, Foden is merely imposing his own strange western ideas on people who do not believe them.

We hate jihadists because they is black:

Jamie Gilham, 25 Sept 2013, complains about the "demonisation" of Al Shabaab scumbag Samantha Lewthwaite. "Her transgressions are plentiful: she converted to Islam, took the veil and a Muslim name, married a black and notoriously radical convert, and is the mother of mixed-race children."
What? She married a suicide bomber who bombed London! And she supports Islamic terror! It is nothing to do with marrying a "black" and having "mixed-race children"! Who is fooled by this transparent attempt to smear opponents of Islamic terror as racists?
Why would any intelligent person read this newspaper?

I was expecting The New Yorker to be similar, but in fact Jon Lee Anderson, 25 Sept 2013, delivers total sense: "The culprit here, beyond poverty and lack of education and all the rest of it, is political Islam and its aberrant variations, which together have taken a religious faith and turned it into a tool of warfare and a toxic adjunct of modern day globalization. The answer has to include a thus-far undetectable bout of soul-searching, especially among political, civic, and religious leaders in the Muslim world."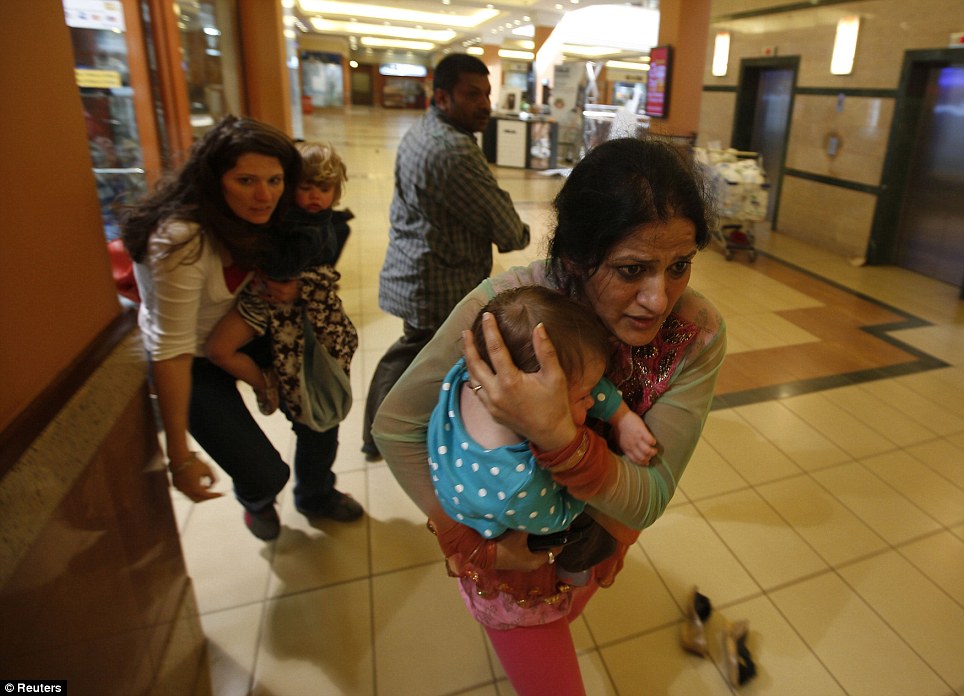 The Islamist way of war:
The Somali Muslim Al Shabaab fighters attack women and children in a shopping centre in Kenya, Sept 2013.
Image from
Goran Tomasevic
.
The hero trying to protect the women and children is Abdul Haji, who is Somali Muslim himself. He fired on the killers with a handgun.
It was a welcome piece of good news to have a Muslim hero respond to the attacks. A Muslim that fights jihadists to save infidels deserves the highest praise. A true Muslim hero.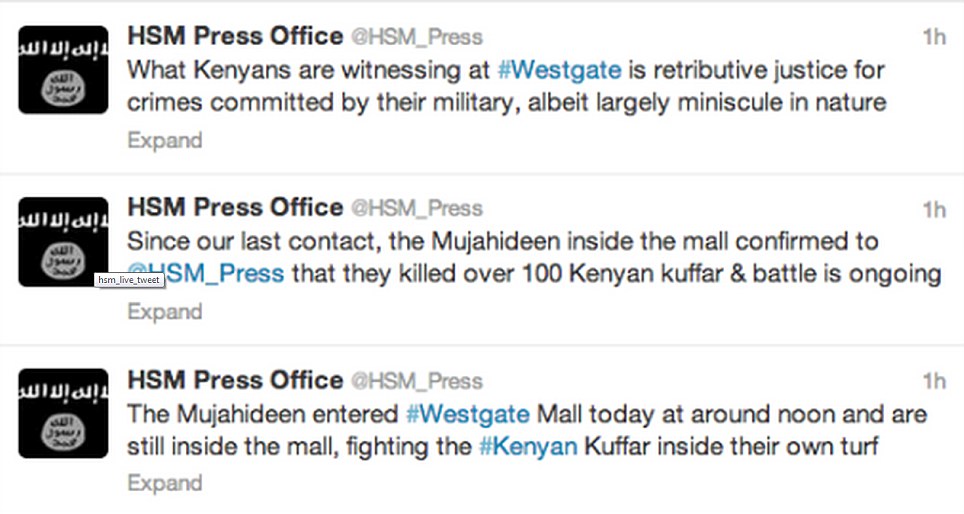 Al Shabaab boast they killed "over 100 Kenyan kuffar" in the shopping centre, Sept 2013.
Yet still Allah does not exist.