Sex
Controversies to do with sex.
For woke people, discussion of sensitive issues to do with sex should be done in an atmosphere of hysteria, where you are "cancelled" if you say the wrong thing. That is how woke people think these issues should be discussed.
Woke people believe most of the topics below should be discussed in an atmosphere of hysteria. I'm not kidding.
---
Sexual crimes (rape and child abuse) are as ancient as humans. They have often been sanctioned by religion, for example the rapists
Moses
and
Muhammad
, who told their followers to rape. In the modern age,
ISIS and other jihadis
are rapists and proud of it.
Western societies have long criminalised rape but controversies remain. In particular controversies over the level of proof needed. Anger at alleged sexual crimes can easily lead to mob hysteria, which can take many forms, from "cancellation" in the culture to unjust arrests to (in the past) actual lynchings.
As I say on the scepticism page, all things must be proved. Rape and child abuse can be hard crimes to prove. It is one thing if the rape or abuse is caught on the day. The difficult situation is when the abuse was years ago, and the victim was shamed or bullied into not speaking, and only has the courage to speak up today. Such a situation is common, even the norm with child abuse. But what has happened to the proof? Where has the evidence gone? How do we know the claim is true?
Disproven claims:
The movie
Brian Banks
(2018).
Brian Banks spent nearly 6 years in prison for rape. Later his accuser admitted she made it up.


Proven claims:
The documentary The Other Side of Jimmy Savile (2012) finally exposed Jimmy Savile's decades of sexual abuse of teenagers and children.
---
Brett Kavanaugh
Scepticism should certainly be applied to accusations of rape and abuse that only emerge once the accused becomes
famous
, or
rich
, or is running for political office.
Certainly an accusation is far more credible when made early, and when the accused is a nobody.
Christine Blasey Ford
claimed she was sexually assaulted as a teenager at a party in the 1980s by a teenage
Brett Kavanaugh
.
However there is no evidence she ever made this claim before 2018, when Brett Kavanaugh was running for a place on the U.S. Supreme Court, with highly charged political partisan feelings for and against his nomination.
This is exactly the kind of situation where the utmost scepticism should be applied to the claim, and strong evidence sought to prove it is actually true.
Ford's story was ultimately dismissed, because:
There is no evidence the party ever happened. Ford did not know the location or date or even year of the party. She changed her story more than once about what year in the 1980s it was.
There is no evidence Ford ever met Brett Kavanaugh in her life.
There is no evidence she ever mentioned Brett Kavanaugh to anyone before 2018.
There is no evidence she ever heard of him before 2018.
The people said to be at the party have no memory of it. Crucially, Ford's close friend Leland Keyser, who Ford said was at the party with her, said she had no knowledge of the party or of Brett Kavanaugh, and that Ford never mentioned the attack.
We can be charitable to Ford and say her story could be true, but no one should accept it until this huge lack of evidence is addressed.
---
The horror of child abuse leads to many people wanting the issue discussed
in an atmosphere of hysteria.
They are so focused on the horror that they lose sight of what is needed to
prove
it, or indeed prove any accusation of sexual crime.
Human memory is fallible, and the brain is strange, and while claims of historic crimes, which have left no physical evidence, could of course be true, scepticism must always be applied to everything. All things must be proved.
The best evidence for historic rape or abuse is some record made at the time. A diary. Confiding in a friend. Dated evidence that the victim had a breakdown at that time, was afraid of going somewhere, and so on.
Lesser evidence is lifelong memory of the abuse, until the victim finally has the bravery to speak.
A dubious form of evidence is a memory that only emerges later in life, perhaps after therapy. There are many cases of injustice caused by such dubious "memories".

The Skeptic's Dictionary

Wikipedia

Satanic "ritual abuse"

Satanic ritual abuse (and here and here)
Satanic ritual abuse is fiction, an urban myth, the modern equivalent of the ancient witch hysteria. Believing in this myth, social workers and public servants have destroyed families, imprisoned innocents, and ruined children's lives.

Munchausen Syndrome by Proxy

Your child dies, and pseudo-scientists get you imprisoned and your other children taken away forever. And you and the media are forbidden from even talking about it.

Lives ruined in secret by Nick Cohen on the Munchausen syndrome scandal. "Thousands of children may have been snatched from families because of evidence given in camera ... the greatest miscarriage of justice of our times ... The grotesque snatching of thousands of children was an operation conducted under conditions of the strictest secrecy. Anyone who blew the whistle on the proceedings of the family courts faced prosecution for contempt. ... During the years of Meadow's ascendancy, the family courts resembled a secret society. ... Secrecy allowed incompetence and mania to flourish, as it has done for 20 years. It is not too great an exaggeration to say that families have been forced into a legal world whose practices and assumptions are closer to those of a tyranny than a democracy."

The only thing like "Satanic ritual abuse" that does exist in the West is this:
---
Child abuse and rape are crimes that historically were ignored and covered up, so the modern confrontation is a welcome correction:

But we may have even over-compensated, to the extent that our response to these crimes is sometimes based on hysteria rather than reason. As a result we are susceptible (and will remain susceptible) to periodic hysterical witchhunts like the "ritual abuse" and "Munchausen Syndrome" witchhunts above. Consider the following:
It sometimes seems in a world confused about morals as if child sexual abuse is the one thing we can agree on as the ultimate evil. We sometimes seem to have lost sight of the fact that killing or permanently disabling someone is worse. For example, paedophiles get burnt out of their homes, and attacked and killed in prison, and so on, in a way that murderers don't. And yet surely the murderer has committed an even worse crime.

Don't get me wrong. I don't have a problem with long prison sentences for child abuse and rape. I just think the sentences for murder and disabling should be even longer. To be a murderer should be a stigma even worse than being a paedophile.

All sexual crimes, by their nature, lend themselves easily to miscarriage of justice. If someone says they were sexually assaulted, how can you prove them wrong? Historical claims of child abuse and rape years after the fact will have no forensic support. They may of course be true, but clearly there is a higher risk of miscarriage of justice than in other crimes.

Mission to Prey, RTE's famous libel against an Irish priest in May 2011.
Nora Wall, an Irish nun wrongfully convicted of rape in 1999. She was the first woman in the history of the Irish State to be convicted of rape. And it was bullshit. She was innocent.

As a result of our somewhat over-the-top reaction to child abuse, we cast suspicion on all interactions of men with children (even though hardly any men are paedophiles), and we are driving away men (other than their fathers) from childrens' lives (and this at a time when more and more children do not even have their father around). Due to paranoia about child abuse, there is a steady drop in male primary school teachers, boy scout leaders, etc. And all research shows that this is really bad for boys in particular. We complain that boys have no steady male role models in their life. And yet we look with suspicion on any adult male who interacts with them.

Due to fear of paedophiles, we also prevent our children playing outdoors, walking to school, etc., in a way we never did before. Yes, there is a risk. But the risk is actually small. While the negative impact on children's health is definite and large.
Denmark's Forest Kindergartens.
Due to fear of predators, cars, etc., we prevent our children going outdoors in a way we never did before.
But children need freedom.
---
Age of consent is very much an issue that woke people believe should be discussed
in an atmosphere of screaming hysteria
. If the age of consent is 17, and you suggest it should be 16, you are a paedophile. That kind of hysteria.
In contrast to them, I think the issue of applying the law to the grey area of willing teenagers age, say, 14 to 17, is an issue that deserves sensitive and careful consideration, rather than the application of blunt hammers and screaming.
Almost everywhere in Europe has the age of consent as 14, 15 or 16.
Ireland is an outlier with age 17.

Romeo and Juliet situations:

Some legal injustices are caused by an overly literal application of age of consent to teenagers, where a boyfriend just over the age of consent can be jailed for sex with a girlfriend just under it. Or even vice versa. Or even both can be arrested if both under it.
Some places have Romeo and Juliet laws but others do not.
Adult females and teenage males
Another source of injustice is when the law insists that males and females are the same, as feminist dogma states. So the law treats adult females having sex with teenage males the same as adult males having sex with teenage females.
This is wrong. We should discriminate, because males and females are not the same:

A male physically can have sex with an undeveloped or unwilling female.
A female physically cannot have sex with an undeveloped male. Having sex with an unwilling male is also a challenge. She needs the male to get hard. She needs the male (who is probably stronger than her) to not just leave. Everything is different to the male-on-female situation. Because males and females are not the same.
A female 15 year old who has willing sex (at the time) with a 30 year old male is fairly likely to regret it later.
A male 15 year old who has willing sex with a 30 year old female is more likely to boast about it later. Because males and females are not the same.

I am not proposing a free-for-all law for adult females and teenage males. There is obviously a spectrum, from a developed 16 year old male working hard to seduce a 20-something female to an aggressive middle-aged female taking advantage of a confused 14 year old male. Like "Romeo and Juliet" laws, one needs laws that address a spectrum. I am only proposing that they be treated differently to adult males and teenage females.

Female teachers arrested and jailed for sex with teenage male students.

In almost every case, the male student is (of course) developed and willing. In most cases, sacking of the female teacher seems reasonable, but jail seems unjust. I would feel differently about male teachers, but feminist dogma means we cannot treat the cases differently.
It is ironic. Because of feminist dogma, women go to jail who I would never send to jail.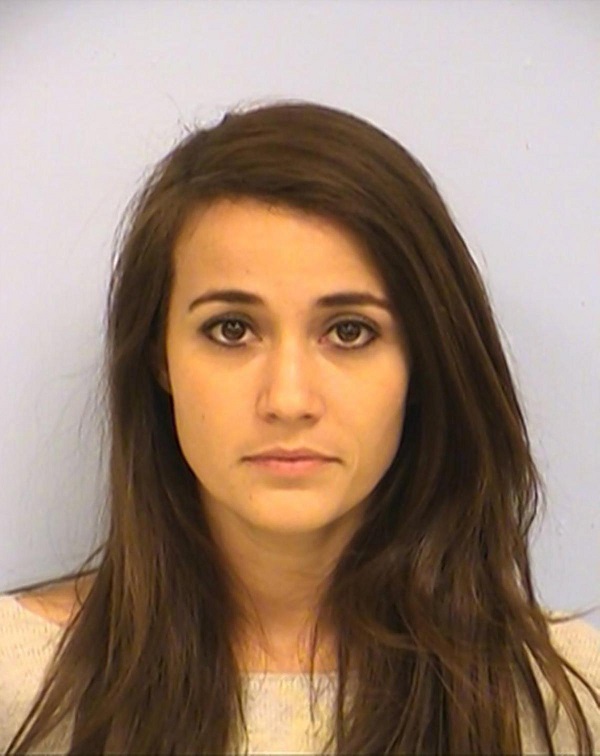 28 year old Texas teacher
Haeli Wey
was arrested and got 10 years probation for having sex with two 17 year old male students.
Below almost every article about her, male commenters express jealousy and say they wish she had been at their school.
Because
males and females are not the same
.