Iraq - The war after 2003
In March 2003, America and its allies invaded Iraq. In April 2003, the Saddam regime fell. Decades of oppression and genocide were over. The Iraqi people should have
seized the day
and made Iraq a better place.
The Americans stayed to try to help Iraq become a better place. This might have been (probably was) an impossible task, but it was a noble goal. America should be proud of trying it. America should not feel guilty. The moral responsibility for all deaths since 2003 lies with the Iraqi resistance who resisted that goal, not with America and its allies.
There is no excuse for Iraq's satanic "resitance" and its years of foul and sadistic attacks on Allied forces, Iraqi democrats, minorities and endless innocent Iraqi people. There is no excuse for the leftist apologists who defended it. Iraq's "resitance" is now ISIS. ISIS are the same people the left cheered on for years.
Bruce Thornton, May 25, 2007, says Bush and Blair should not feel guilty. There are people to blame, but they are not the westerners with good intentions. Thornton (not without sadness) criticises the idea that people are logical and will do what is in their own interest: "every page of history proves that people are much more than machines or clever chimps. Humans have at their heart a mystery that defies predictive science: the freedom to choose even what makes them miserable simply because they can choose. It is our quirky unpredictability, our conflicting passions, our contradictory goods, and our willful desire to choose freely that sends all the experts' schemes to the devil. Just look at Iraq for all the evidence you need. The bloody disorder there is not a consequence of Bush's ineptitude or some better plan that wasn't tried. Ultimately, the mess in Iraq reflects the disordered souls of a critical mass of Iraqis who prefer allegiance to tribal loyalties or a dysfunctional faith to freedom and security."
It is clear who to blame for the war in Iraq since 2003. The Sunni resistance. The Shia resistance. And their western leftist apologists.
---
After liberation in 2003
2003 was a bad time for the enemies of the Iraqi people. Having lost the war, they were desperate for the narrative to change.
Optimism after liberation in 2003

Mark Steyn a few months on - "The barest minimum victory has already been won: Saddam is gone, his entire leadership is dead or in US custody, his sons have been killed, stuffed, mounted and embalmed .... Even if America handed over to the UN now, Iraq's next dictator would come to power in the shadow of the cautionary tale of his predecessor: catch our eye and you're dead." - Of course, America wants more than that for Iraq, as he then discusses. But something huge has already been achieved.
Iraqis challenge "Arabism" by Thomas Friedman - Free Iraqis disgusted with the Arab countries that betrayed them (by opposing the war and supporting Saddam's forces). - ".. there is a dramatic gulf now between Iraqis and a lot of other Arabs. Young people here want to move on. In 10 years, this will be a very different place. If I can be a part of it, it will be like Hong Kong or Korea - but with an Iraqi face."
"Bush Good, Saddam Bad!" by John R. Guardiano

"we were treated as liberating heroes when we arrived four months ago"
"The "Arab Street" I've meet in Iraq loves - that's not too strong of a word - America and is deeply grateful for our presence."
"Iraqis routinely ask me to "thank Mr. Bush for freeing us of Saddam""
"The Iraqis know who their foes are too. Two Iraqi children once spontaneously shouted to me, "France, Chirac!" while giving the thumbs-down sign and shaking their heads disapprovingly. The children quickly smiled and shouted "Bush!" while punching the sky."
Sweet Liberty by Amir Taheri, March 19, 2004 - 1 year after liberation, 1.2 million Iraqi refugees have come home.

1.2 million people coming home! The left was wrong again.
"It is a pity, not to say a shame, that, for reasons of domestic Western political rivalries, what has been a spectacular success in liberating a martyred nation from one of the worst tyrannies of recent history is portrayed as a failure."

UN report The State of the World's Refugees 2006 - The number of refugees in the world has fallen to its lowest level in 25 years.

Iraq civil war, mainly 2006-07

In 2006, after years of trying, sectarian Sunni and Shia jihadis successfully started a civil war and Iraq got rapidly worse.
Vast numbers of new refugees fled from the Iraqi "resistance" and the sectarian death squads, who destroyed the dreams of the returning refugees.
UN High Commissioner for Refugees estimates in 2006 that 1.6 million Iraqis have now fled the country from the "resistance" and the death squads, most apparently in the last year or so.
The hunted: Iraq's forgotten refugees, The Sunday Times, January 28, 2007 - Some estimates say 4 million Iraqis have now left the country.
Again, no one is fleeing the US troops. The moral responsibility for all these refugees lies with the vile Iraqi "resistance" and the sectarian death squads. No one was leaving the country until the Iraqi "resistance" and the sectarian death squads started their violence.
---
The "anti-war" protests carried on in 2003, even after they
lost
the war.
Back then, it was very hard to know what they wanted. Even later, it was hard to know.
Don't you know your left from your right?, Nick Cohen, January 21, 2007 - OK, so the left was against the war, but: "I assumed that once the war was over they would back Iraqis trying to build a democracy, while continuing to pursue Bush and Blair to their graves for what they had done. I waited for a majority of the liberal left to offer qualified support for a new Iraq, and I kept on waiting, because it never happened"
In March 2005,
2 years
after they lost the war,
the "anti-war" protesters are still marching
!
You lost. Saddam is gone. He's not coming back. History is moving on. You lost. Go home.
The "anti-war" marches contain flags of the violent killers of innocents Hamas, and banners calling for "Victory to the Iraqi resistance!" - another violent group of killers of women and children.
This is why I call them "anti-war" marches, in inverted commas. If they were really anti-war marches, they would not allow these people in.

Pests in freedom's way (also here) by Amir Taheri, March 15, 2005:

"That remnants of the totalitarian Left and various brands of fascism should march to condemn the liberation of Iraq is no surprise. What is surprising is that some mainstream groups, such as the British Liberal-Democrat Party and even some former members of Tony Blair's Labour Government, should join these marches of shame."
"The Lib-Dems at their spring conference last week found enough time to reiterate their shameful opposition to the liberation of Iraq at some length. But they had no time to take note of what looks like a historic turning point in favour of democracy in the Middle East."
I love it. This really is a low moment in Liberal Democrat history - a period that they will, once they wake up, be ashamed of forever.

2 Years - The Iraqi blogger Husayn Uthman replies to the "anti-war" marchers:

"So you ask me, Husayn, was it worth it. What have you gotten? What has Iraq acheived? These are questions I get a lot. To many outsiders, like those who protested last year, who will protest today, this was a fools errand, it brought nothing but death and destruction. ... Now I answer you, I answer you on behalf of myself, and my countrymen. I don't care what your news tells you, what your television and newspapers say, this is how we feel. Despite all that has happened. Despite all the hurt, the pain, blood, sweat and tears. These two years have given us hope we never had."
"Before March 20, 2003, we were in a dungeon. We did not see the light. Saddam Hussain was crushing Iraq's spirit slowly, we longed for his end, but knew we could not challenge him, or his diabolical seed who would no doubt follow him and continue his generation of hell on Earth. Since then, we now have hope. Hope is not a tangible thing, but it is something, it is more than being blinded by darkness, by being stuck in a mental pit without any future. Hope has been the greatest product of the last two years. ... We are not going to surrender. For all that the two years have brought, the greatest thing they have given us is a future, and a view of the finish line. Iraqis see the finish line, the finish line of freedom and democracy and a functioning nation. We can smell it, taste it, and like a sprinter, one who has broken his legs, but who has a heart full of passion, we will crawl there no matter what the cost."
"We have been brought from darkness to light. And not only has the future been made better for Iraq, but the martyrs of our nation, their blood is watering the roots of democracy across the world. We are watching our neighbors come closer to the light, and this only pushes us more, and makes us stronger in our burning desire to reach the finish line, to realize the dream that our people have had for so long."

Responses to the 2 Year Anniversary - He gets some abuse from "anti-war" freaks in the West for his post. He nails them down perfectly: "it is in a way a rude awakening to me of the attitudes that some people in the West hold. Perhaps I was a bit naive in the past, I thought these were fringe ideas, but I see that you in the West have people similar to the self-defeating terrorists who infest our nation. If the US or Europe were in a similar situation that Iraq is in, then these people would surely be the ones blowing up innocents so that your nation would be stopped from progress."
---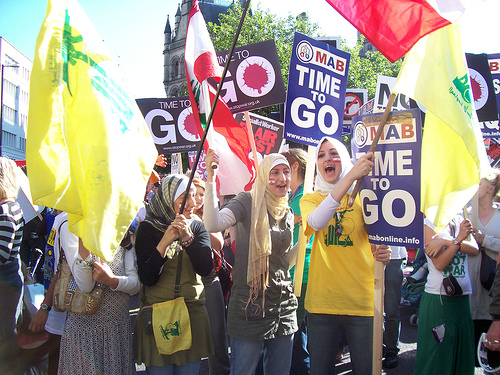 Hezbollah flag wavers at Stop The War Coalition march, Sept 2006.
"Anti-war" my foot.
From
here
.
See
video
.


Anti-Iranian regime activist Reza Moradi stages a counter-protest during Tony Benn's speech at "Stop the War" rally, Sept 2006.
Reza Moradi is in the Council of Ex-Muslims of Britain, but he is also in the Worker-Communist Party of Iran. So he will make sense on Islam and sharia but not on other issues.
Another counter-protester, Shiva Mahbobi, says: "Listen. We are tortured by the Iranian regime, and the flags of Islamic regime of Iran is right there. ... How do you feel if the Hitler's banner is there?" The arguments descend into an open demonstration by young Islamist thugs in support of Iran. Shiva Mahbobi says she was tortured by the Iranian regime, and yet the thugs shout "Liar! Liar!"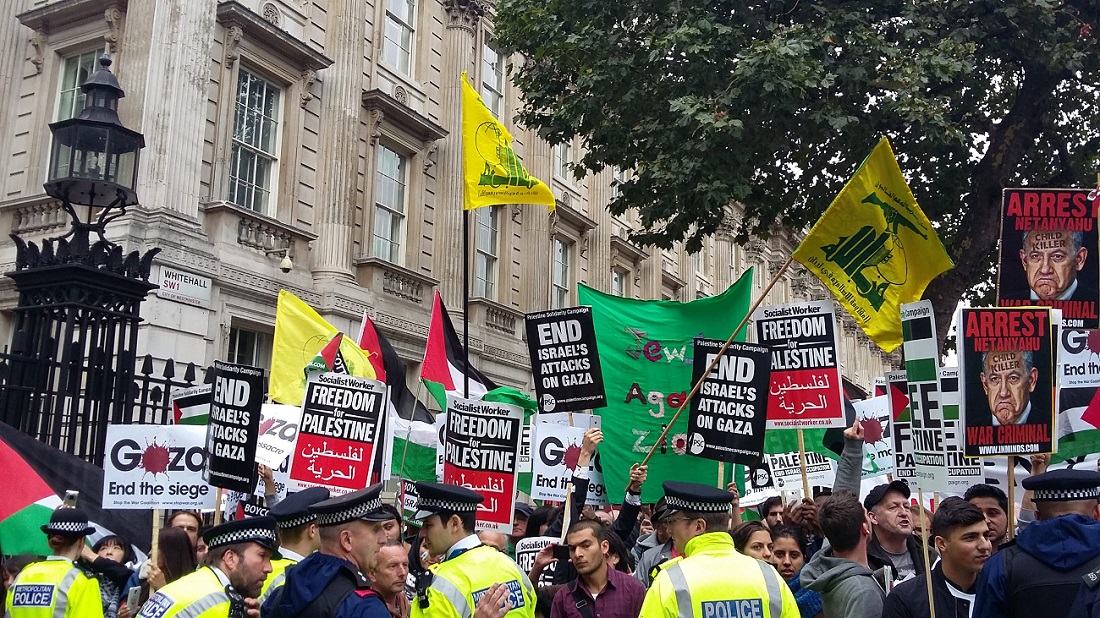 Hezbollah flags at Stop The War Coalition march, Sept 2015.
See full size. From here.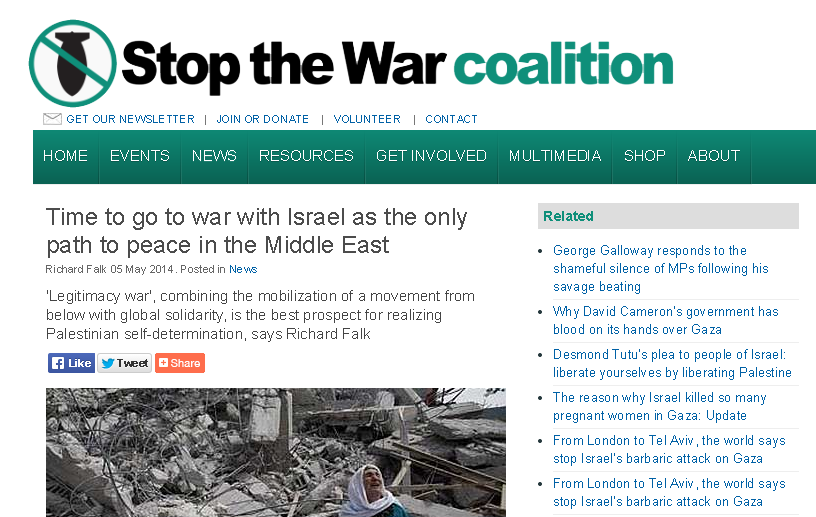 The shameful, pro-jihad "Stop The War Coalition" calls for war against Israel, May 2014.
They later deleted this.
Publish incitement and pro-jihad filth, and then run away when challenged. What cowards.
---
---
The disgusting violence unleashed by jihadists and Baathists after liberation in 2003 caused both left and right to construct new arguments.
The right thinks that the lesson of Iraq is that you should not bother trying to liberate Arabs and Muslims, because they do not want to be free. You should destroy regimes that threaten you, and then get out.
The left thinks the lesson of Iraq is that the Iraq War was immoral, and the allies should feel guilty in some way for what they did. The left also thinks the violence proved that the anti-war protesters (many of whom supported the violence) were right. To me, this is just saying: If evil triumphs, then evil was right and those who opposed evil were wrong.
---
---
---
---
Roland Shirk expresses how I feel, that the Iraqis disgraced themselves after 2003. They were not the same as the people living under communism, who wanted freedom. The Iraqis did not want freedom. Or at least, not enough of them did:
"The Poles sought liberation from an oppressive occupying regime because it trampled individual liberties and imposed artificial poverty. No doubt, they would have welcome a successful foreign invasion that gave them free elections and a free economy. (Even prickly France was briefly grateful when we showed up in 1944.) The Arabs of Iraq responded by turning on their liberators and each other, turning their purgatorial country into a hell of interreligious violence. Does Cohen blame them, or draw from this experience any conclusions about the Arab world or Islam? No, he excuses them all, implicitly, by noting that a foreign invasion offended "Arab pride.""
Shame on the Iraqis for what they did after liberation in 2003. There were exceptions. But not enough of them.
---