Charlie Hebdo
The left-wing French magazine
Charlie Hebdo
angered the jihad by printing cartoons of the so-called "prophet" Muhammad in 2011.
The jihadists first bombed the Charlie Hebdo offices in Paris in 2011. They then returned in 2015 and attacked the offices with gunmen, killing 10 journalists and staff, including the editor, in the worst mass slaughter of journalists in Western Europe ever.
Time for Europe to get serious about criminalising and destroying Islamism. Islamism threatens to end our ancient, hard-won European freedoms forever.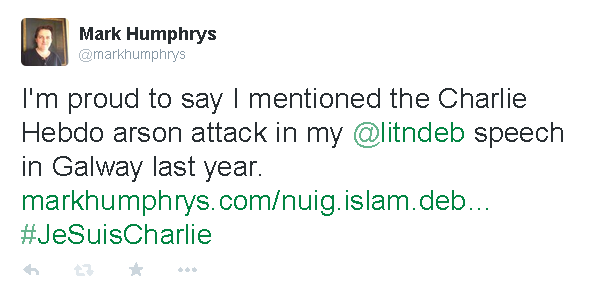 Some of us
were defending
Charlie Hebdo
long before the massacre.
---
In 2011, Charlie Hebdo printed a cartoon: "100 Lashes If You Don't Die Laughing!".

The disgusting Bruce Crumley, TIME's French correspondent, 2 Nov 2011, blames the rape victim.

He says it is "hard to have much sympathy for the French satirical newspaper firebombed this morning, after it published another stupid and totally unnecessary edition mocking Islam." Rape is caused by skimpy dress. And Islamic bombings are caused by blasphemy.
Perfect, perfect response to Crumley in the comments: "This article is so offensive, someone might firebomb Time. Don't get upset though, they asked for it."

Responses to Crumley:

Can we torch Time Magazine's offices now?, Nick Cohen, 4 Nov 2011. "what possible argument can those of us who shudder at the thought of arsonists torching Time .. now make in its defence? The latest issue contains a piece [which] is worth studying because its author seems to be trying to provide a defence for anyone who attacks his own company's premises."
Robert Spencer replies to Crumley, 3 Nov 2011: "The huge, gaping hole in his argument, however, is that he is making it after Muslims reacted violently to satire. Judaism and Christianity are lampooned on a regular basis, but [arguments like Crumley's are not made]. So Crumley's argument boils down to saying that we should capitulate in the face of violent intimidation. This is not really about being sensitive. It is about doing what the thugs want so they won't hurt us again. I'd rather die first."
James Kirchick, 4 Nov 2011: "Crumley, who would make an excellent propaganda commissar in Uzbekistan or Iran, chided French politicians for "denouncing the arson as an attack on freedom of speech, liberty of expression, and other rights central to French and other Western societies," which is exactly what it was."

New Charlie Hebdo cartoons, including the Prophet naked, Sept 2012. Brave guys.

The editor of Charlie Hebdo, Stephane Charbonnier, says: "We have the impression that it's officially allowed for Charlie Hebdo to attack the Catholic far-right but we cannot poke fun at fundamental Islamists. ... Muhammad isn't sacred to me. ... I live under French law; I don't live under Koranic law."
In 2015, he was murdered by the jihadi scum. Brave man. RIP.

New outrageous Charlie Hebdo cover, Feb 2014: "The Koran is crap, it doesn't stop bullets."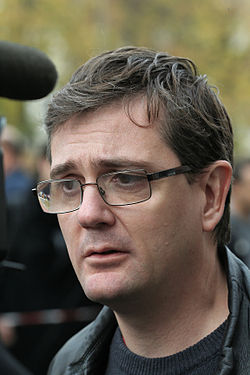 Stephane Charbonnier
was murdered by the jihad in Jan 2015.
---
The Charlie Hebdo killers shouting the war cry of jihad, "Allahu Akbar!"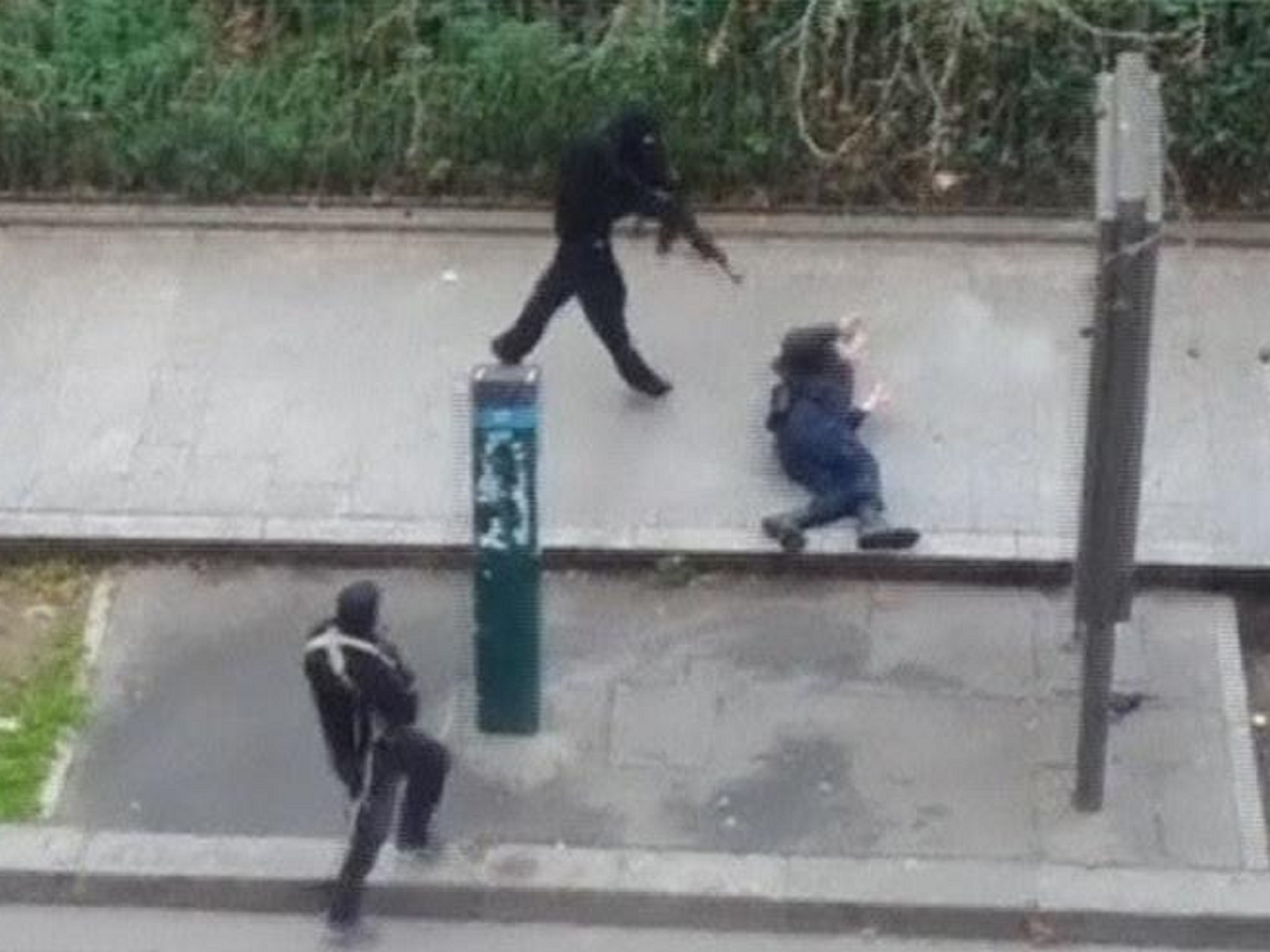 The Charlie Hebdo killers casually execute a wounded French cop, Ahmed Merabet.
He was a Muslim, who died for our freedom.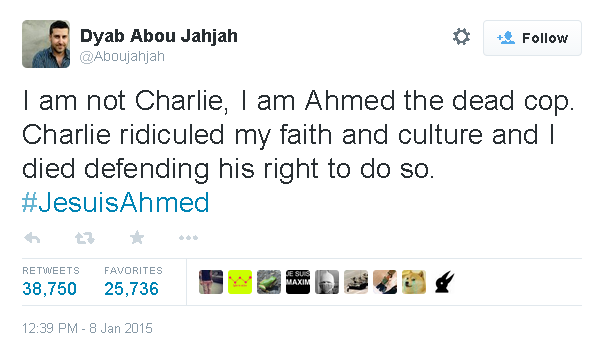 You know, I can live with this.
Muslims don't have to like Charlie Hebdo. That's not what freedom means.
Muslims have every right to find Charlie Hebdo revolting, disgusting and offensive. Freedom simply means that, in a free society, one must tolerate the existence of revolting and offensive people.
---
The Charlie Hebdo massacre was part of a spree of attacks from the same jihadi gang.
Île-de-France attacks, 7-9 Jan 2015.

Shooting of a jogger, 7 Jan 2015.
Montrouge shooting, 8 Jan 2015. Female cop killed. This may have been an aborted attempt by the jihadi vermin to attack a Jewish primary school nearby.
Jewish supermarket massacre, 9 Jan 2015. 4 French Jews killed.

17 people killed by the jihad in total. 3 jihadis dead.
Female jihadi Hayat Boumeddiene escapes. She apparently went to Syria.
Until the day she dies or is captured, she will be a high-value target for French special forces.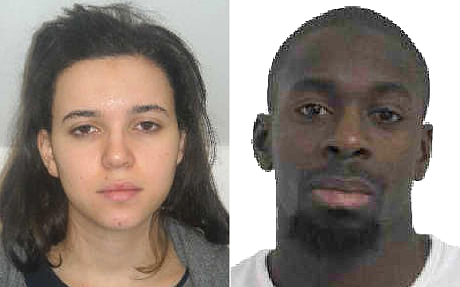 Bizarre: This young, mixed-race couple are the
modern day Nazis who slaughtered Jews at a French supermarket
.
Hollywood never prepared us for
this
as the face of modern fascism.
The
African
man was the
Jew-hating
, Nazi attacker.
His wife, it seems, helped set up the attack, then fled to Syria.
Jews hid from this Nazi in the freezer
, for 5 hours. In Europe. In 2015.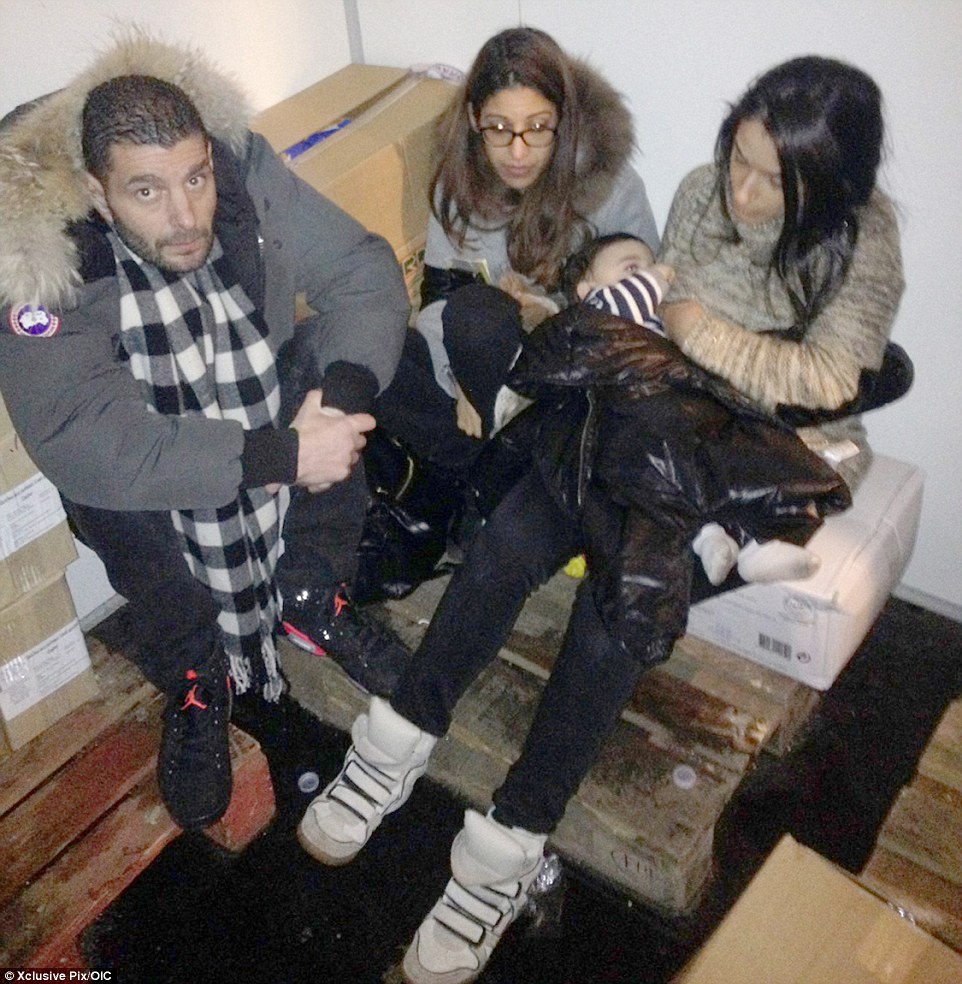 Jews (including a mother and baby) hide from the above Nazi in a freezer.
In Europe. In 2015.
From here.


The death of the supermarket terrorist.
Jesus, they riddled the guy. No fucking around.
---
While there was plenty of nonsense published after the attack, the main reaction of French people and of Westerners in general was total shock, and a refreshing solidarity with Charlie Hebdo:
"Je suis Charlie"
. There are signs that this could be a turning point for Europe.
Drivel
First, the bad reactions:
Blaming the victims:

Islamic extremist Anjem Choudary blames the victims for criticising religion: "the Messenger Muhammad said, "Whoever insults a Prophet kill him." ... It is time that the sanctity of a Prophet revered by up to one-quarter of the world's population was protected."
Catholic extremist Bill Donohue blames the victims for criticising religion: "Stephane Charbonnier, the paper's publisher, was killed today ... It is too bad that he didn't understand the role he played in his tragic death. ... when asked why he insults Muslims, he said, "Muhammad isn't sacred to me." Had he not been so narcissistic, he may still be alive."
These guys are two sides of the same coin.

Socialist Workers Party says Charlie Hebdo "has become a specialist in presenting provocative and racist attacks on Islam."

Loony leftist Julian Vigo, 9 Jan 2015, says we need to consider the attacks in context.

She says: "what is pitifully lacking in most every media representation of the attack ... is the historical background of what this attack was about."
Dead right. However, she then goes on to discuss a bunch of largely irrelevant leftist "root causes", and omits mention of the main root cause of all: the 1,400 year long persecution by Islam of its critics. A persecution that started with the Prophet Muhammad, and that continues today.
Vigo is so loony left that she attacks anyone who criticises Islam. She calls left-wing magazine Charlie Hebdo racist, and she describes her fellow leftists Bill Maher and Richard Dawkins as "21st-century lackeys of neo-colonialist politics .. who inefficiently mask their racism". Good grief. I don't think this woman has any words left to describe right-wing people like me, if that's how she talks about leftists who aren't left enough!

Mark LeVine, 10 Jan 2015, says we need a history lesson.

And then gives a very strange one. "Where does the story begin? Quite simply with colonialism."
Duh, no. He should read something about Islam. The story begins with Muhammad killing his critics. The story begins with Muhammad's first victim Asma bint Marwan in 624 AD.
It gets even worse after that start. Apparently capitalism is also to blame: "ultimately the violence against Charlie Hebdo is not about Islam per se; it's about a contemporary world system that is particularly adept at grinding down whatever decent values exist in Islam and other faith systems ... Decades of the combined onslaught of extreme capitalism and extreme religion have shaped a necropolitics of the oppressed". You what?

Dreadful cartoon response by Joe Sacco. He thinks it is wrong to draw cartoons of the Prophet Muhammad. He compares them to racist and anti-semitic cartoons. Dreadful stuff.

Strange response by Ted Rall, 7 Jan 2015. Nothing wrong with his article, expressing solidarity with the cartoonists. But this is a guy who has gone on record supporting the exact same jihad that killed them. Chérif and Saïd Kouachi were linked to the Iraqi "resistance", which Ted Rall supported and praised. So spare me your crocodile tears, asshole.

French left-wing intellectual Emmanuel Todd says non-Muslims have no right to blaspheme against Islam. "The right to blasphemy on one's own religion should not confused with the right to blasphemy on someone else's religion, particularly in the difficult socio-economic context of today's French society: repetitive, systematic blasphemy on Mahomet, central figure of the religion of a weak and discriminated-against group, should be, whatever tribunals say, considered as inciting to religious, ethnic or racial hatred."

Irish student Olly Donnelly attacks "offensive" speech about Islam, after an Islamic massacre of the speakers. Article 6 Oct 2015.

"Charlie didn't just publish images of the Prophet. Charlie went further, depicting the Prophet in offensive scenarios and saying deplorable things. It's clear how these comics by the cartoonist "Luz" would offend ... the implicit argument of "don't read it if you don't like it" isn't really useful either. It's basically a way of saying that if you want to avoid being insulted, don't listen to the insults. ... the comics that they published, within their rights, were still tremendously offensive and irresponsible."
I find Olly Donnelly's article tremendously offensive. I don't think "Don't listen to him" is a useful answer. I want whatever solution he is proposing for offensive speech.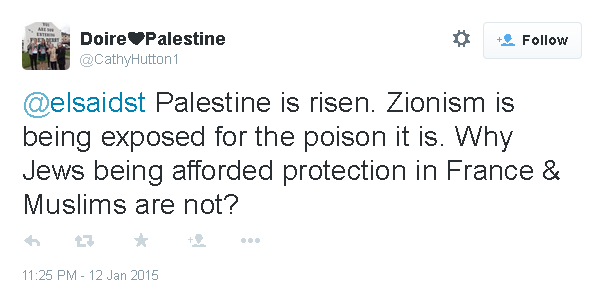 3 days after Jews are slaughtered in Paris by Muslims, Irish Israel-hater
Cathy Hutton
tastelessly asks:
"Why Jews being afforded protection in France & Muslims are not?"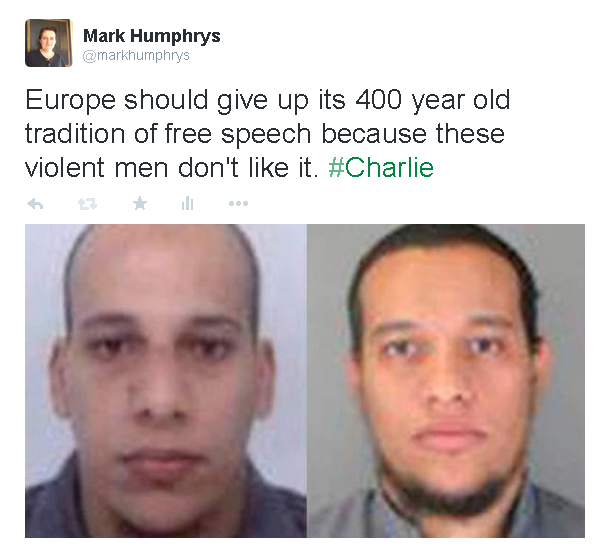 I try to sum up the left's view of the world.
---
The worst Irish article about the slaughter of the French journalists was by
Victoria White
.
It is France's arrogant secularism that is the truly intolerant 'religion', Victoria White, 15 Jan 2015.

She says: "It wasn't courage to attack a religious figure". She is talking about a religious figure you get killed for attacking! If it's not courage to attack such a figure then language has no meaning.
She seems to think the hijab is banned in France. "a young Muslim girl can't even put on her head-scarf as she dresses for school." Totally false. The hijab is not banned. It is the niqab, which only lunatics wear.
Dumbest question ever: "Who is more courageous? The editor and his cartoonists in their city-centre office, feeding the French metropolitan elite what it wants, or the young Muslim girl who puts on her headscarf today and knocks on a door looking for a job?" Answer: The editor and his cartoonists, by a mile.
"Or the young Muslim boy who passed the crowds that were queuing up to buy Charlie Hebdo yesterday, as he made his way to his local mosque?" Oh my god, he has to live in a country where not everyone worships the Prophet! Oh the horror!
The article carries on with more nonsense like this. Turkey is not going Islamist, and is more secular than the UK, apparently.

Victoria White defends Castro's Cuba, 1 Dec 2016. Shameful.

Living in a wealthy democracy, she is totally relaxed about the poverty of the poor people in Cuba: "Many of these deprivations represent a gap between them and Western society but are not in themselves serious. ... Before we lambast Fidel we would do well to remember that Cubans may look across the Florida Straits at orange hair and wonder if democracy's all it's cracked up to be."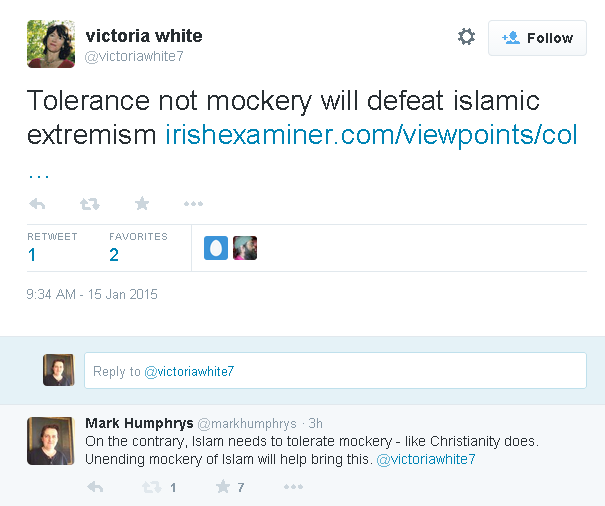 Victoria White
, 15 Jan 2015, has it entirely backwards.
Protecting
Islam from mockery will keep it in the Middle Ages, and will
prevent
it from improving and reforming.
---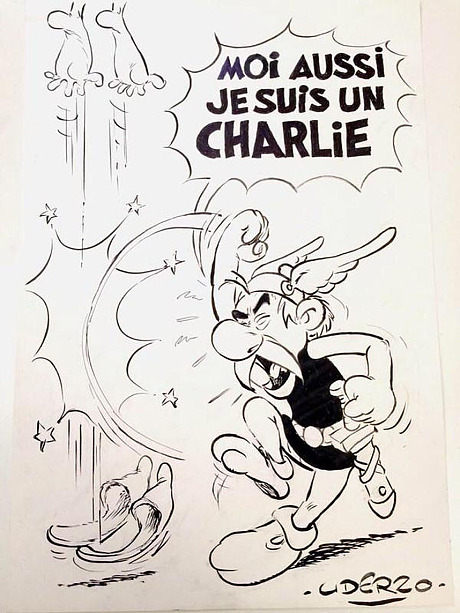 Many people made "Je suis Charlie" cartoons in solidarity, but this was very touching.
The 87 year old creator of Asterix came out of retirement to make this.
---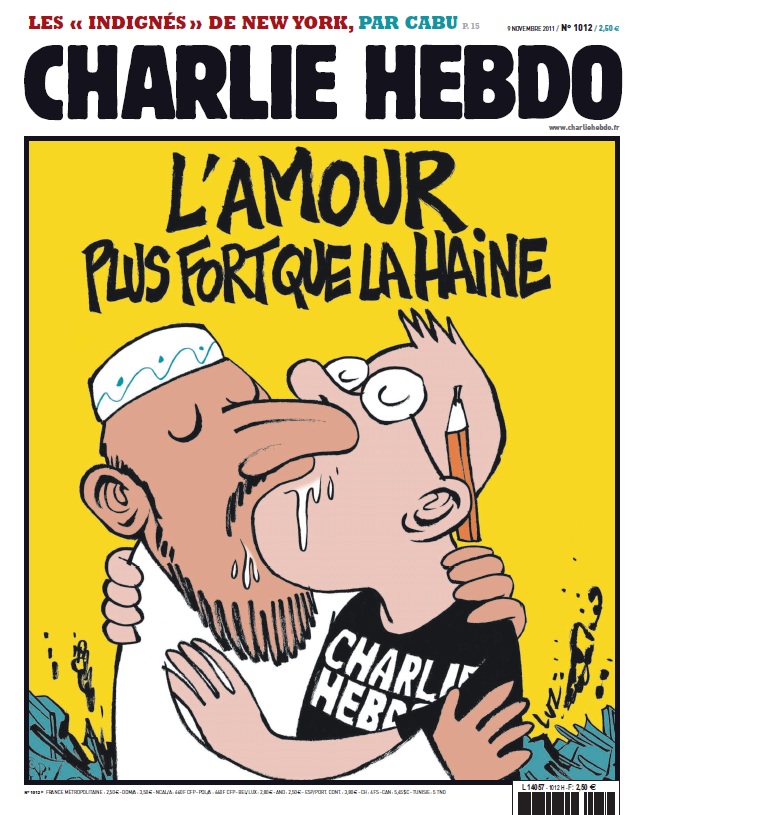 "Love is More Powerful Than Hate".
---
After the massacre, many normal media outlets around the world showed the Charlie Hebdo cartoons of Muhammad. They were printed in newspapers, shown on TV, put on websites and tweeted. The global taboo against printing cartoons of Muhammad is crumbling.
If we all do it, there is safety in numbers.
They can't kill us all.
The long-term result of the Charlie Hebdo massacre may be to make it finally acceptable to display Muhammad cartoons. The dam is breaking. Soon it will fall down.
Muhammad cartoons shown in the Irish media in Jan 2015:

If you know any more, tell me.
The dam is breaking. The day is coming when we are not afraid any more.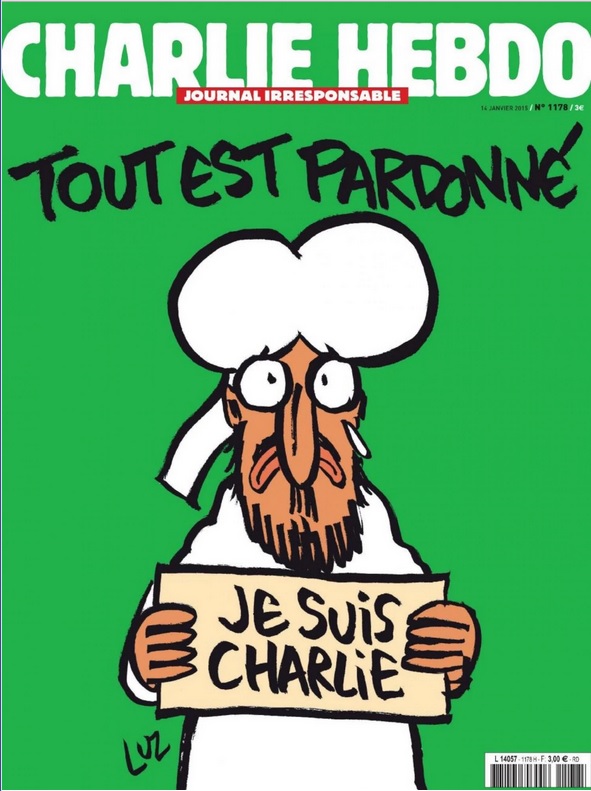 The touching, beautiful cover of the first
Charlie Hebdo
since their friends were murdered by the evil, humourless jihad.
The words above say
"All is forgiven"
. Muhammad is crying and holding a sign
"Je suis Charlie"
.
The cartoon is lovely, though of course it is far too nice to Muhammad. Muhammad would have heartily approved of the massacre.
---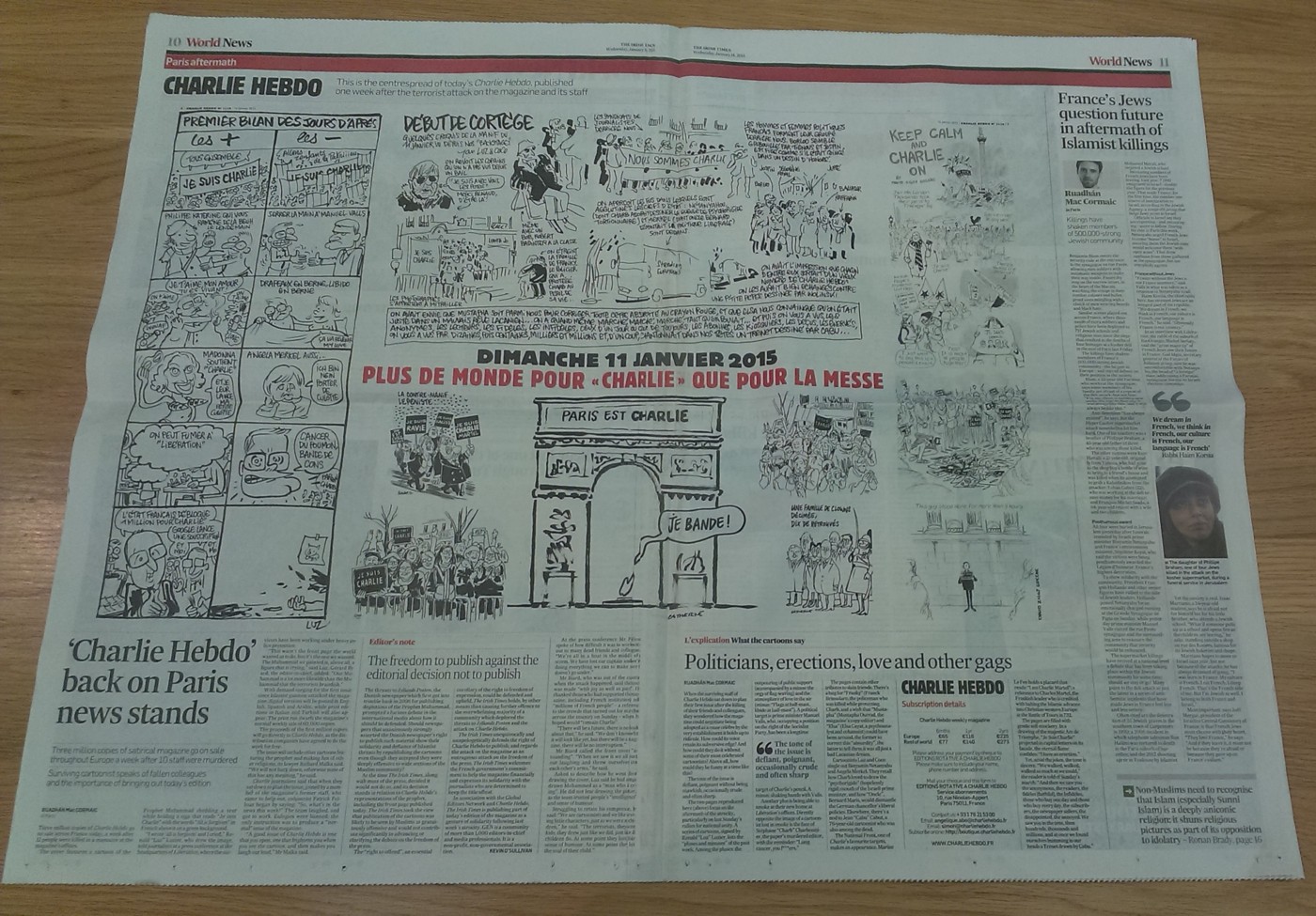 Comical:
The Irish Times
runs two whole pages of Charlie Hebdo "solidarity" on 14 Jan 2015.
But you can see what's missing.
They decline to show
what the Charlie Hebdo staff got killed for
.
There are no Muhammad cartoons. They do not even show the beautiful post-massacre cartoon.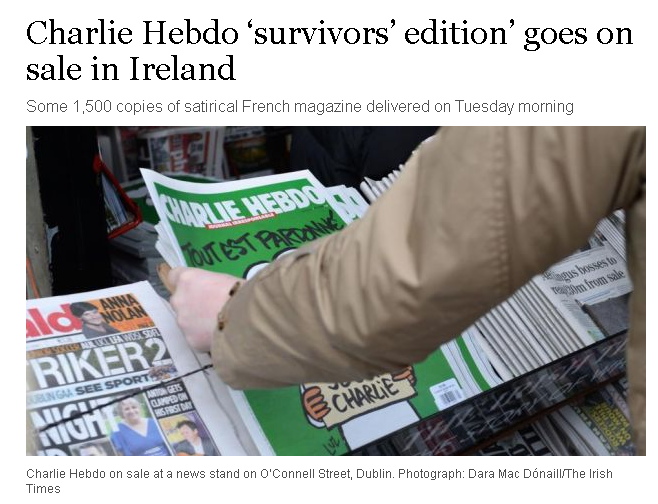 Comically bowdlerised photograph in Irish Times, 27 Jan 2015.



Michael Harding, Irish Times, 3 Feb 2015, bravely declares: "I am not Charlie".
Of course you're not. The Irish Times would not publish you if you were.
The unbeliever Harding says "may his name be praised" about Muhammad, who persecuted unbelievers.


Sky News cuts off Charlie Hebdo writer Caroline Fourest when she tries to show the post-massacre cartoon.
Pathetic, submissive behaviour.
Western weakness that receives only contempt and jihad violence in return.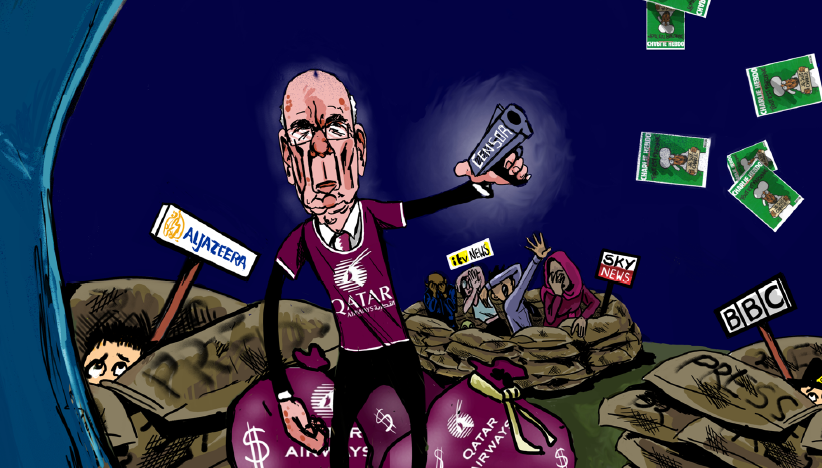 Amusing cartoon slagging off Sky News and others for being scared of showing the Charlie Hebdo cover.
Detail of cartoon from issue 1 of Vive Charlie magazine.
---
The left-wing, anti-Israel, anti-counterjihad
Phoenix
magazine is always full of cartoons. But,
after the worst killing of cartoonists ever
, they declined to print the
Charlie Hebdo
cartoons, or any cartoon disrespectful to Islam. Or indeed, any "edgy" cartoon at all.
They declared on their
post-massacre cover
:
"Je ne suis pas Charlie"
.

I slag off
the pious left-wing
Phoenix
magazine after the
Charlie Hebdo
massacre.
After the massacre, Phoenix described the left-wing Charlie Hebdo magazine as "extremely offensive and often racist and homophobic ... incitement to hatred".
They asked "Was it really courageous?" to attack a religious figure that you get killed for attacking.
They said it was wrong to target "deeply held religious and cultural beliefs". Pathetic, reactionary stuff.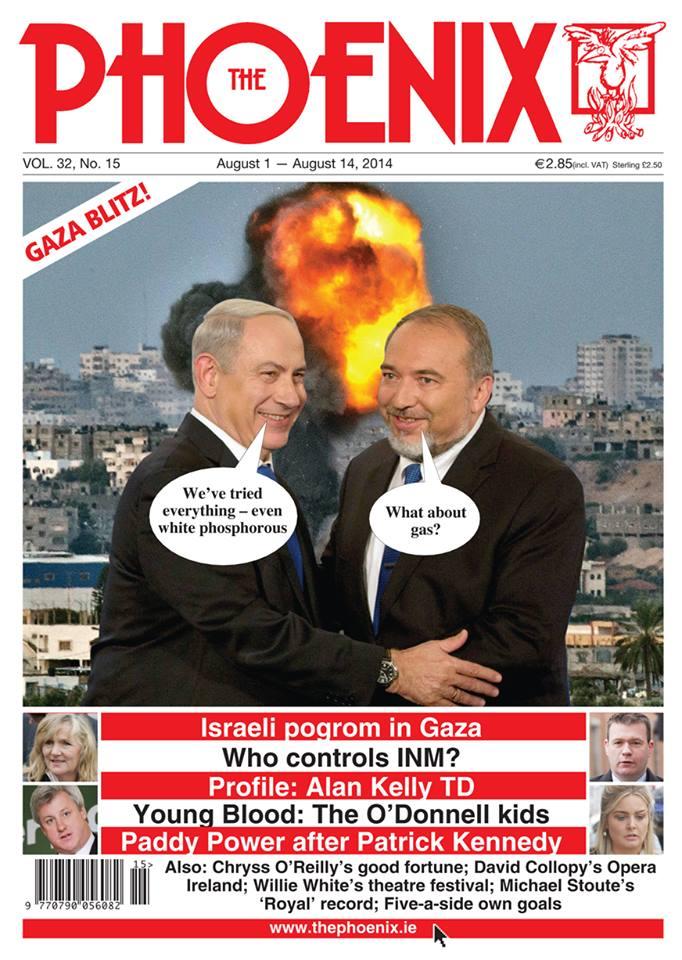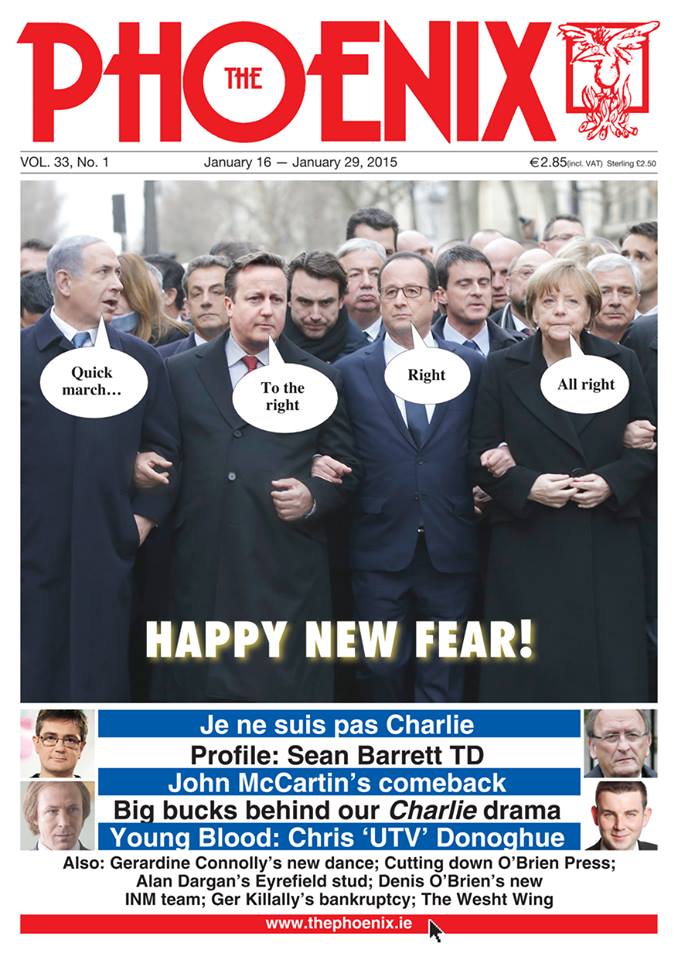 Left: The kind of hatred Phoenix magazine spews at the Jews of Israel.
Right: In contrast, here is the Phoenix cover after the worst attack on the press in European history. They say: "Je ne suis pas Charlie". They declared that the left-wing magazine attacked by gunmen was "extremely offensive and often racist and homophobic ... incitement to hatred".
---
Very touching: French people queue at dawn to buy
Charlie Hebdo
after the massacre.
Sales are
up from 60,000 to 7 million
. You jihadi morons. You made this happen.
---
Of course, there was no detectable Islamic soul-searching after the massacre.
Rather, the jihad against the magazine continues. How much more blood do you want?
Islamic maniacs burn churches and kill Christians in Niger, Jan 2015.
Not enough cartoonists have been killed to satisy
their
blood lust.

Gaza Islamists celebrate the Charlie Hebdo murders and threaten more.
"You French people if you are in Gaza we will slaughter you."
Why does France go on supporting the Palestinians? France should switch sides and support Israel.
---
More Charlie Hebdo attacks, 2020
The cause is not Charlie Hebdo, of course. The cause is the ideology of jihad.
Jihad attack at Charlie Hebdo offices, Sept 2020.
French teacher Samuel Paty beheaded by jihadist in Paris, Oct 2020, for showing the Charlie Hebdo cartoons.
After this attack, Charlie Hebdo cartoons were displayed publicly in France (projected onto buildings). Islamists and jihadists around the world got angry. Aren't they always?
Nice church killings, Oct 2020. Jihadist attacks the largest church in Nice. He kills three people.
The cause of jihad is not cartoons. What have cartoons got to do with Catholic worshippers in a church? The cause of jihad is the ideology of jihad. This is what it does. This is what it always has done, for 1400 years.
---
"Muhammad isn't sacred to me. ... I live under French law; I don't live under Koranic law."
- Western hero Stephane Charbonnier, editor of Charlie Hebdo, murdered by the jihad in 2015, sums it up.
Westerners will fight to the death, and rightly so, to avoid living under Koranic law.
---