Islamophobia - Failed attempts to combat Islamophobia
Failed attempts to combat Islamophobia
There are many blackly hilarious failed attempts to combat "Islamophobia" by Muslims who turn out, unfortunately, to have some connection to terror or extremism.
This field is a rich source of black comedy.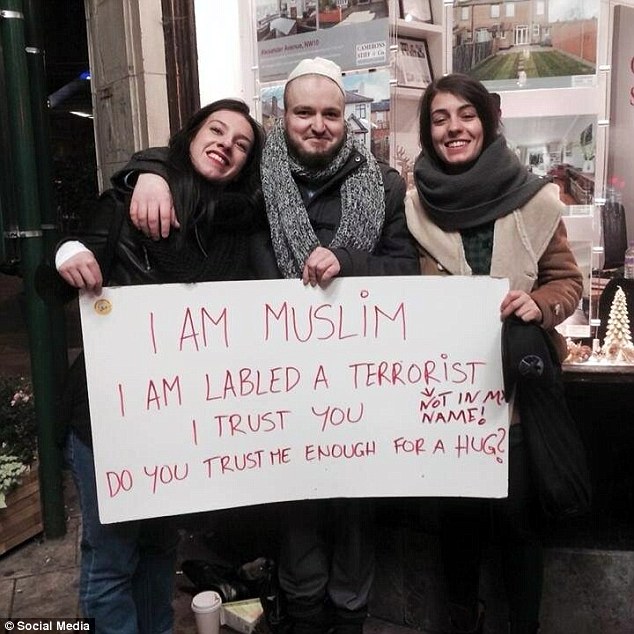 Muslim convert Craig Wallace holds a misspelled sign outside Parliament, Dec 2015, saying:
"I am Muslim. I am labelled a terrorist. I trust you. Do you trust me enough for a hug?"
He bravely combats Islamophobia by showing not all Muslims are terrorists.
But rather spoils it the following day when he
threatened to firebomb a female Tory MP's house when she was asleep
.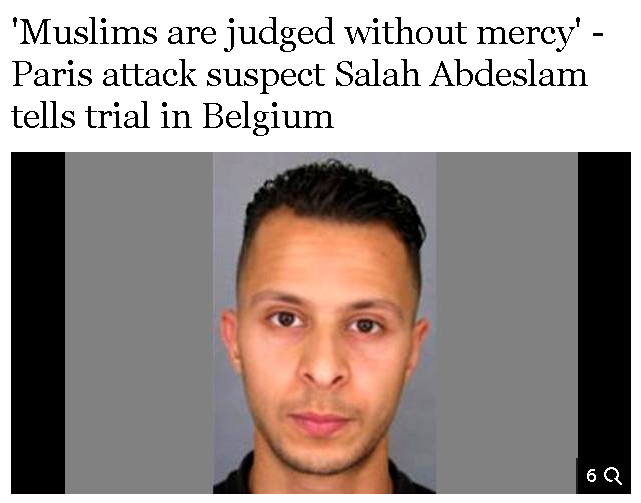 Paris jihadist Salah Abdeslam, Feb 2018, is angry that he cannot help slaughter 130 innocent people without being "judged".
---
Dzhokhar Tsarnaev is the poster boy for all failed attempts to combat "Islamophobia".

Jan 2013
: American Muslim
Dzhokhar Tsarnaev
gets angry with people who link Islam to terrorism.
Apr 2013: Dzhokhar Tsarnaev (yes, the same guy) carries out an
Islamic terrorist attack on the Boston Marathon
, killing 3 and blowing limbs off 14.
Rolling Stone profile of Dzhokhar Tsarnaev, 17 July 2013, captures perfectly the passive-aggressive world of Islamic terrorists and Islamic terror supporters: "With certain friends - Will and Sam among them - Jahar opened up about Islam, confiding his hatred of people whose "ignorance" equated Islam with terrorism, defending it as a religion of peace and describing jihad as a personal struggle, nothing more. This time, says Will, "I remember telling him I thought certain aspects of religion were harmful, and I brought up the 9/11 attacks." At which point Jahar, Will says, told him he didn't want to talk about it anymore. Will asked why. "He said, 'Well, you're not going to like my view.' So I pressed him on it, and he said he felt some of those acts were justified because of what the U.S. does in other countries".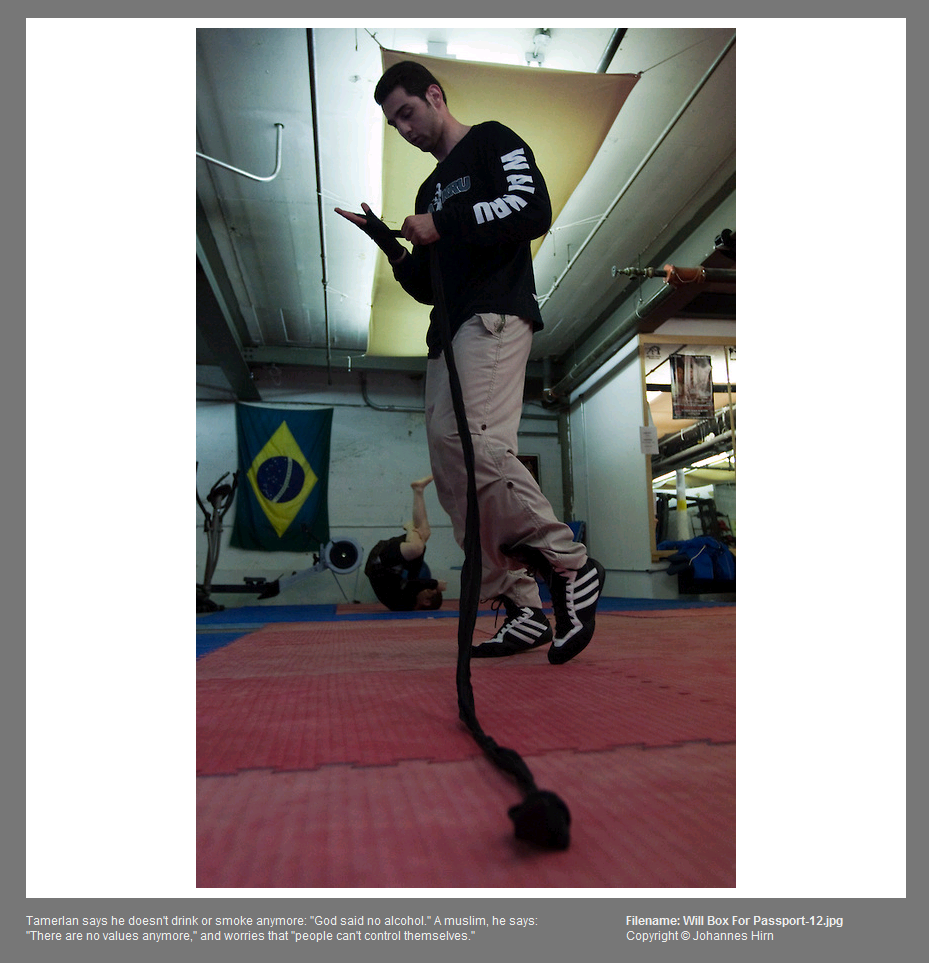 "There are no values anymore"
, said Tamerlan Tsarnaev, complaining about the immorality of Western society.
So he killed an 8 year old boy and blew the leg off a 6 year old girl.
---

Quebec town lifts veil on Muslim stereotypes, National Post, Canada, 12 Feb 2007.
Lebanese-Canadian Muslim Mouna Diab travels to the Canadian town of Herouxville to counter "xenophobic attitudes toward immigrants".
She spent her visit there "educating the community" about Islam, "to break through the lack of comprehension and the prejudice".
However, her attempt to combat "Muslim stereotypes" has been slightly spoilt:
July 2012: Mouna Diab (yes, the same person) is charged with plot to send arms to Islamic terrorist group.
---

Naser Abdo, a Muslim soldier in the U.S. military, tells ABC News in 2010 that he wants out of the Army "so he can spend his life combating what he called Islamaphobia and advocating Islam as a peaceful religion."
He wants to show people that: "We're not all terrorists, you know?"
Very noble.

Iraq Veterans Against the War read a statement on "Islamophobia" from Naser Abdo at a press conference in 2010.
"The association of terror and Islam is what we now refer to as Islamaphobia".
More here.
However, Naser Abdo slightly spoilt his attempt to combat "Islamaphobia" when he plotted a terrorist attack in 2011.
Naser Abdo gets a massive prison sentence in Aug 2012. He told the judge: "I don't ask the court for mercy ... I have continued to answer the call of jihad and will continue to the day I am called to account for my deeds" [i.e. death].
---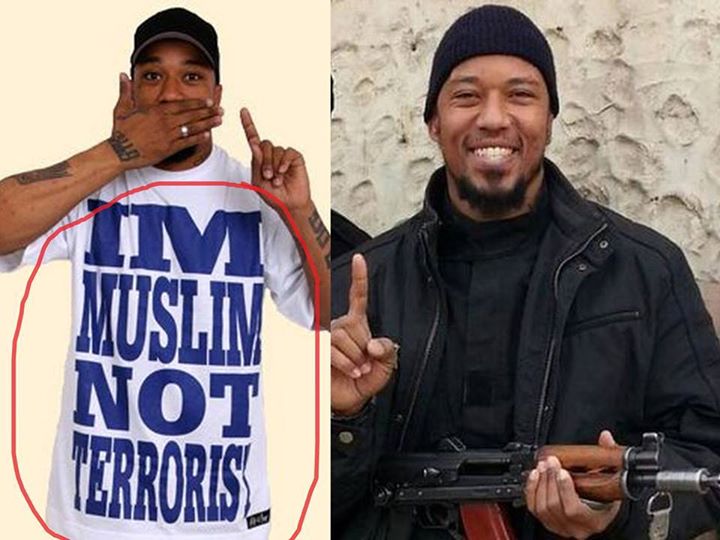 Left
: German Muslim rapper
Denis Cuspert
("Deso Dogg") wears an
All4One
t-shirt: "I'M MUSLIM NOT TERRORIST".
See pictures
here
and
here
and
here
.
Very nice. Good for him for fighting stereotypes. However:
Right
: He rather spoils his message by
joining Islamic State
in Syria.
He was killed fighting for ISIS in Jan 2018.
---
The
Ohio State University attack
of Nov 2016 turned out to be yet another lonely soul battling negative views of Islam by carrying out terror attacks.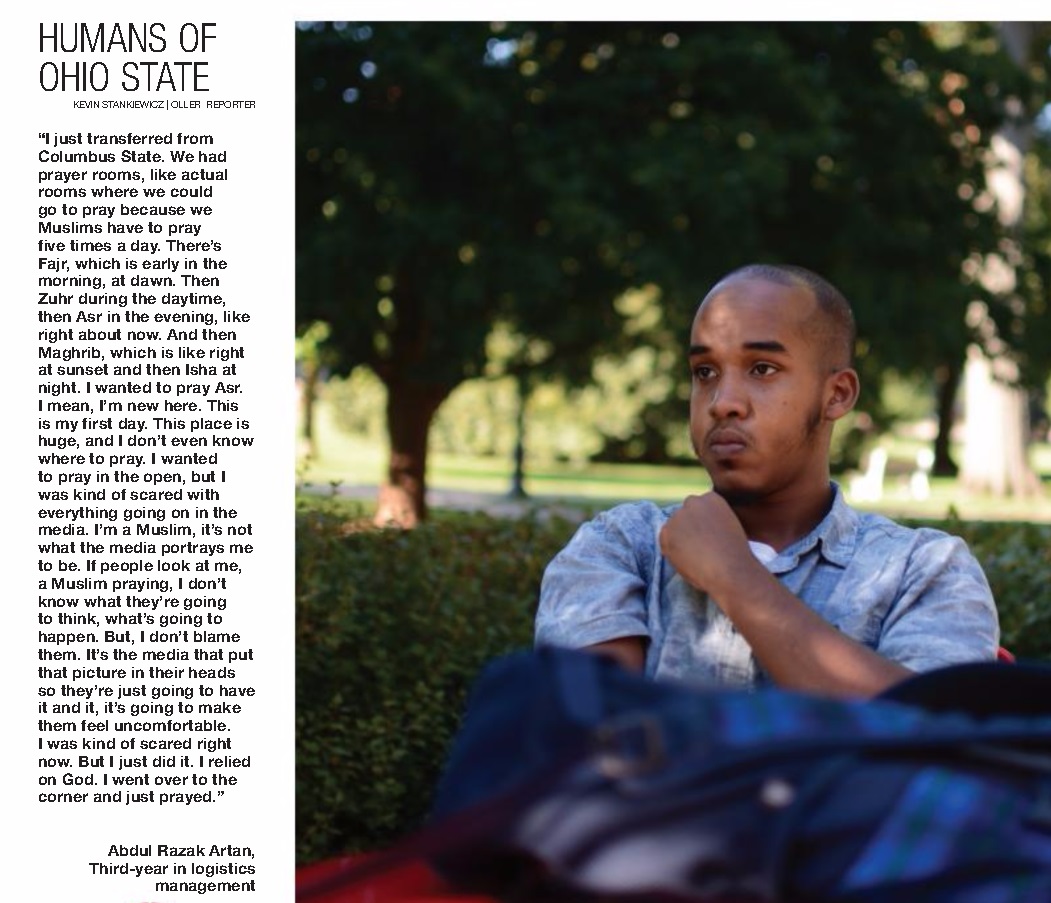 Abdul Razak Ali Artan
, a Muslim Somali refugee, is afraid of the bigotry that he thinks is everywhere in America, the country that somehow gave him refuge and sent him to university.
See
full size
.
He says people have the wrong idea about Muslims: "I wanted to pray in the open, but I was scared with everything going on in the media. I'm a Muslim, it's not what the media portrays me to be. If people look at me, a Muslim praying, I don't know what they're going to think, what's going to happen. But, I don't blame them. It's the media that put that picture in their heads so they're just going to have it and it, it's going to make them feel uncomfortable. I was kind of scared right now. But I just did it. I relied on God. I went over to the corner and just prayed."
So he bravely stood up against bigotry and negative views of Muslims by ... carrying out a terrorist vehicle and stabbing attack on his own campus. That should do the trick.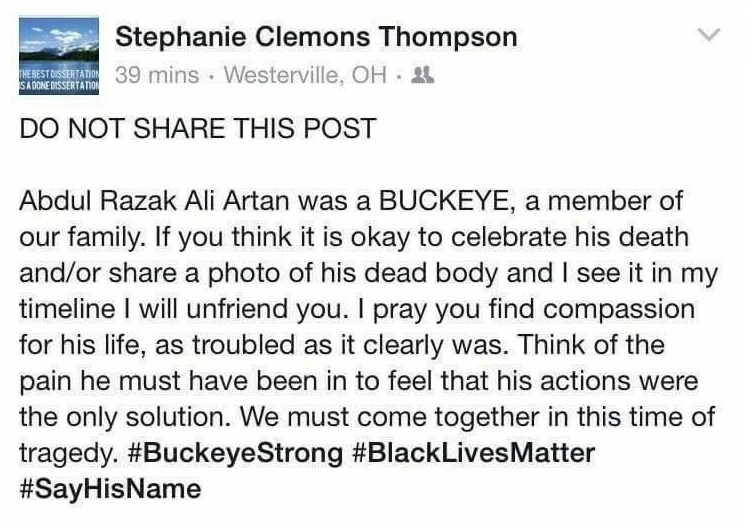 Loony left Ohio State University staff member Stephanie Clemons Thompson urges compassion for the cruel terrorist who tried to kill random students.
Why? Because of his religion and skin colour. I can see no other reason why she would defend him.
Consider this: Imagine if a white right-wing Christian tried to kill random students on campus. Would she say: "Think of the pain he must have been in to feel that his actions were the only solution."
---
Almost any day, you can go on Twitter and find someone claiming to be a "moderate" and
in the same tweet
supporting terrorism.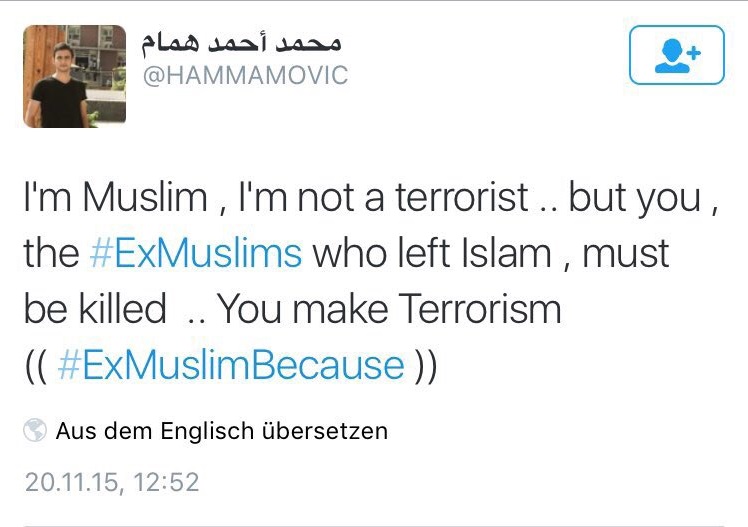 "I'm Muslim, I'm not a terrorist"
, says a Muslim bravely fighting Islamophobia.
But rather spoiling it by saying that apostates must be killed.
After
attention
, he deleted his account.


"Islam is name of peace harmony and patience", says Pakistani Muslim in Oct 2016.
But rather spoiling it by saying that Asia Bibi must be killed.


This guy only supports religious slaughter in a "moderate" way.


The "most peaceful religion of world" hangs those who disagree.
From here.
What would a violent religion look like?


"Stop hate on Social Media" by .. hanging atheists.
With love hearts.
From here.
(Computers were invented by an atheist.)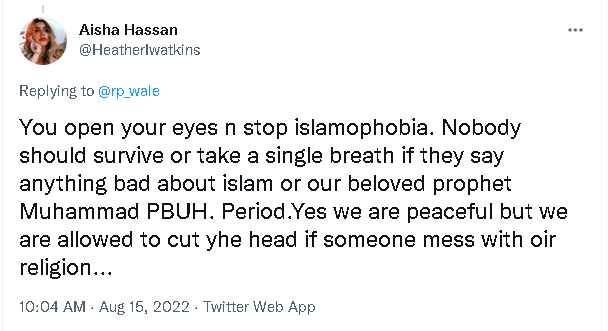 A masterpiece of the passive-aggressive "religion of peace" genre.
"Stop Islamophobia" and "everyone should fear our violence" and "we are peaceful" and "we will kill you" all in one tweet.
From here.
---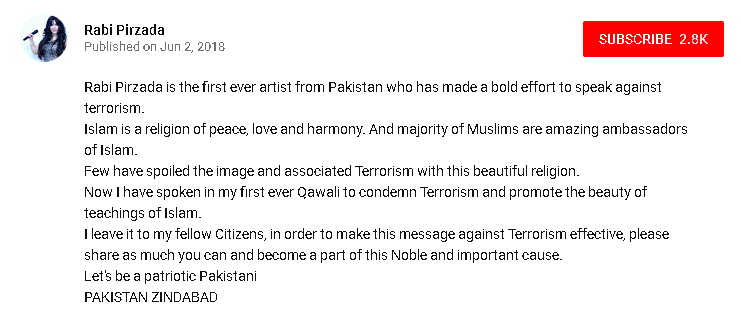 June 2018
: Pakistani pop singer
Rabi Pirzada
bravely stands up against "terrorism".
"Islam is a religion of peace, love and harmony."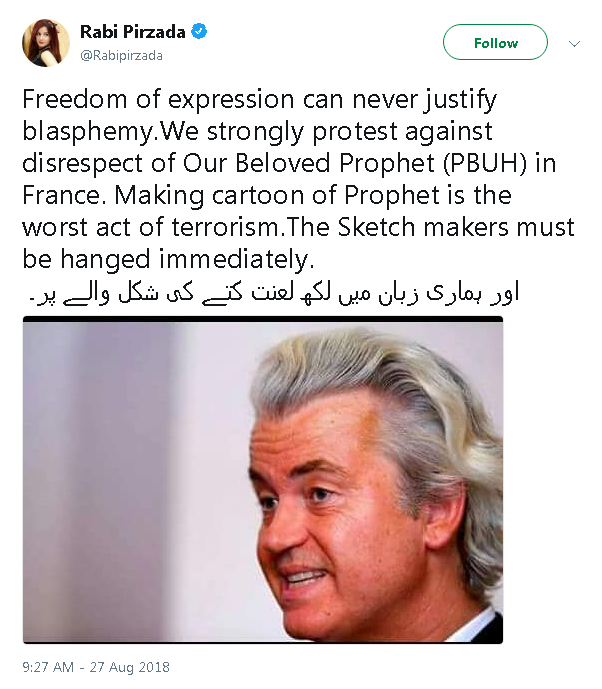 Aug 2018: Rabi Pirzada (yes the same person) calls for those who blaspheme against Islam to be executed.
"The Sketch makers must be hanged immediately."
---
Lisa Smith
is an Irish convert to Islam who once held crude stereotypes about Muslims.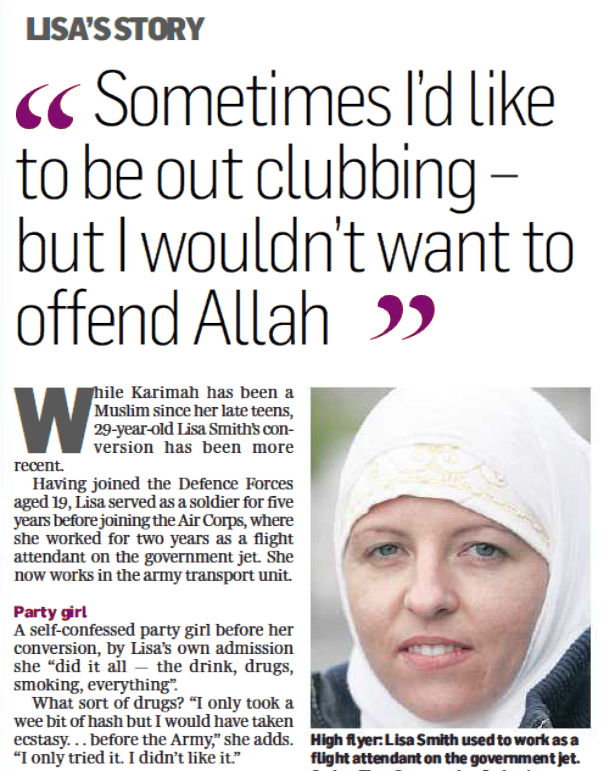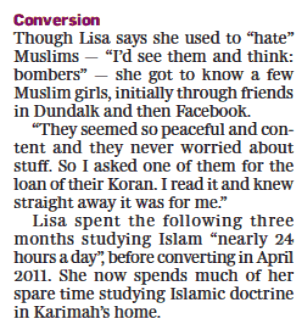 Lisa Smith features in this 2011 story in the Irish Independent:
Why we gave up our catholic faith to become devout Muslims
, Weekend Review, May 21, 2011, pp.8-9.
With a sidebar:
Lisa's story: "Sometimes I'd like to be out clubbing - but I wouldn't want to offend Allah"
.
The online copy was deleted. You can see it here:

In the article, she says she once held crude stereotypes about Muslims: "I'd see them and think: bombers".
Good of her to renounce such stereotypes.
However ..
---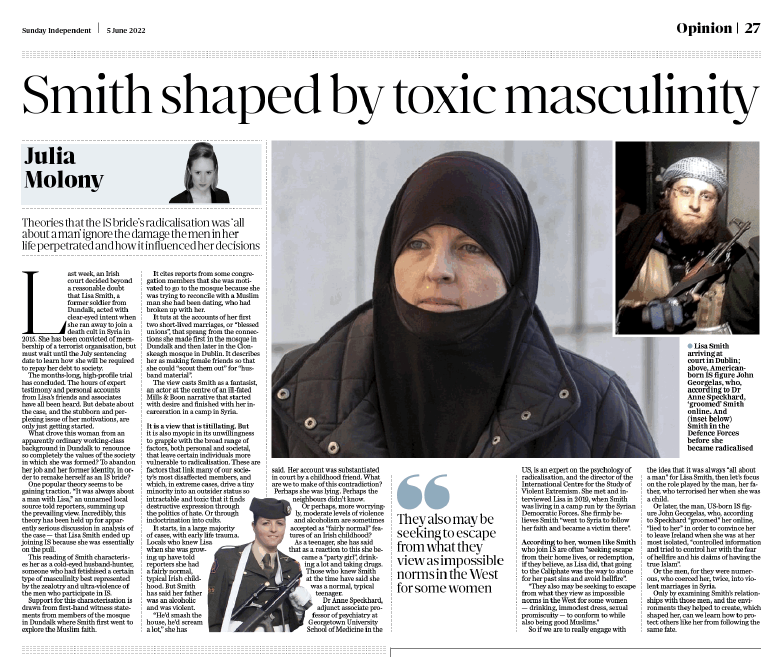 Sometimes, left-wing journalists produce a take so fantastically absurd that all you can do is laugh.
"How Lisa Smith was shaped by toxic masculinity"
, Julia Molony, Sunday Independent, 5 June 2022.
See (subscription needed)
irishnewsarchive
.
Yes, the cause of Islamic terrorism is
"toxic masculinity"
, not the ideology of jihad.
For Molony, women are victims, even if they willingly join a rape, slavery, murder and paedophilia cult like ISIS. She repeats the tall story told by the ISIS woman about her "abusive" father. She pretends we should be cautious about this story, but by the end of the article she is assuming it is true.
If a woman joins a cult that rapes children and butchers their families, I would not believe a word she would say about any topic ever, including her own childhood. But maybe that's just me.
The article is grim, but also has multiple levels of comedy. Molony considers the "two" rival theories: (a) that Smith joined ISIS because she was looking for a man, and: (b) that abusive men lured her into ISIS with their toxic masculinity. Apparently those are the "two" theories. And Molony comes down in favour of (b). She completely ignores the actual reason people join ISIS - the ideology of jihad.
Even though she names two mosques in Ireland, Molony shows no interest in examining what is preached at those mosques and who is spreading pro-jihad teachings in Ireland. Instead, we must do something vague about "men". Unbelievable stuff.
---
As shown on this page, many Islamic extremists try to counter "stereotypes" of Islam by
supporting or even participating in terrorism
.
The passive-aggressive nature of many Islamic extremists has been noted by comedians.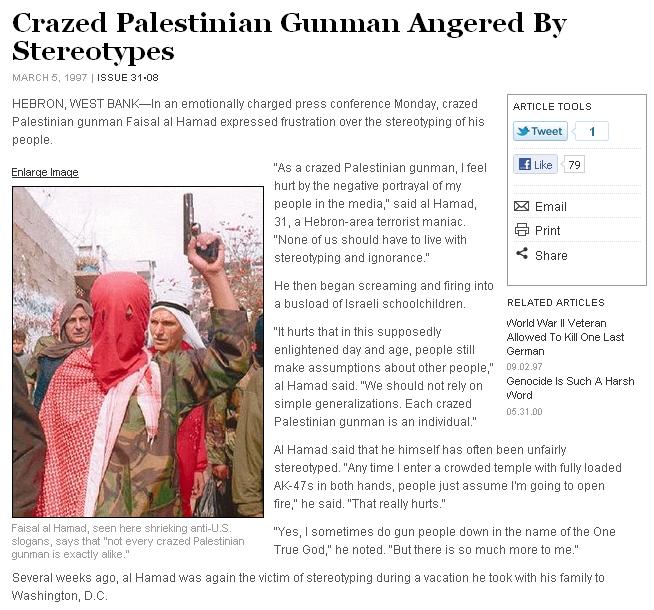 "Crazed Palestinian Gunman Angered By Stereotypes"
.
A cracking 1997 piece from The Onion.
Some of the stories above are like real-life versions of this.
"Al Hamad said his vacation was ruined when federal agents seized a crate of chemical weapons he had brought into the U.S. as a gift for a friend in New York. ... Again, it's a case of people jumping to conclusions on the basis of skin color. And that can be very frustrating."


The hilarious bit in Four Lions where Islamic terrorists complain about people linking Islam to terror. Also here.
A real-life British Islamofascist did something similar: Royal Barnes, one of the thuggish "Muslim Patrol" gang, pretended to be a suicide bomber to scare the kuffar. "Another video clip retrieved by police showed Mr Barnes at Finsbury Park Tube station pretending to be a suicide bomber on the platform in front of other passengers."


My reaction to the hilarious news in Apr 2017 that the Fort Hood mass murderer plans a hunger strike to protest America's "hatred" of sharia.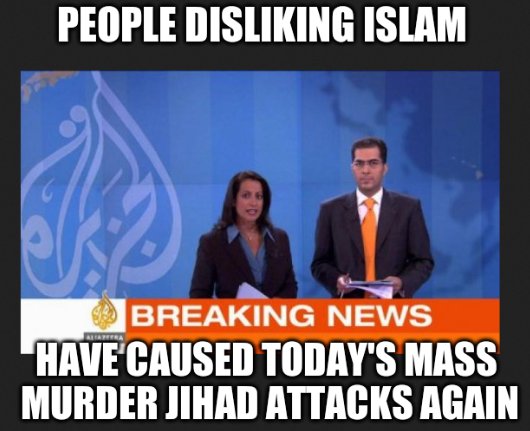 People need to stop disliking Islam or there will be more terror!
From here.
---
"he was angry that the world pictures Islam as a violent religion."
- Elmirza Khozhugov recalls his brother-in-law Tamerlan Tsarnaev.
Tsarnaev was so angry with the depiction of Islam as violent that he bombed Boston in Apr 2013, killing 4 and injuring 298.
---