The Blanchardstown mosque
Umar Al-Qadri of the Blanchardstown mosque in Dublin has been promoting himself as an Irish Muslim who stands against Islamic extremism and terror. As such, he gets a free ride from the Irish media. But there are many problems with what he says.

Umar Al-Qadri took over the rotating "Ireland" Twitter account for a week in Sept 2015.
Amid a lot of evasion and absurd nonsense (and even one or two bits of sense) he came up with
this
piece of comedy gold.
"If Israel stops this then ME will be peaceful"
. Hilarious. Pure genius.
---
Israel and the USA are the cause of Islamic terror:

Need to protect Muslims in Ireland from extremism, by Umar Al-Qadri, May 7, 2011 (after Bin Laden's death) is a dreadful article.
He says: "The vast majority of Muslims oppose and condemn al-Qaeda and terrorism in all forms." But he presents no evidence for this.
We will skip over his claims that there is a big difference between Al Qaeda and the Prophet Muhammad. I don't see it myself, but I suppose we want Muslims to say this.
He says: "Muslims .. feel that a very heavy price has been paid [for 9/11]. Far more innocent people have been killed and injured in the massive war on terrorism ... than were killed and injured on September 11th, 2001." Um, yes, but they were killed by Muslims. He makes it sound as if they were killed by the Americans or something.
Worst of all, he claims that US foreign policy, rather than Islamism, is the root cause of Islamic terror. He claims that Islamic terror is based on real "grievances" rather than on religion: "the roots of extremism and radicalisation have not been addressed. If the United States wants to stop extremism then it should change its foreign policy towards the Muslim world ... The US's unconditional support for Israel is a major obstacle to a better relationship with the Muslim world. ... As long as the US continues to ignore the real grievances of Muslims, and refuses to abandon its deceptive policies in the Middle East and other parts of the Muslim world, the restoration of real and lasting peace will remain only a dream."
So he is saying: "We oppose Al Qaeda, but do what they say."

Free speech does not mean the right to mock Islam:

The Blanchardstown mosque issued a condemnation of the Charlie Hebdo massacre in Jan 2015: "The killing of journalists in Paris on Wednesday was not only an attack on France but also an assault on Islam and the very freedoms that allow 30 million Muslims to prosper in the west."
Fine, but do they really believe in the right to criticise and satirise Islam? They did not say so.
Would they like to answer my challenge to all Muslims in public life in Ireland?
A further statement, January 13, 2015, suggests that no, they do not believe in the right to criticise and satirise Islam. "In the struggle for freedom of speech it was never the intention to extend freedom of speech to making fun of insulting customs, traditions, personalities that are sacred to a particular community."
---
This disturbing video was
here
but was deleted. Luckily, I saved a copy for you to watch. Click to play.
Umar Al-Qadri of the Blanchardstown mosque attacks Israel at a protest in Dublin in Jan 2009.
He has a fanatical hatred of Israel. He calls Hamas "my brothers and sisters". He says "Hamas loves peace." But of course reluctantly has to be fanatically violent.
He says (at 5 min) that he stands with Hamas in not recognising Israel. No two-state solution here.
He claims Israel rapes Muslim women in front of Muslim men: "If you kill our children, rape our women in front of us, in front of our eyes, how can we remain peaceful people?"
The crowd chants Islamic war cries during his fanatic speech. An uncovered infidel woman stands by on stage with these religious maniacs as they chant their war cries. This is possibly Freda Hughes.

Umar Al-Qadri's mosque was inaugurated by Minister for Justice Brian Lenihan in January 2008. Did Brian Lenihan ask a single question about Islamic extremism at this mosque? Did it ever cross his mind?
Umar Al-Qadri organises demo against ISIS, July 2015. Great. But how does this square with his support for Hamas?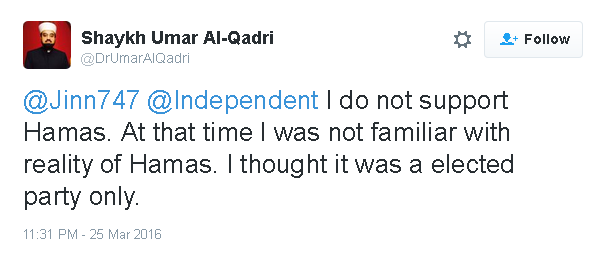 Al Qadri attempts an "explanation" of his 2009 speech in
March 2016
:
"At that time I was not familiar with reality of Hamas. I thought it was a elected party only."
Um, no. First, only a
total idiot
could not know in 2009 that Hamas had been carrying out
terrorist attacks for years
, including high-profile suicide bombings, and was currently firing rockets at Israel.
Second, even if Al Qadri claims to be that idiot, his "explanation" does not fit with what he says in the above speech.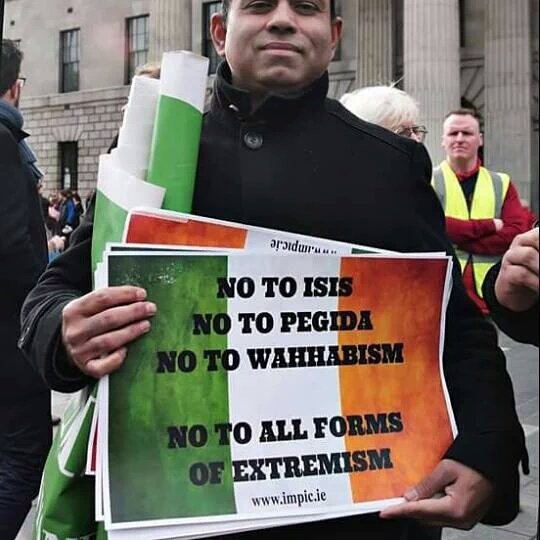 Al Qadri's organisation IMPIC claims to oppose Islamic extremism.
But is there a version of their poster with "No to Hamas. No to Sharia"?
If not, their words are empty.
Photo from Feb 2016 demo in Dublin.
I asked IMPIC did they support Hamas but got no clear answer. See screenshot from here.
---
The Irish media ignores Al-Qadri's speech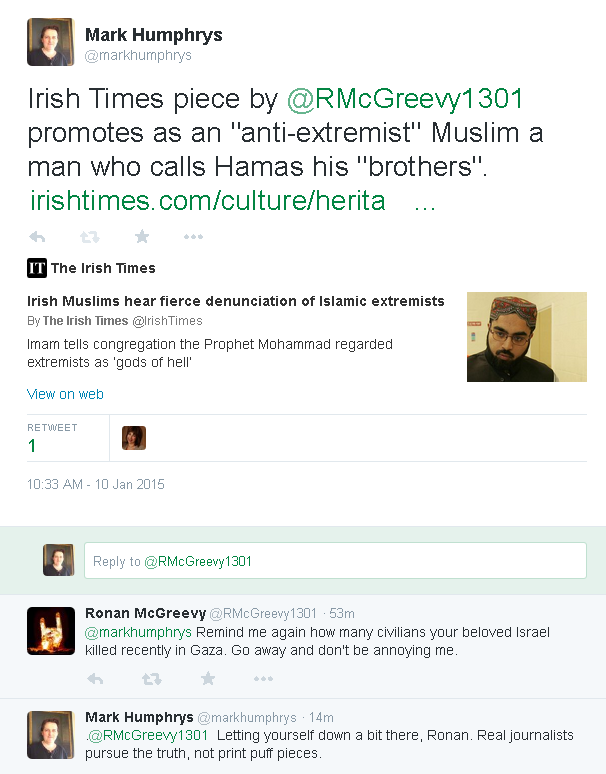 Irish Times journalist
Ronan McGreevy
, 10 Jan 2015, promotes Umar Al-Qadri as a "fierce" opponent of "extremists".
I call him out on it
, noting Umar Al-Qadri's support for Hamas.
He is not interested. A good journalist would have replied:
"Where did he say that?"
I told The Irish Times about Umar Al-Qadri's support for Hamas. They ignored it and just attacked me.
I told Robert Spencer of Jihad Watch about Umar Al-Qadri's support for Hamas. He ran a piece on it, linking to my sources.
That really sums up what is wrong with the Irish media.
---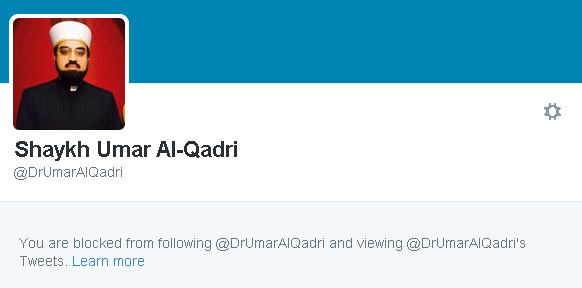 I would like to debate Al-Qadri on Twitter but he blocks me.
When he briefly emerged to take over the "Ireland" account for a week, he was asked why he blocked me.
He said
:
"I blocked you because you misquoted me"
. He was repeatedly asked both online and even in person what the misquote was, but so far
no clear answer
.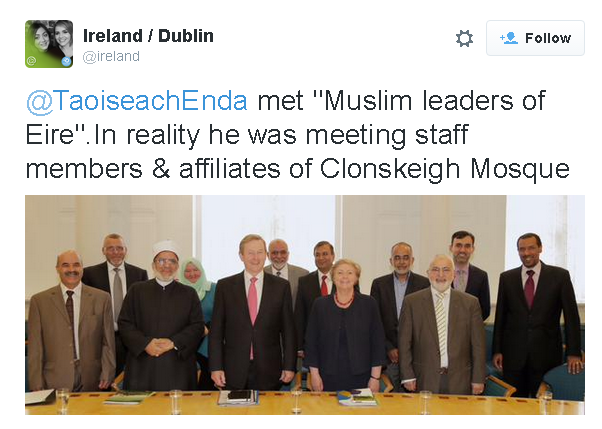 Let's be nice to Al-Qadri before I end.
In his time at the rotating "Ireland" account, he did come up with this excellent tweet.
The Taoiseach meets people from Clonskeagh mosque in June 2015. "Taoiseach, Minister Fitzgerald and Muslim clerics at meeting in Government Buildings on 4th June, 2015 under Church State Dialogue."
All over the West, governments partner with extremist Muslims who they imagine represent "the Muslim community". Often these are just the loudest and most aggressive voices.
The Irish government is deep in bed with the Muslim Brotherhood as a result.