Little Green Footballs
2001 to 2008, daily read:
Charles Johnson's blog Little Green Footballs (LGF) was the leading counter-jihad blog for years after 9/11. From 2001 to 2008, LGF was sometimes a daily read for me. It was where counter-jihad people would go to share links, expose jihadists and Islamists, attack the left, celebrate the killing of Yassin, the killing of Zarqawi, and the re-election of Bush.
2008 to 2009, strange transition:
And then the most incredible thing happened. Around 2008, Charles Johnson started fighting with everyone on the right. He started by making some reasonable points. But it got worse and worse, until he was fighting with every single person in the counter-jihad except himself. Eventually he left the counter-jihad altogether and turned LGF into a loony left blog. It is now the opposite of the old LGF.
2009 to date, forget it exists:
I dropped LGF from my RSS feeds in 2009. Now I regard LGF as a loony left site. I enjoyed reading The Diary of Daedalus for some years, to laugh at the new LGF. But eventually I started forgetting that LGF exists.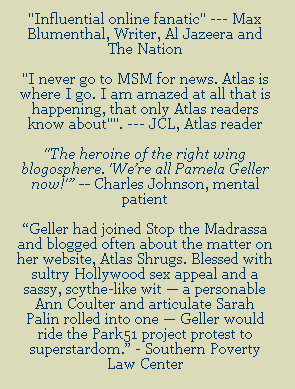 How Pamela Geller now references Charles Johnson
on her blog
.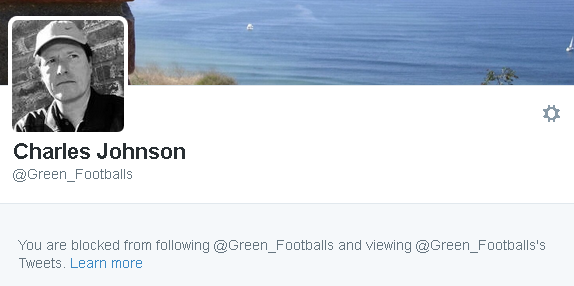 I am blocked on Twitter by Charles Johnson.
Pathetic.
His disciple Gus 802 also blocked me.
---
Hard to believe now, but as late as
2008
LGF was still a good blog to visit.
See full
screenshot
.
By 2013, Charles Johnson is the one spreading Palin-hatred: "Sarah Palin is on a media tour to promote her silly book .. and today the blithering half-governor appeared on the Today show with a tasty new right wing word salad, achieving (not for the first time) total incoherence. ... Speaking of apologies, has John McCain ever apologized for bringing this absolute moron into the right wing limelight?"
See screenshot part 1 and part 2.
---
The LGF blog war started as an argument between LGF and the following anti-jihad blogs. But it escalated to become LGF v. just about
all
counter-jihad blogs.

The argument began in 2007, mainly over the nature of Vlaams Belang. LGF was pointing out their anti-semitic and neo-Nazi past (and perhaps present). Some other counter-jihad blogs were defending them as now reformed allies against the jihad. This, though, rather reminds me of the claim that the BNP has "reformed". I find the sceptical view of these kind of Euro-nationalist groups the most convincing.
Europe tends to get things wrong. The French revolution is the American revolution, done wrong (leading to tyranny not democracy). Europe of course got everything wrong in the 20th century, with fascism and communism, while the English-speaking world carried on with democracy. The EU is the United States, done wrong (done with contempt for democracy and states' rights). Europe does immigration wrong compared to America (not integrating them, not having a "European dream" for immigrants). Europe does patriotism wrong compared to America (based on ethnicity not ideas). And likewise, Europe is likely to do the counter-jihad wrong too, confusing it with racism, or white Christian supremacy.

Vlaams Belang have a racist, anti-semitic and neo-Nazi past that they are trying to move beyond. Whether they have succeeded or not I don't know. But I would keep my distance for a while.
Robert Spencer: "There is no doubt that the party has changed. The question is whether or not the change is genuine or not."
Summary of the case against Vlaams Belang makes a good point: "my conclusion is that allying with Vlaams Belang would be strategically inept while providing little value, and would ... sap support for our anti-Islamofascist efforts. This is the case whether VB is taking a course to reform or not. There is too much evidence from their own sites, manifestos, statements, party publications, and affiliated groups that their leadership is not distant enough from the stance on collaborators, identity politics, and immature political theater to make any alliance with them sane. Even if they are making whole-hearted honest efforts to reform, the track record is just not long enough. (Some in their leadership are I think, some others aren't.) ... Associating with Vlaams Belang when they bring so little to the cause while carrying so much bad baggage is not only poorly thought out, it's also politically naive."
In short, it is a waste of energy for anyone on the anti-jihad side to attempt to defend Vlaams Belang. They should just shrug and say: "I can understand why you don't like them. I think they're reformed, but I understand if you think differently."

Charles Johnson escalates the dispute:
So I find the LGF view of Vlaams Belang and similar European groups the most convincing. I think the blogs that defend Vlaams Belang have made a mistake. It doesn't mean they are racist - just that they've made a bad call on allies. LGF should accept they are wrong but well-meaning, and they in turn should accept that LGF and others like me may honestly disagree with them.
But that's not what happened. Charles Johnson dramatically escalated the dispute by refusing to link to people who don't think VB are racist (like Gates of Vienna).
And then Charles Johnson escalated further, by refusing to link to people who link to people who don't think VB are racist (like Robert Spencer).
Even though I kind of agree with LGF about Vlaams Belang (!) I gradually stopped reading LGF because of this escalating link ban policy.
I agree with Robert Spencer that Charles Johnson's behaviour is absurd. I think we should just not link to racists themselves, and leave it at that.
It got worse. LGF started claiming that Robert Spencer is a racist. Unable to quote anything Spencer actually said to support this, LGF resorted to guilt-by-association, associating Spencer with the beliefs of others he might have met or had some contact with.
Simultaneous with this slander, and drift to the left, LGF began getting really, really boring. Out of habit, I would visit, hoping for the LGF of old to somehow be back, and instead be presented with boring posts that would have me out of there in 1 or 2 minutes. There's only so much you can take before you realise the old LGF is never coming back. Shame. I liked it.
I finally dropped LGF from my RSS feeds in 2009.

Charles Johnson has few allies in this:
I cannot think of any major counter-jihad blog that enthusiastically joins LGF in his war against these blogs. Most of them are staying out of the way, or opposing him, or dropping him silently. LGF links to a lot of left-wing blogs that support him, but support from any big counter-jihad blogs seems very silent. When you're in a party of one, it might be a sign that you've got the wrong end of the stick.
I agree with The Jawa Report on the LGF war, 30 Apr 2009. He doesn't necessarily support Robert Spencer on all things, but he says: "I'm not comfortable with the guilt-by-association accusations ... Robert Spencer may be a lot of things, but his views on liberty don't seem too much different than my own. ... Frankly, I'm not sure I understand the roots of the conflict. But from my vantage point the differences here are not irreconcilable. ... Please stop Charles."
Please Charles, Stop, The Jawa Report, September 10, 2009: "I say this as a friend. Stop this misplaced guilt by association campaign you have been engaged in against Robert Spencer. Robert is no extremist. You know this. Stop it. ... stop the guilt by association nonsense. ... It's not even guilt by association. It's guilt by association with those who are guilty of association. Guilt by association, once removed."
Glen Reinsford of The Religion of Peace is totally unimpressed with LGF: "Filtering out contrary opinion also seems to have deepened Johnson's sense of moral certitude to the point that he is attacking former friends, such as Robert Spencer ... with unnecessary hair-splitting and flimsy "guilt-by-association" slurs ... In order to establish that the founder of Jihad Watch is a bigot (or Nazi) who hates Muslims and Jews, it is first necessary to ignore what Spencer actually says about Muslims, Jews, Nazis and bigotry. Once this restriction is in place, an intricate "Six Degrees" linkage is concocted between the hapless Spencer and real-life neo-Nazis through some sort of Rube Goldberg-like sequence of personal associations.".
Hilarious comment: "I am just waiting for the post by Charles stating that he is closing his website because he learned that he himself is linked to neo-Nazis through a 28-link chain of association."
---
Why can't LGF and the Guardian
quote
Robert Spencer?
---
LGF bans its most loyal readers:
LGF decline stats, Dec 2012. Has a list of the top 21 most prolific commenters on LGF in 2007. All but 2 are now banned.

List of most prolific commenters on LGF as at July 2008, and their banned status now:

Babbazee
68,373 NOW BLOCKED
Realwest
53,033 NOW BLOCKED
MandyManners
47,879 NOW BLOCKED
Zulubaby
44,039
Occasional Reader
35,484 NOW BLOCKED
Killgore Trout
33,730
Ward Cleaver
31,895 NOW BLOCKED
Christheprofessor
30,427 NOW BLOCKED
Mama Winger
29,593 NOW BLOCKED
Peacekeeper
27,442 NOW BLOCKED
MigueldowninMexico
24,914
Sharmuta
23,595
Killian Bundy
23,217 NOW BLOCKED
Zombie
22,635 NOW BLOCKED
NY Nana
22,422 NOW BLOCKED
Writermom
21,990 NOW BLOCKED
JCM
21,926 NOW BLOCKED
Buzzsawmonkey
21,715 NOW BLOCKED AND OBLITERATED
Taxfreekiller
20,830 NOW BLOCKED AND OBLITERATED
Littleoldlady
19,613 NOW BLOCKED
Catttt
19,107
Lawhawk
19,042
Charles
17,318

The Battle for the LGF Archives - The Diary of Daedalus is working on pointing out the old, counter-jihad, material on LGF, and LGF then deletes it. Diary of Daedalus says: "we now know that we have the power in numbers, we have the tools, we have the motivation, and that we're a friggin' elite sniper team if we use them. So I think I can speak for all the DoDers and LGF antagonists everywhere and say, "Bring It, CJ!" I for one am ready to battle until there is nothing left but "beach" open threads and "Tech Note" updates."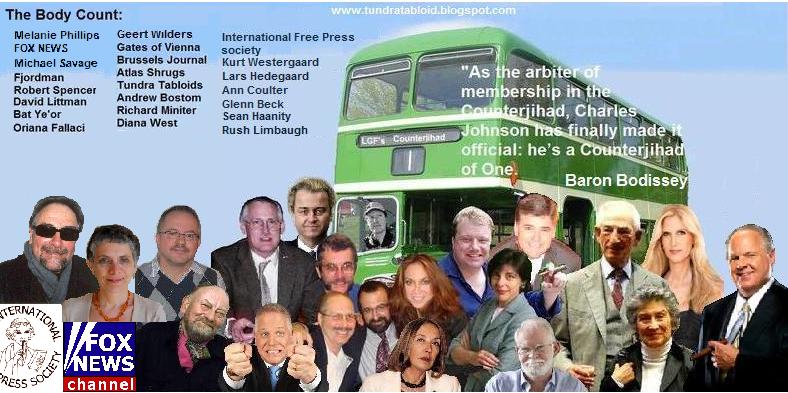 Image from
Tundra Tabloids
mocks the number of counter-jihad people that Charles Johnson has "thrown under the bus".
The quote is from
Gates of Vienna
, Nov 2008:
"As the arbiter of membership in the Counterjihad, Charles Johnson has finally made it official: he's a Counterjihad of One."

Further image from Tundra Tabloids.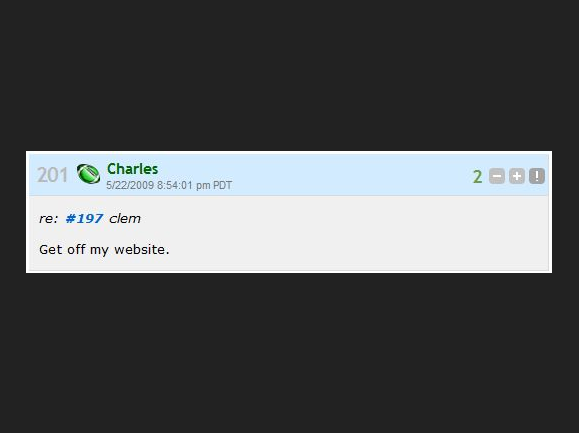 The hilarious "Get off my website!" slideshow from The Diary of Daedalus.
LGF bans its most loyal readers and most prolific commenters.
See images.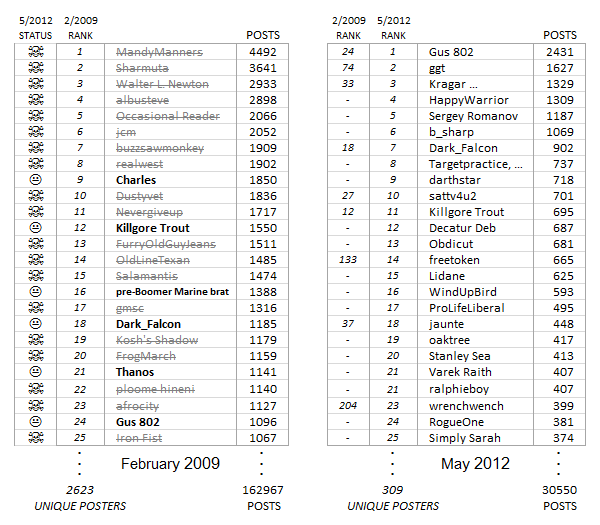 LGF monthly comments. A comparison of Feb 2009 and May 2012.
From here.
All of the top 10 commenters in Feb 2009 are now banned!
---
Everyone starts de-linking LGF:

A Rip Van Winkle moment:
In a roundup of the
Shooting of Michael Brown
story, someone at
Salon
, Aug 2014, thinks LGF is "conservative-leaning"!
After feedback, they changed this to
"the website ..."
Of course,
"the loony left website ..."
would be more accurate.
---
The Rifqa Bary case - LGF won't defend an apostate from Islam
The Rifqa Bary case in 2009 was the birth of the new, crap LGF.
Once upon a time, LGF would have automatically jumped to the defence of any apostate from Islam. Now they spurn her. This is the end of LGF.
Rifqa Bary (see WikiIslam), high-profile teenage apostate from Islam.

Rifqa ran away from home in July 2009 (age 16, nearly 17) after leaving Islam for Christianity. She was terrified she would be killed if sent back to her family.
She was put in state care. As well as fear of her family, she had a problem with her immigration status, and had to fear possible deportation to Sri Lanka, where as an apostate her life would be in danger.

LGF doesn't believe her:

Rifqa turns 18 and is free:

Rifqa turned 18 on 10 Aug 2010, and is now legally free of her family.
Rifqa got a green card, Aug-Sept 2010, and is now free of the threat of being deported to Sri Lanka.
She may however never be free of death threats for being a high-profile apostate.

Updates:
Rifqa Bary explains her fear that she will be killed if she is sent back to her family.
The new, left-wing LGF doesn't believe her.
Search for
more
.

A Facebook group threatening death to Rifqa Bary, Aug 2009 (group now removed).
See full size.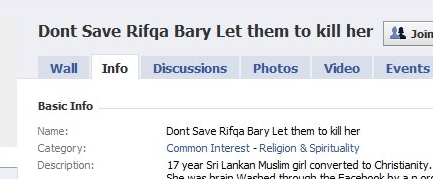 Another Facebook group threatening death to Rifqa Bary, Jan 2010 (group now removed).
See larger.

Islamofascist computer hacker, Sept 2010, destroys the website of Florida Family Policy Council because its lawyer president, John Stemberger, represented Rifqa Bary.
How dare anyone "think shit" about "Great Islam"?
---
Top 10 re-tweeted LGF posts in Feb 2011 gives a good snapshot of this now solidly left-wing site. 9 of the top 10 posts are left-wing. 1 is neutral:

GOP House: Planned Parenthood Bad, NASCAR Good
Crassest Right Wing Blogger of the Day: Jim 'Dim' Hoft
Andrew Breitbart Served with Lawsuit at CPAC
Protest Sign of the Day: 'If You Want a Republican to Care About You, Remain a Fetus'
Now the Right Wants to Redefine 'Preventive' to Exclude Contraceptives
Wisconsin GOP Union-Busting Coalition Falling Apart?
Again with the Grossly Inflated Wingnut Crowd Sizes
Sarah Palin's Word Salad of the Day
Gaddafi's Voluptuous Ukrainian Nurse Bails Out
Glenn Beck Rants About 'Commie' Logo That His Own Group Used

As part of its strange mutation into a left-wing blog, LGF says the War on Islamism is not so important any more, Jan 2010: "It's not that the war on terror has finished. It's never going to be finished, but I think things have reached the point now where it's not as pressing as it was. Some of the measures we took to protect ourselves against extremists have been pretty effective."
Johnson, 23 June 2010, says that Acts 17 Apologetics are like the Taliban.

Charles Johnson likes The Guardian and The Independent now:

The Diary of Daedalus is always entertaining:

Charles Johnson, Mar 23, 2012: "I really haven't been this disgusted with the Republican Party and the right in general in a long, long time."
The Diary of Daedalus is unimpressed: "Charles Johnson is mad at the Right everyday."

Liz_Ardoid has some good captures:

Johnson on Obama:

Interview of Charles Johnson, May 2012, by extreme leftists AlterNet. (A Chomsky promotion appears on the same page!) Charles Johnson says: "I was totally wrong about Barack Obama. That's one of my main regrets at this point. I really fell for a lot of the right wing propaganda, and I thought he was going to be a communist and a radical leftist and all that stuff. I believed a lot of the propaganda about him. If I could go back I would vote for him now, but we don't have that time machine yet."

Johnson's changing definition of Obama:

2008: Obama is a leftist - and that's bad. "Charles Krauthammer advises us not to be fooled by Barack Obama's apparently centrist appointments ... his socialist "progressive" agenda is still intact".
2009: Claims Obama is a centrist. "If you still refuse to believe that Barack Obama has become a truly centrist President, read his Nobel Prize acceptance speech. ... Not exactly the words of an America-hating commie traitor, are they?"
2013: Admits Obama is a leftist - but that is now good. He admits Obama is not a centrist but rather: "the most liberal, progressive President America's ever had". He now means this as a compliment.

April 2015: The "community" on the filthy left-wing LGF site now supports the Baltimore riots and attacks on the American police.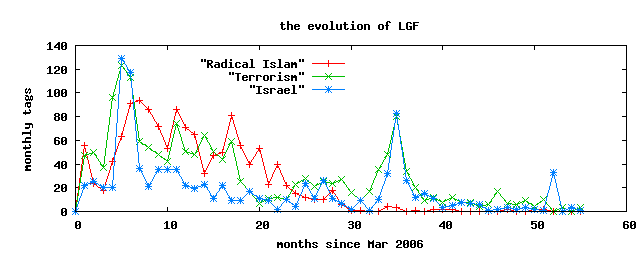 Graphing the tags used on LGF posts vividly shows how the subject matter of the blog changed.
Graph from
here
.
Here we see how a once great anti-jihad blog stopped covering the jihad at all.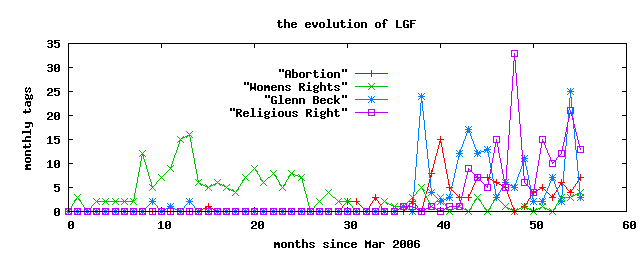 Instead it started covering boring leftie topics.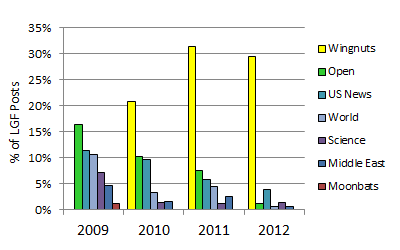 The change in topics covered 2009-12 as shown in the tags.
From here.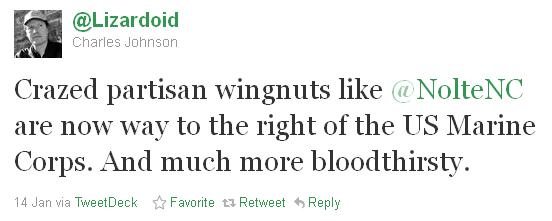 Far-left blogger Charles Johnson now describes the US Marines as far-right and "bloodthirsty".
A tweet war started between Johnson and John Nolte over the video of marines urinating on dead Taliban, Jan 2012. Loony left Johnson is shocked that people on the right are not appalled by this. (I am also unappalled.)
It ended in this revealing tweet by Johnson on 14 Jan 2012.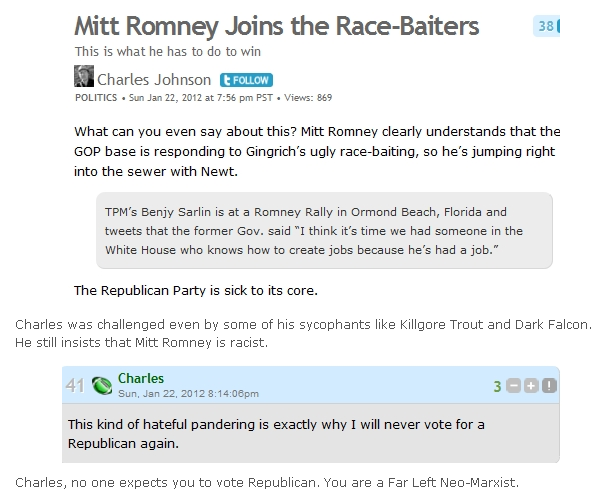 Johnson, Jan 2012, calls anyone who criticises Obama a racist, and pretends that some "centrists" exist who might listen to him.
But no such people exist.
No one is interested in what a far-left loony has to say about the right.
The Diary of Daedalus gives most people's response.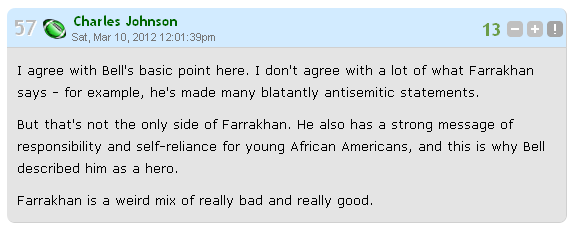 Charles Johnson, Mar 10, 2012, ends up defending the black racist Louis Farrakhan.
How did our alleged "anti-racist" loon get into this mess?
Because he has to defend everything President Obama does.
Therefore he has to defend everything Derrick Bell does.
Therefore he has to defend Louis Farrakhan as not so bad.
---
Charles Johnson has a hilarious history with
Oliver Willis
of the loony left Media Matters for America.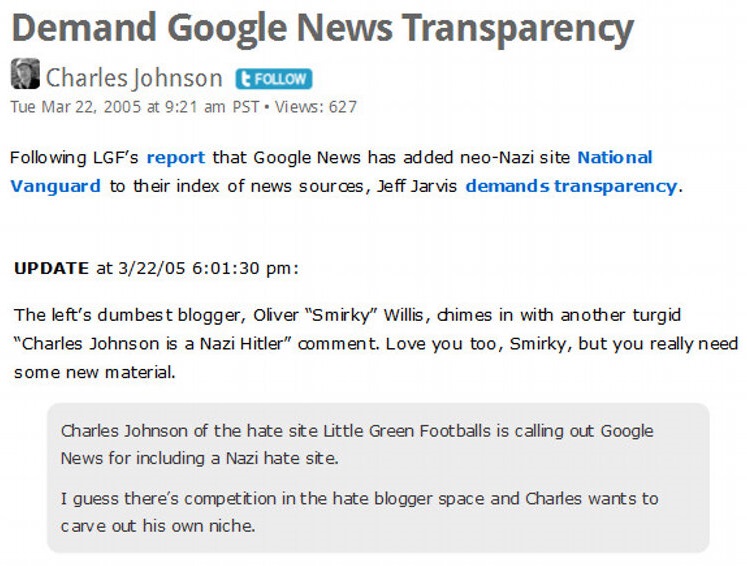 2005: Willis calls Johnson a Nazi.
Johnson calls Willis a dumbass leftist.
(Thanks to
Liz_Ardoid
for capture.)


2012: Johnson has himself become a dumbass leftist.
But it's still not enough for Willis!
Oliver Willis still calls him a racist in this tweet of 12 Mar 2012.
Everyone hates Charles Johnson!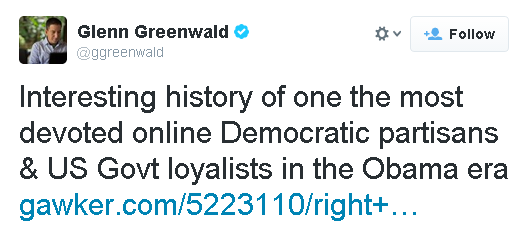 Hilarious stuff: Anti-government loony leftist Glenn Greenwald, 26 Feb 2014, calls pro-Obama loony leftist Charles Johnson "one the most devoted online Democratic partisans & US Govt loyalists in the Obama era".
---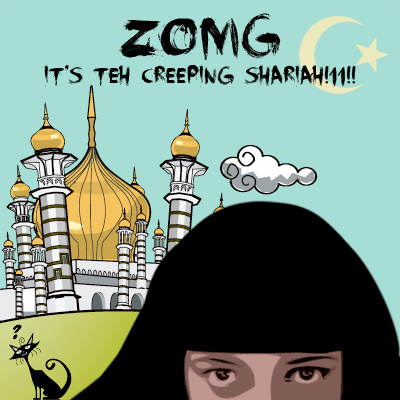 The Muslim anti-anti-Islamist
"CuriousLurker"
is typical of the anti-counterjihad posters on the useless site LGF these days.
Diary of Daedalus
calls her "Furious Burka".
She is a convert to Islam.
She hates Israel.
Fascinating exchange between American Muslim "CuriousLurker" and left-wing Jew "Elias" on the new LGF, July 2012. The leftie hopes for approval from the left/Islamic crowd by declaring that he hates Geller and Spencer, but he still attempts some mild criticism of Islamism. For this he gets down-dinged. Curious Lurker rushes to the defence of Islam, and gets up-dinged. The leftie encounters a wall of hostility, and he sadly says: "I knew you were all very liberal but I couldn't imagine that you were so naive about the threat of Islamism."


People who defend the Muslim Brotherhood are now welcome on LGF. Shameful.
---
LGF used to hate Nancy Pelosi, and understood exactly what her disgusting 2007 trip to Syria meant.

A fascinating episode, Nov 2010, illustrates the changing LGF.

LGF is still anti-Pelosi for meeting with Syria in 2007.
LGF is however becoming anti-Israel, and now compares Israel to Syria.
Johnson compares Eric Cantor talking to Israel behind Obama's back in 2010 to Nancy Pelosi talking to Syria behind Bush's back in 2007.
Um, maybe the difference is that Israel is an ally and Syria is an enemy, dumbass. You used to know that.
The Diary of Daedalus says: "It's only a matter of time before Chuck does a why I broke with Israel piece. He's laying the seeds down."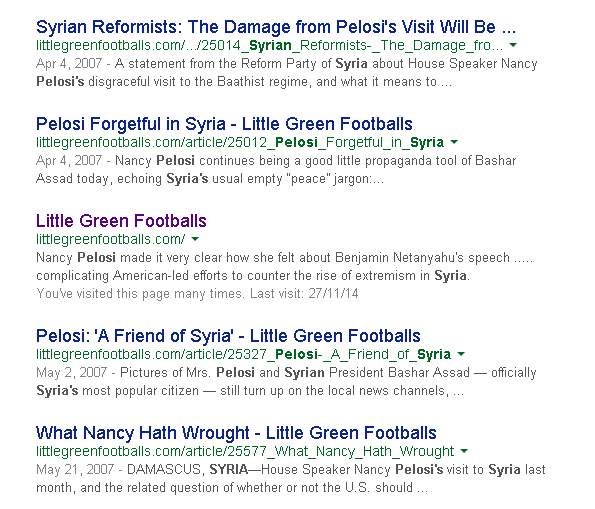 A search in 2015 on LGF for
"Pelosi Syria"
reveals the changing Charles Johnson.
In 2007 he understood exactly what Nancy Pelosi's disgusting trip to Syria meant.
But what's that in the modern search results?
Yes, it's some modern leftist crap like this March 2015 post:
"Nancy Pelosi Slams Netanyahu's "Insult" to the US"
.
LGF is now going anti-Israel and
pro
-Pelosi.
---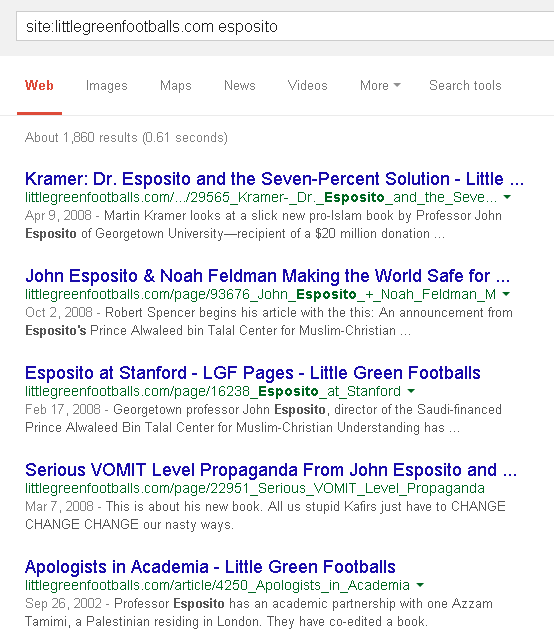 The old Charles Johnson
hated
the Saudi-funded Islam apologist
John Esposito
.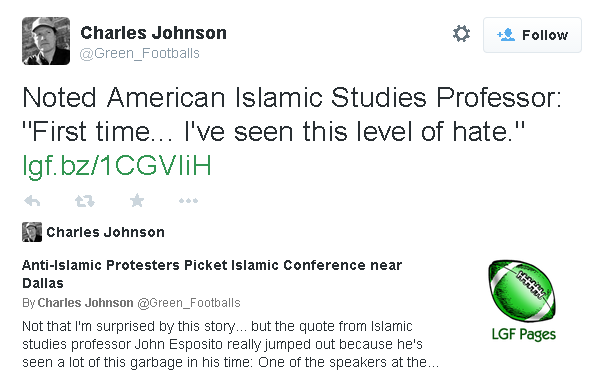 The new Charles Johnson, 19 Jan 2015, is now quoting John Esposito.
Better scrub your archives first, Charles!
---
Leftists react
uncomfortably
to Islamic violence. They make jokes. They attack the people who point out Islamic violence as "bigots". And so on. Johnson is now this kind of person.
Apart from reacting uncomfortably, another leftist approach is to ignore the jihad attack.
LGF, once the world's top counter-jihad blog, does not even cover many Islamic terror attacks any more, even ones in America!

Ohio State terror attack, 28 Nov 2016.
7 days later, on 5 Dec 2016, a Google search finds not a single mention of the attack on the LGF site.
And this was an attack in America! It goes without saying that he mostly ignores attacks elsewhere in the world now too. But to ignore an attack in America is incredible.

When it emerged that the Woolwich jihadist beheader of May 2013 was a
long-time associate of Anjem Choudary
, no normal person was surprised that the terrorist was linked to this enemy hate preacher.
But
Charles Johnson
, 23 May 2013, reacts by
attempting to defend Anjem Choudary
.
What's next in this continuing mental decline? Some qualified support for jihad "resistance"? Ultimate conversion to Islam?


Once a leading counter-jihadist, Charles Johnson now cracks jokes at the terrifying advance of ISIS, June 2014.
To brain-dead leftists, "jihad" and "caliphate" are just silly words the American right uses.
What is amazing about Johnson is that he used to understand the reality. And now he is like this.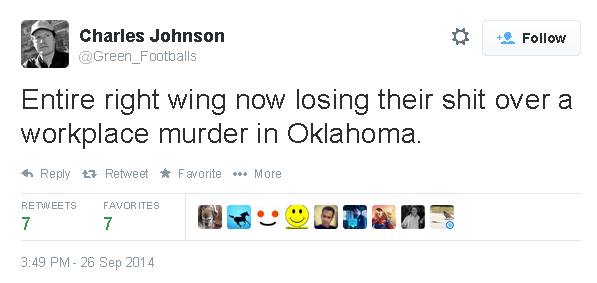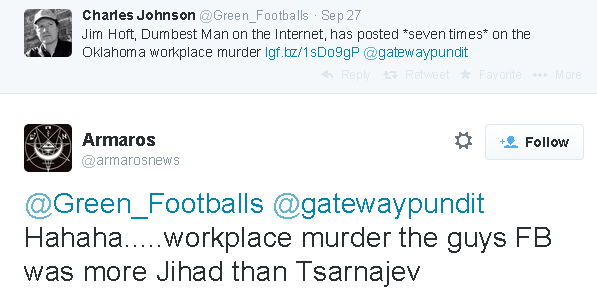 Johnson on 26 Sept 2014 and 27 Sept 2014 and 27 Sept 2014 says the Oklahoma Islamic beheading was just "a workplace murder".
His tiny group of left-wing followers applauds.
He writes a post about it, calling everyone "bigots".
"Armaros" laughs at him, and notes that the beheader's Facebook page (and search) was even more jihadi than the social media pages of the Boston bombers.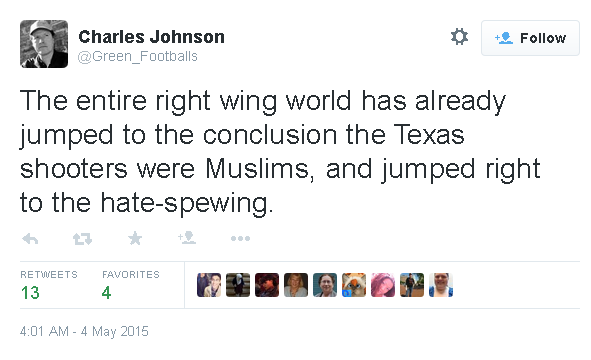 Left-wing nutcase Charles Johnson, 4 May 2015, complains about people linking the Texas Muhammed cartoons attack to Islam.
He's like The Onion.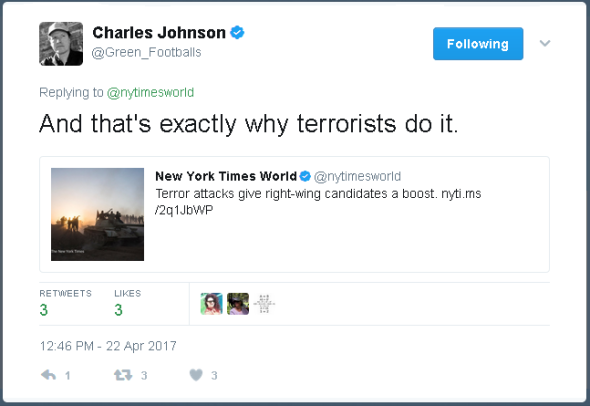 I swear this guy used to understand why jihadis kill infidels.
But the new Charles Johnson, Apr 2017, has got new, left-wing theories for why jihad happens.
---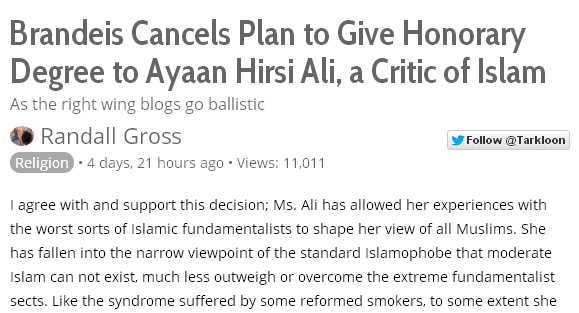 Black, female, feminist, classic liberal, pro-gay, ex-Muslim critic of Islam
Ayaan Hirsi Ali
was in the running for an LGF award as recently as
2008
.
Now the new, insane LGF, in Apr 2014,
has disgusting posts attacking Ayaan Hirsi Ali
(above).
And Charles Johnson
promotes them
.


Charles Johnson, 10 Apr 2014, attacks ex-Muslim Ayaan Hirsi Ali for criticising Islam.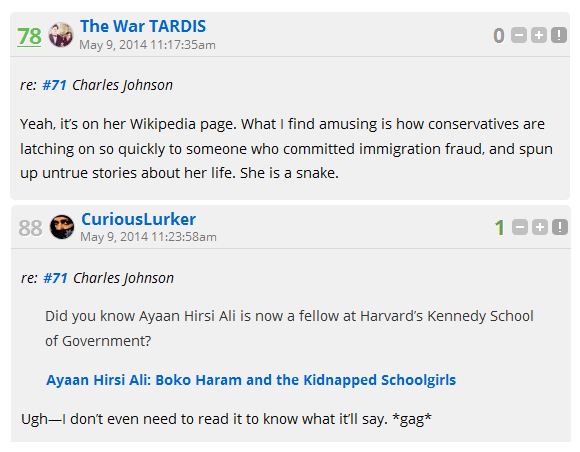 LGF is now a cesspit where people attack the heroine Ayaan Hirsi Ali.
Thanks to DoD for reporting from this hole.
---
LGF's friendship with Mo Ansar of the
Muslim Council of Britain
is a dramatic sign of LGF's decline.
The old LGF would never have gone near this person.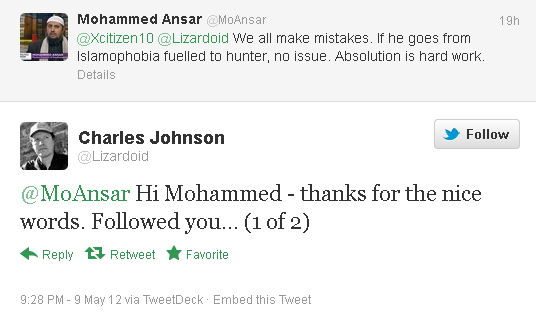 Charles Johnson
, 9 May 2012, is now friends with Imam Mohammed Ansar.
Mo Ansar is a right-wing religious fundamentalist, a supporter of religious sharia law, a hater of Israel, a 9/11 truther, and (ironically, given LGF's obsessions) a creationist.
If he was a Christian right-wing cleric, Charles Johnson would have nothing to do with him.
Disgusting friends you have there, Charles.
---
Since he reads nothing except leftist drivel now, Johnson will become anti-Israel. It is inevitable.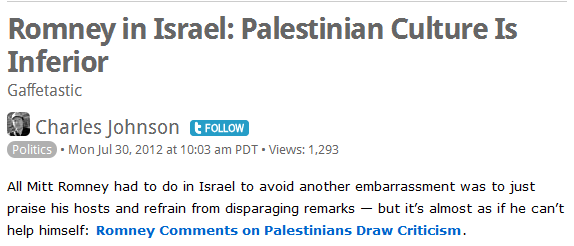 Charles Johnson starts defending the Palestinians
, July 2012. His transformation is nearly complete.

Johnson allows anti-Israel pages on his disgusting site, 27 Sept 2012.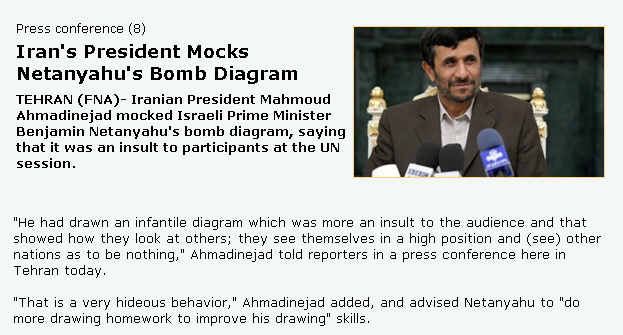 Ahmadinejad agrees with LGF.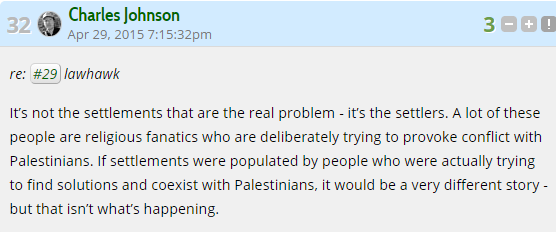 Left-wing moron argues that if only the settlements contained different types of Jews, the jihad would be OK with them.
From here.
How the old LGF would have laughed at this fool!


A quick Google check in 2020 shows that LGF has not written about jihad in 7 years.
---
"I am always surprised when someone sends me a link from the green swamp. No one reads this boil on the ass of the blogosphere anymore".
- Pamela Geller, 5 Feb 2012, on the car wreck of Charles Johnson and Little Green Footballs.
"Nominees for The 2013 LGF Awards were difficult to select, as Little Green Footballs, once a bright beacon of sentience in a disturbed world, is now a dim yellow porch light that even the moths make fun of."
- The Diary of Daedalus, 20 Jan 2014, on how this may be running out of steam. Few people now remember when LGF was good.
---