Human rights groups
Freedom House is my preferred source of human rights country reports. It is the most objective human rights organisation.
The others do useful work, but allow politics to influence what they say and which countries they focus on.

Survey of human-rights criticisms by churches sums up the entire problem with the western left.
---
---
---

Adam Shapiro's tweet of
27 July 2012
tells me all I need to know about "Front Line Defenders".
---

The US State Department
"Women of Courage" Award
has had trouble with honouring dodgy characters.
The 2013 Award
, March 2013, planned to honour Egyptian protester
Samira Ibrahim
.
Above is a
tweet
from Samira Ibrahim on Aug 21, 2012, approvingly quoting Hitler.
The tweet reads:
I have discovered with the passage of days, that no act contrary to morality, no crime against society, takes place, except with the Jews having a hand in it. - "Hitler"
The Weekly Standard, 6 Mar 2013, did the work that the US State Department somehow failed to, and found out who she was. Samira Ibrahim, it turns out, hates the Jews and Israel, and praised the 2012 suicide bombing of Jews in Bulgaria.
Remarkably, instead of ignoring the Weekly Standard report, the US State Department decided to defer her award pending review. Result! This is what a free press is for.
Samira Ibrahim responded by blaming the Jews.

An honoured guest at the 2012 awards was Muslim Brotherhood member Tawakel Karman.
---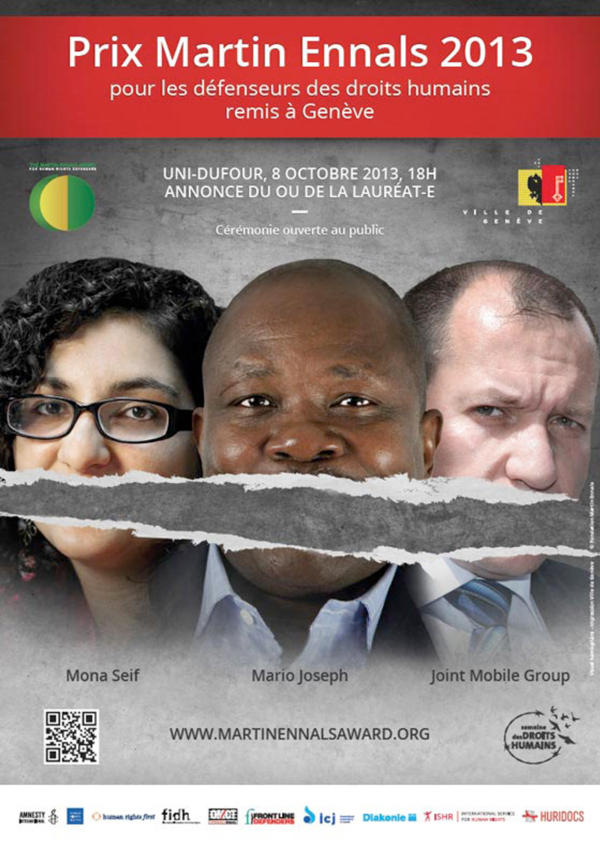 The Martin Ennals Award
("the Nobel Prize for human rights") disgraces itself by including in the 2013 finalists the pro-jihad Egyptian
Mona Seif
.
Mona Seif was nominated by Amnesty International, Human Rights Watch and Front Line Defenders.
There was an outcry and (perhaps partly because of that) she did not win.
---
"As an Arab who wants to purge Arab societies of the scourge of extremism and terrorism, I have come to realize that Islamists aren't the only obstacle and that the far-left are also an obstacle, perhaps an even larger obstacle, because they have emboldened the Islamists, Hamas, Muslim Brotherhood and Hezbollah in particular, and as a result, the Islamists have increased in strength. We are feeling the result of the far-left's assistance and support of the Islamists in the Arab world. I have seen far-left rhetoric that is supportive of these Islamist groups from once mainstream and formerly liberal groups such as Amnesty International and Human Rights Watch by their disproportionate criticism of Israel, yet their silence regarding Hamas and Hezbollah. I can no longer call these groups liberal when their words and actions are supportive of Islamist groups who seek the destruction and genocide of others."
- Algerian secular Muslim Omar Dakhane, 7 Mar 2012, says the left-wing turn taken by Amnesty International and Human Rights Watch aids and encourages human rights abusers in the Arab world.
---