The Halawa case (after)
In 2013, four of the adult children of Ireland's leading Muslim Brotherhood cleric,
Hussein Halawa
of the
Clonskeagh mosque
, were arrested in Egypt in the massive Muslim Brotherhood demos. The three daughters were released later in 2013. The son, Ibrahim Halawa, was released in 2017.
Back in Ireland, it would be nice to think they would have second thoughts about their father's awful ideas that got them jailed in Egypt. It would be nice to think they would rebel against Muslim Brotherhood ideas and become liberals.
No sign of that happening yet.
---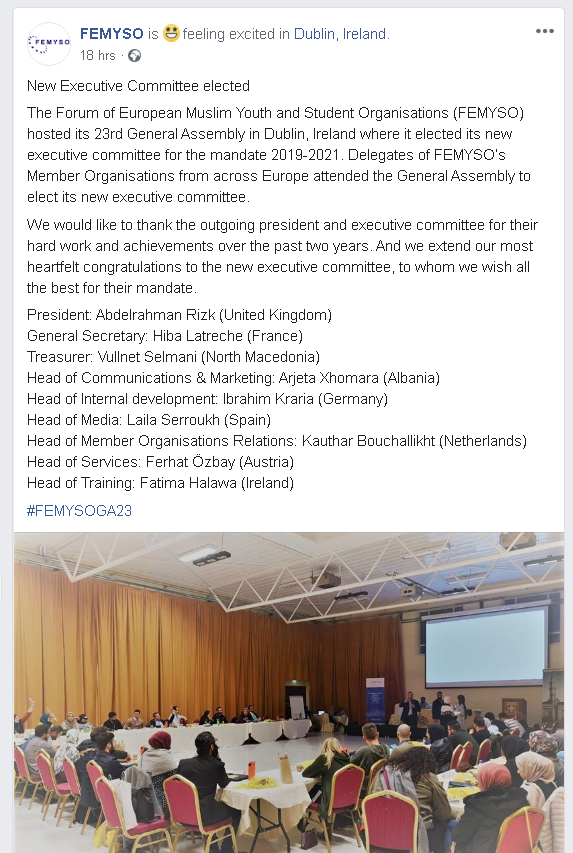 6 years after the "Halawa Four" were arrested:
One of the Halawa Four is elected to the committee of a Muslim Brotherhood body.
Fatima Halawa was elected to the committee of The Forum of European Muslim Youth and Student Organisations (FEMYSO), Oct 2019.
FEMYSO is a
Muslim Brotherhood body
.
It is the youth/student arm of the
Federation of Islamic Organizations in Europe
(FIOE), a Muslim Brotherhood body.
From
here
.
---
Since release, Ibrahim Halawa has become a public figure, making speeches in Ireland and abroad. Many of these speeches contain political ideas. Bad political ideas.
Ibrahim Halawa interview at "Festival van het Vrije Woord", Netherlands, Thur 3 May 2018.

Ibrahim blames Islamic jihadist terrorism on torture in Egyptian prisons, rather than, say, on the philosophy of jihadism that the Muslim Brotherhood spreads and promotes.
He mentions prisoners tortured by Egypt, and then explains this is why they attack Europe. Why Europe? He claims Europe is "helping" Egypt in some vague way, but this is very tenuous. His explanation of why jihadis attack Europe makes no sense.
In reality, we know why jihadis become jihadis, and Ibrahim ignores it. He ignores what groups like the ECFR and the Muslim Brotherhood say about jihad.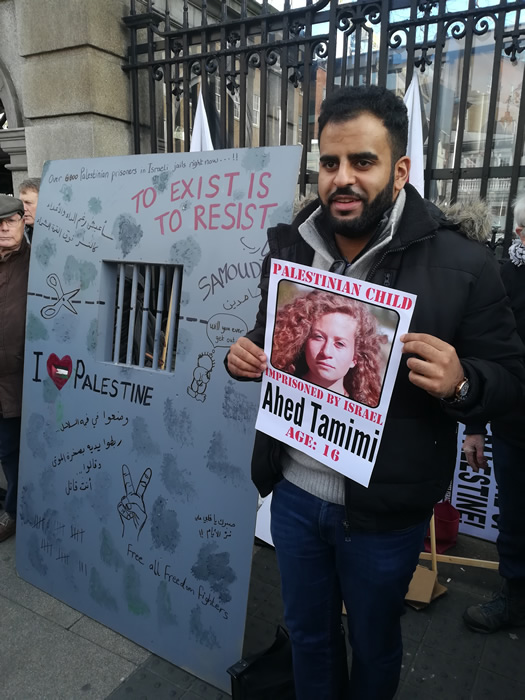 Ibrahim Halawa at an
anti-Israel protest
in Dublin, Jan 2018. Also
here
.
He is protesting in favour of young Palestinian radical
Ahed Tamimi
(from a
family of radicals
).
Ahed Tamimi supports
stabbings and suicide bombings
(also
here
).
Notice the sinister slogans on the placard, describing Islamic terrorists as "freedom fighters", and supporting "resistance" in the context of a brutally violent Islamic terror campaign.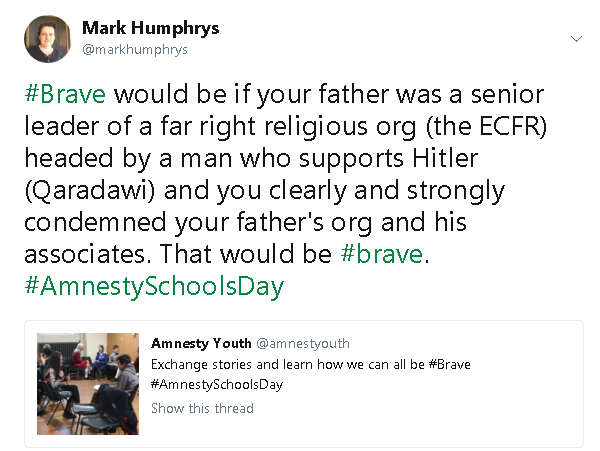 The radical left Amnesty Ireland continues to promote Halawa, Apr 2018.
They say he is "brave" for standing up for his father's beliefs.
Now he is home, what would be really brave (and would do a lot of good) would be if he stood against his father's beliefs.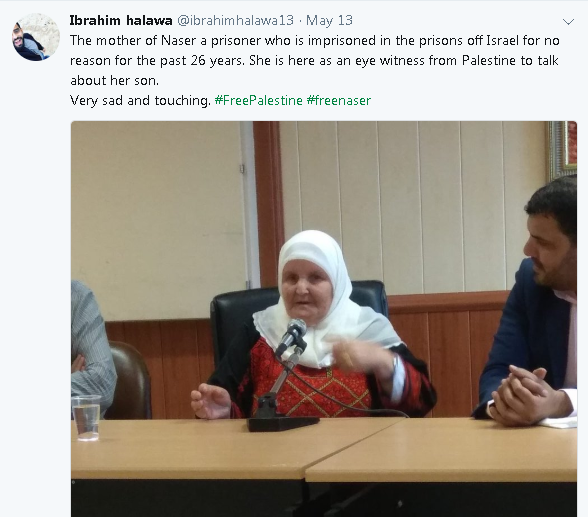 Ibrahim on 13 May 2018 posts about a woman whose son has spent 26 years in Israeli prisons "for no reason".
Her name is Mazyounah Abu Srour.
Her son is Nasser Abu Srour, arrested in 1993 after he killed an Israeli Shin Bet security agent.
So much for "no reason".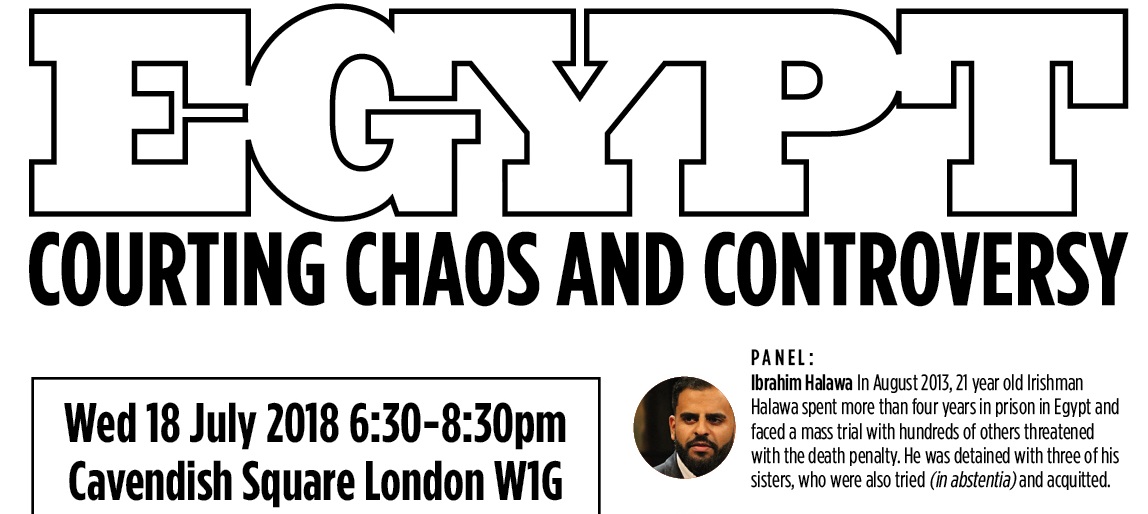 Ibrahim Halawa speaks at a Cordoba Foundation event, London, 18 July 2018.
See full size. See video.
The Cordoba Foundation is linked to the Muslim Brotherhood. See more.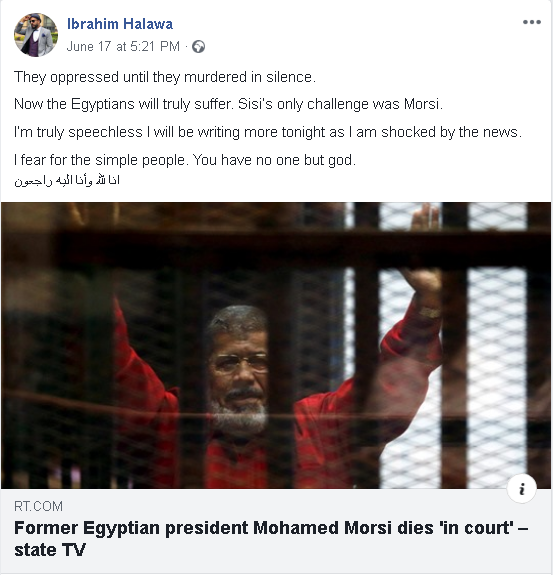 Chap who is not interested in the Muslim Brotherhood remains interested in the Muslim Brotherhood.
Post on 17 June 2019 after the death of the former Muslim Brotherhood President of Egypt, Mohamed Morsi.
From here.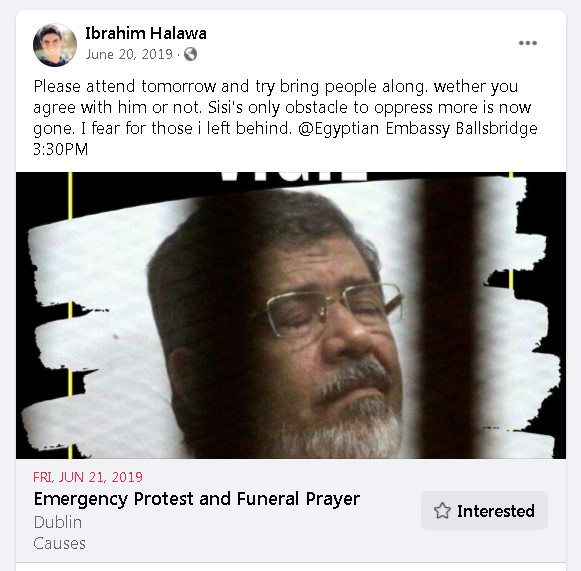 Ibrahim promotes a protest after the death of Mohamed Morsi.
From 20 June 2019.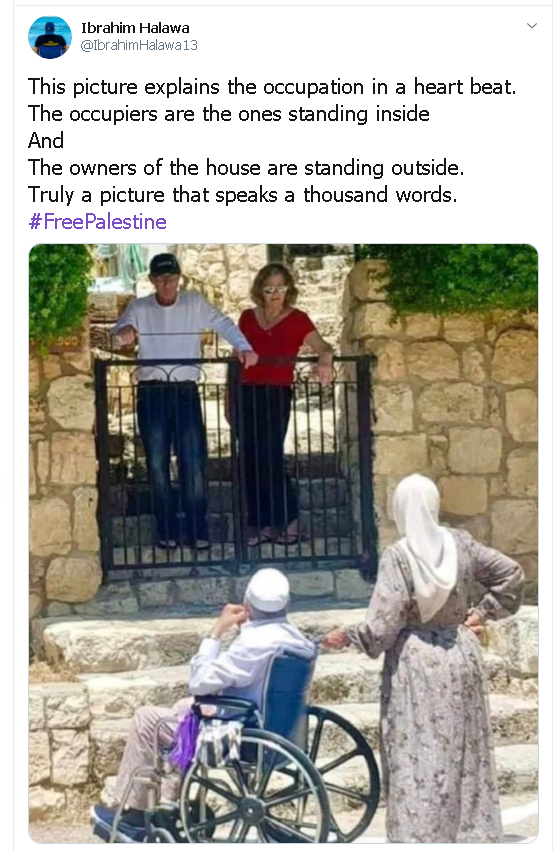 Ibrahim tweets about "the occupation" in May 2020.
But this is not in the West Bank or Gaza.
This is from an Al Jazeera story in 2020 (see text) where an Arab former resident of Ijzim in Israel returns to see his old family home, now the home of some Israelis.
Ijzim is south of Haifa, inside the 1967 borders.
The man Ibrahim calls the "owner" of the house has not lived in it since 1948.
So is all of Israel an "occupation" now?
---
Return to The Halawa case.