Eblana debate - Replies to Richard Boyd Barrett
Replies to Richard Boyd Barrett and others
A debate on Israel
was held at the Eblana Forum, Dun Laoghaire, in October 2022.
I spoke for the Ireland Israel Alliance, against
Richard Boyd Barrett
.
Audience members also got to speak.
Not a good debate
I am proud of my talk, but this was not a good debate.
Israel is a fantastically complex topic. As a result it is never debated properly in the media, where speakers have a tiny amount of time. The Israel topic requires hours, even days, to hear all the arguments and counter-arguments.
I had hoped this debate would give enough time, but not really. I got 27 minutes and then my talk was stopped.
When I came back, I should have had lots of time to refute Boyd Barrett, and debate back and forth. But I needed to finish my talk first. I finished my talk in a rushed 2 minutes. Refuting Boyd Barrett and others had to wait, and is now on this page here, which of course they will never read.
In fairness, I was thrown by having my talk interrupted, and finished far too rushed, and could not focus on other things (rebuttals). Partly my fault.
But also, no, this was not a good debate. We did have some back and forth, especially with the audience members. But we needed more. Many of the bad arguments expressed by Boyd Barrett and audience members were left untouched.
We need a more relaxed evening, with more time. I'm happy to have a round two where we examine every argument and counter-argument. In the meantime, here are the bad arguments and their counter-arguments.

The video of the complete debate, both sides, including questions from the floor.



---
Richard Boyd Barrett (part one)
1987 stories:
His long rambling story about a visit to Israel in 1987 is very odd. How is he still banging on about this stuff 35 years later? Even if everything is recalled correctly (which I rather doubt) what do these ancient personal stories have to do with modern Israel?
He says it was appalling that Israeli employers in the 1980s were employing Palestinians as "day labourers" and this was "exploitation". Why he thinks it was appalling that Israelis gave jobs to thousands of Palestinians, tripling Palestinian GDP per capita from 1967 to 1999, is not explained. He says people lining up looking for unskilled work are by definition being "treated like animals". Again, I do not understand why. Maybe you need to be a Marxist.
He claims that in 1987 he regularly heard from Jewish farmers: "The only good Arab is a dead Arab". Maybe he did, or maybe his memory is faulty, or he even misunderstood. He has other rambling stories about Jewish farmers being mean to Arabs. Hard to stay awake for this bit. It's like listening to some old fella who went to England once 30 or 40 years ago, met someone mean, and has been anti-English ever since.
What do these ancient stories about racist 1980s farmers have to do with a modern high-tech country where Arabs vote, are in government, and Arabs occupy senior positions in the judiciary, politics, business and military? It is sad, weak stuff.
Gaza:
He moves on to the present day. He says Gaza is a "humanitarian crisis". In fact, Gaza has plenty of nice shops and restaurants and other facilities, and a higher life expectancy than many Arab states.
He claims the Israeli "blockade" of Gaza is because Israel did not like Hamas winning the 2006 election, rather than the real reason, which is Hamas rocket fire.
He says Gazans are "starved" of the resources needed for a decent life. In reality, more than 4,000 trucks per month enter Gaza. As a result, many nice businesses and services exist in Gaza. Far from "starving", Gazans actually have an obesity problem.
He says "successive Israeli assaults on Gaza" have devastated it, ignoring the fact that all of them were because Gaza keeps bombing Israel. And in fact Gaza was not really devastated and soon recovered. If Gaza wants this cycle to stop, all it has to do is stop bombing Israel. But Boyd Barrett did not call for that, or even recognise that as a problem.
More things:
He complains about military checkpoints on the West Bank. He never explains their function: To keep Jews alive against terrorism. He never calls for the terrorism to stop.
He spends a lot of time complaining about a minor incident, the "attack" by Israeli police on the funeral of Shireen Abu Akleh. He says it displays "a sick, racist mentality that pervades the Israeli state." In reality, the arrangements for the high-emotions funeral were agreed in advance with the Israeli police, but then the funeral was hijacked by militants who grabbed the coffin and set off into the city to do God knows what, maybe attack passing Jews. The police had to stop them.
He claims David Ben-Gurion said: "We must expel the Arabs and take their places." In fact, this is a fake quote.

He complains about the condition of the 7 million Palestinian "refugees". He does not recognise that most of them are not refugees. He asks: Do you accept the right of Palestinian "refugees" to return, and if not, why not?
I answer here: No, I do not accept it. For multiple reasons. First, 95 percent of them never lived in Israel, even for a day. Second, letting them into Israel would lead to a bloodbath.

He says Amnesty and HRW and the UN all say Israel is an apartheid state, as if we should be impressed by such hideous organisations. He needs to get out more.
He says he wants equality for everybody, even though the only place remotely like that in the Middle East is Israel. He finishes with ranting hysteria about the Israeli "regime", and the need for a boycott of Israel until it is destroyed and rebuilt. It is hard to see any relation between this angry rhetoric and the modern country of Israel that actually exists.
---
Richard Boyd Barrett (part two)
He bangs on again about the "right to return". No addressing of the fact these people never lived in Israel so they are not "returning". Or that moving millions of hostile Arabs into Israel would lead to a bloodbath. Just abstract ideas from theory with no care as to how they impact people.
He again says Amnesty, HRW and the UN agree with his side, as if that should impress us. No one has told him that we find these organisations contemptible.

He tells us why there is so little democracy in the Middle East. It is not because of Islam, or tribalism, or because democracy is in fact a rare Western invention. No, it is some Marxist theory where it is all the fault of the Western powers. Hilarious really. And he concludes that Israel therefore deserves no credit for being a democracy surrounded by dictatorships because .. no sorry, I completely lost the logic.
---
Audience questions
Some of the audience cannot be heard. Others can.
In response to an audience question, Boyd Barrett discusses the ethnic cleansing of the Jews of the Middle East and North Africa. He claims that this was caused by, you guessed it, the Jews. To be precise, the embrace by some Jews of ethnic cleansing ideas caused Arabs across the Middle East and North Africa to expel their Jews. So Arabs have dictatorships because of the Western powers, and they ethnically cleansed their Jews because the Jews gave them the idea. Do Arabs not have any moral agency?

A female audience member did not like the idea of Gazans stopping rocket fire. Since Israel has the Iron Dome, she thinks Israel should stop responding. An extraordinary position. First, what exactly is wrong with the Gazans stopping? Second, the Iron Dome does not stop every rocket, so Israelis will still have to run to shelters at all hours. Third, if Israel really stops responding, rockets will be fired 24/7/365. It will escalate, not reduce. Another person with abstract ideas that bear no relation to people's lives.

Dave O'Keeffe, People Before Profit former councillor, had the worst contribution of the night. He is angry at the concept of asking Gazans to stop rocket attacks. He says it "boils my blood. I don't know, Mark, if you would tell a victim of abuse: Just stop fighting back. Be quiet, say nothing, and they'll leave you alone." What a hideous defence of terrorism. First, Gazans are not being "abused". Second, they are not "fighting back" against abusers. They are firing rockets at entirely innocent Jewish and Arab families. This is a war crime.

Melisa Halpin, People Before Profit councillor, speaks. She says it is terrible the number of people that have died in the Gaza wars. I agree, but I say: "You don't want them to stop." Meaning she has not called for Gazans to stop their war. She disputes that she does not want them to stop. I point to O'Keeffe, her PBP colleague right behind her, and say: "He doesn't want them to stop." It ends unresolved. It remains unclear if Halpin wants them to stop.

The one thing we never got a clear answer on:
Has anyone in PBP (or allied groups) ever, in all the years since
2005
, called on Gazans to stop resistance?
Ever? I have never heard it. I did not hear it at the debate.
Above, I ask
online
and (of course) got no reply.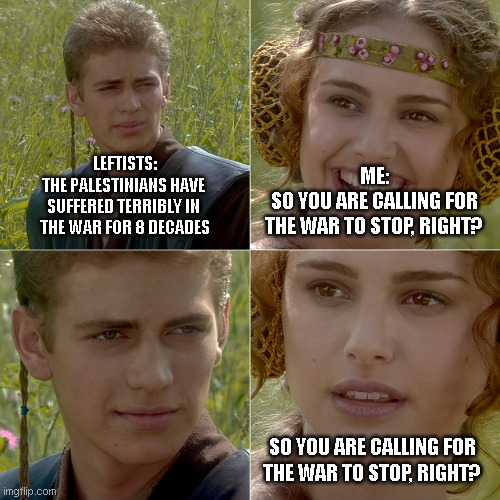 I did a meme about the likes of Richard Boyd Barrett.
Made here.
---
Richard Boyd Barrett (part three)
He quotes Netanyahu in 2019 saying: "Israel is not a state of all its citizens. ... Israel is the nation-state of the Jewish people". But in the full quote, Netanyahu says: "there is no problem with Israel's Arab citizens. They have equal rights". Of course he does. He appointed an Arab as Minister of Communications in 2017.

Ayelet Shaked quote:

Boyd Barrett says people in Netanyahu's cabinet have referred to Palestinians as being "snakes" and "less than animals".
I do not know what the "less than animals" quote is, but the "snakes" quote refers to Ayelet Shaked, who made this post in 2014: "Behind every terrorist stand dozens of men and women, without whom he could not engage in terrorism. Actors in the war are those who incite in mosques, who write the murderous curricula for schools, who give shelter, who provide vehicles, and all those who honor and give them their moral support. They are all enemy combatants, and their blood shall be on all their heads. Now this also includes the mothers of the martyrs, who send them to hell with flowers and kisses. They should follow their sons, nothing would be more just. They should go, as should the physical homes in which they raised the snakes. Otherwise, more little snakes will be raised there."
Now it is true that the families of terrorists usually support terrorism, and usually raise more children to be terrorists. But still, such language is highly inflammatory, and, depending on interpretation, may target the innocent. I do not defend Shaked. Though Boyd Barrett leaves out the context, that it is about the supportive families of terrorists.

Right to return:

He admits that Palestinian "refugees" are not refugees, but rather the children, grandchildren and even great-grandchildren of refugees. Why they should be "returning" to Israel is unexplained. His only argument is that it is unfair given the Jewish Law of Return.
Now I would reply that most people on the planet whose ancestors were displaced should not have a "right to return" to ancestral lands. After decades or centuries, you can't fix history. I would make an exception for the Jewish Law of Return because of the appalling persecution and genocide of the Jews. I would not make an exception for other populations, certainly not for a population many of which want to persecute and genocide the Jews.
He dismisses the claim that his Arab "right to return" would be a bloodbath. He does not explain why it would not be a bloodbath.
He says Palestinians will never accept their inability to "return" to 1947, and will keep up resistance. But this is the problem. They shouldn't keep it up.

"Palestinians should stop resistance"

He is horrified by the idea that Palestinians should give up the struggle and choose life. But that is what Palestinians should do. People like him just encourage decades more of the same endless conflict. He has nothing to offer except 80 more years of the same pointless "struggle", and 80 more years after that. Palestinians should ignore him and choose a different path.
He says it is unrealistic to think Palestinians will stop resistance. Well I agree! I don't actually believe Palestinians will stop resistance. I just think they should. It would solve everything, for Israelis and for them. But they won't do it. That is why I say there is no solution.
Note that Boyd Barrett's plan assumes the Palestinians will stop resistance once they get their "right to return". This is a fantasy way beyond anything he accuses me of.

He quotes the genocidal slogan "From the river to the sea" and claims it is quite innocent, which is a highly dubious claim. Arab enemies of Israel have many quotes showing that for them it is a genocidal slogan.

He ends by saying, like any classic revolutionary, that he wants to "dismantle" an old, stable democracy with human rights and prosperity in favour of some weird fantasy plan that anyone can see would be a bloodbath.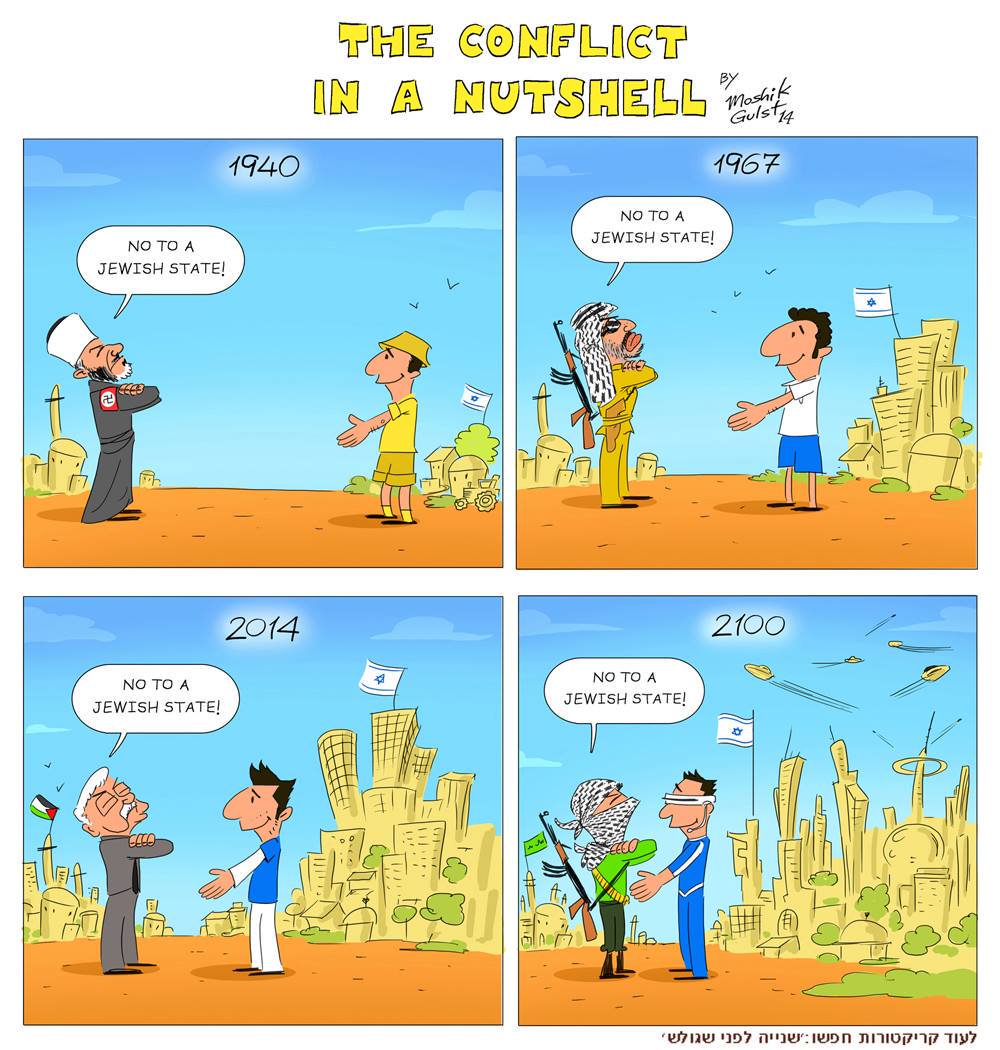 Boyd Barrett says Palestinians should
continue
along the path of 80 years of pointless "resistance" that has worked so well for them, and
one day
they will win and the Israeli state will be "dismantled".
Cartoon from
Moshik Gulst
.
---
Other pro-Israel responses to Boyd Barrett
A Deputy and his Daydreams, by Ciaran O Raghallaigh, 28 Oct 2022.

He points out that Boyd Barrett's "right to return" plan is an absurd fantasy. Trying to "go back to 1947" is impossible. Jews would not be safe in the new Arab-majority Israel. And Jews could not go back to the Arab countries they were expelled from. "To describe this as a fairytale does a grave injustice to fairytales. In reality, no Arab regime would countenance an influx of Jews from Israel and even if they did, they would absolutely not hand back land or property to them. The most likely outcome would be that the Jewish refugees would end up as a persecuted minority - just as they were before 1948 and just as other religious minorities are across the Middle East today. Meanwhile, the one state in the world that could always be relied upon to speak out about the persecution of Jews would no longer be a majority Jewish state and would most likely be descending into civil war."

An open letter to Richard Boyd-Barrett, by Teresa Trainor, 1 Nov 2022.

She points out that Palestinians do not want the fantasy one-state-solution that Boyd Barrett proposes. When actually asked what they want, they want the Jews to leave.