From
24:45
to 51:15.
---
A rare debate
So I brought along a whole load of things to show you. And my plan is to kind of
negate Richard's entire political life
, and give the opposite side of the story.
And I just want to say it's wonderful that the Eblana Club is hosting a debate, because we never get to debate, us pro-Israel people and the anti-Israel people - you mightn't categorise yourself as anti-Israel - but anyway, we never get to debate. Things flare up online. Nothing much happens. But these debates are so rare, and it's great. So I hope we have some time tonight to go through things.
Now there won't be any "Road to Damascus". I don't think you're going to agree with me [or] I'm going to agree with you. That's not what debate's about. It's about presenting different sides. And neutrals can chip in.
---
Democracy
So I think in a lot of the discourse on Israel, what's missing for me is almost always the fundamentals. For me, the fundamentals are this:
Now this is an extraordinary list because you think, well, doesn't every country have a list like this? Ireland does, for example. No! Spain does not. Spain was not a democracy in the 40s, 50s, 60s. Greece was not. Eastern Europe was not, famously. For half of this, Eastern Europe were not democracies. China is not a democracy today. Iran is not. Russia is not. Half the world are not democracies. This is very special in the world to have a list like this. And this is why I support Israel, fundamentally. Everything else is secondary to the fact that it is a democracy, a free society, in a world, and in a region where free societies are almost extinct. There are hardly any free societies in the Middle East. And they have held on as one of the rarest free societies in that entire region.
Now that's just a list of elections. And then we can go and we can look at how people rank Israel. So here is The Economist who have a thing called the Democracy Index:
I want to talk a bit more about that democratic tradition. This is a chart from Freedom House who rank freedom in the world for different countries:
Freedom of the Press index:
So Israel has done an amazing job. And here's a little map from Freedom House again:
This zone of purple is, for me, that's just such a sad picture of the planet. And it is a real picture of the planet, where in country after country you have regimes where you don't have the basic rights that we all have here in Ireland. We're one of the greens of course.
And look at this tiny little green country here. Look at this tiny little green country in the middle. It's an island. An absolute island of freedom.
So for me, this is not to be sniffed at. To achieve that, to even be a green country, is an achievement, for any country. To be a democracy, to be a democracy for decades is a great achievement and something Israel should be proud of.
---
Palestinian elections
So let us compare it to the Palestinian Authority:
---
Why no Palestinian elections?
And what happened? What happened afterwards? 2005? Did Yasser Arafat suddenly decide that he believed in democracy and he better have an election, after 9 years?
No, you know what happened. He died, right? That's why there was an election in 2005 - because the guy died. The dictator died in 2004. He was never going to have an election if he lived to 150.
So 2005 and 2006, they had those two elections and Abbas wins one and Hamas wins the other. And then what happens? Because what happens over here is you go into opposition, and you say that the government are doing things wrong, and you bide your chance for the next election.
The next election. Who are you kidding? There will never be another election. I mean, Abbas is still alive. Why would there be an election? He's not going to have an election. He's alive.
---
Palestinians do not believe in democracy
So these [on RHS] are, at least for the powerful, these are people who do not believe in democracy at all. Arafat never believed in it. Abbas does not believe in it. Hamas do not believe in it. None of these people believe in democracy.
These people on the left, they believe too much in democracy! Look what they're doing. They're having an election this week, aren't they? Next week. [1st November.] There you go. So these people believe in democracy. These people [on RHS] don't. How about the people themselves? Even the belief of the people themselves in democracy is rather questionable. When's the last time you heard Palestinians complaining about the lack of a Leader of the Opposition and a working Parliament? There should be two of them really. There should be a Parliament in Gaza with a Leader of the Opposition, and then the Parliament should be actually functioning on the West Bank with a Leader of the Opposition giving out about Fatah and giving out about Hamas.
I'm not even sure the people themselves particularly believe in that, but that may be getting a bit harsh. And certainly their Western supporters never talk about it. When have you heard a pro-Palestinian person in the West saying Hamas should have elections? At least within Gaza. I mean, they've been there since 2006 with no elections. So you never hear it. You don't hear it in Ireland. You don't hear it from any of the anti-Israel people.
So why is there no call for elections? Well, from the Palestinian point of view, it's they don't believe in democracy. That's this weird Western idea that we believe in. They don't believe in it. From the point of view of their Western supporters, they don't seem to care if these people have the vote or not.
---
Arabs in Israel
So let me move on from voting to society. Because what I need to consider is what Israeli society consists of.
Israeli society is a model of multi-ethnic, multicultural, multi-religious existence
, where Jews, Christians, Muslims can all worship freely, can change religion freely, can criticise religion, can be secular. Sure there are frictions, like in Ireland, between secular and religious. But fundamentally it's a Western type of society where the individual is free. It's also the most Muslim Western country in the world. I regard it as a Western country, defining a Western country as a liberal democracy. It's 18 percent Muslim, which is a hell of a lot more Muslim than the USA, which is 1 percent, for example.
---
Arabs in Israeli government
So what does this mean? Do all these Muslims, do all these Arabs - most of the Arabs are Muslim, but not all - do they not have the vote? Well, no, they do have the vote. Not only do they have the vote. At the moment they're in government.
Now, what kind of Mickey Mouse apartheid state is that? You're doing it completely wrong, this apartheid business, having your Arabs in government and Arab political parties.
But that's how it is, because the government is like a snapshot of Israel, where people coexist, all in freedom. All loving this kind of Western - if we call it Western, maybe it's wrong to call it Western - but it's the free society.
So the Cabinet includes an Arab Muslim. And he's not in the Arab Party. He's in another party. He's in a mainstream party. And he's Arab Muslim. He's not Arab Christian. So let's just have a look at a little chart showing the voting here:
satanic
or something. (I'm not saying you think they're satanic, but you're probably against them.) So this is an Arab member, a hawkish member, of the Likud Party. And he actually became a Minister not long ago. So how does he fit into this whole model that Arabs have a terrible time in Israel.
---
Arabs in powerful positions in Israel
Now, I mean, what can we say with this one? You know, Apartheid, you're doing it wrong.
You actually have an Arab President. So there was an Arab President. He was acting President in 2007 and he's Arab. And he was the President of Israel for a while, a short period, acting President.
Okay, maybe that was a freak event, right, [that] you get an Arab President.
Right, Supreme Court judge anybody?
So an Arab judge who jailed an Israeli President, I mean, how many people in Ireland even know this happened.
You know, an Israeli President was convicted of sexual assault. And the judge who jailed him was Arab. So that's this fellow here, George Karra. He jailed the Israeli President for rape. So you know, how can that happen? Well, that can happen in a society like ours, where everybody has equal rights. That's it. That's how that kind of thing can happen.
So obviously, they're doing the international conspiracies wrong as well, and letting the Arab Muslims in on those too.
And they're not getting paid less
, I'd say, contrary to the apple pickers or whatever [Arab farm workers of 1987 that Boyd Barrett mentioned].
These guys are getting paid serious money.
So they're not getting paid less than their subordinates.
So okay. So that's pretty amazing. And then you have cultural things as well. And there's some lovely things here. I've an endless series of these.
---
Israeli Arab opinions
Well not really. I mean, look at this poll. 65 percent of Israeli Arabs are proud to be Israeli. So you know, again, how many people around the world would be absolutely shocked by that poll? It's not 65% of Israeli Arabs want to destroy Israel or something. It's 65% are proud to be what, to be Israeli. Even the word "Palestinian" is viewed as an insult by many of the Arab population of Israel. They say: "No, I'm an Israeli Arab. I'm proud of this country that I was born in and has given me opportunities and that I love."
---
Israeli Arab stats
Now, isn't that wonderful? And not only is that great, but to be honest, I mean, you know, isn't this something for everyone to be proud of, everyone that's involved in this, you know. That Israel can be proud of these numbers. That they're not treating the Arab population - there's nearly 2 million Arabs, by the way, in Israel - they're not treating them as serfs or slaves or something.
And the last I heard was 1.9 million. Oh, no, that's just Muslims [in the chart]. It's 1.9 for all Arabs. So it's 1.7 or whatever [for Muslims].
So what kind of ethnic cleansing is that? What kind of country is that where the population of Arab Muslims can absolutely explode over the decades? It doesn't fit the narrative.
But I guess the ethnic cleansing will kick in at some point and they'll start reducing.
That's Jerusalem.
---
Gaza
Okay. Now I want to talk about Gaza.
So let's say Israeli Arabs are doing fine. And finally, the sort of promise of this liberal democracy has been achieved in Israel. And the Arabs who are lucky enough to be in Israel are having a great life. And they have all the possibilities of anybody in a rich modern country.
Well, isn't it still appalling in Gaza and the West Bank? So, yeah. We've got to look at these things. So Richard said that Gaza was in a condition of absolute devastation, had been destroyed, that people were starving.
Absolutely, it's horrible - any place is absolutely appalling - when there's a war on. But when there's no war on, places like this exist. It's a real photo. It didn't make it up.
This shop is nicer than any shop in my entire childhood. My whole childhood in Ireland, 1970s and 1980s, this shop is way nicer. So if this is the Warsaw Ghetto, I grew up in something worse than the Warsaw Ghetto in 1970s Ireland. This is not the Warsaw Ghetto. This is a modern place. It's a modern supermarket. It doesn't fit the narrative.
---
Gaza is the simplest problem in the world
Gaza is the simplest problem in the world. [Running out of time.] I'm going to have to bail out on the West Bank, which is the most complex problem.
Gaza is the simplest problem in the world. I actually have a solution to Gaza and my solution is just stop. That if Hamas just stops, stops the war, stops the rockets, just stops, then you can just live like that [previous slides] all the time. You can have your shops, you can have your cafes, your swimming pools. There are no airstrikes, there's no rockets coming over. There's no ground invasions. Nothing.
I actually say this to people online. I say Gazans should abandon the struggle and pursue shopping and life. And that drives people nuts. But honestly, it's my philosophy. My philosophy is I want everybody to live at peace and be rich, or at least prosperous.
So I want all those Gazans to live in peace. I want them to enjoy their shops and everything. And there's only one thing that's needed: Just abandon the struggle and start getting more selfish and just make Gaza a good place.
---
The West Bank
Now the West Bank is more complex. [Need more time.] ... Look, the West Bank is an absolute mess compared to Gaza. And the real reason it's a mess, from what I'm talking about here, is that there's no obvious border. So with Gaza, Israel, as you know, eventually gave up on the settlements, kicked 8,000 Jews out, defined a border, that's it. So that's the border, there's not going to be any other border. The West Bank is an absolute mess, and it's a mess on all sides. Right. I'm not saying it's a great situation. I may not even speak for all pro-Israel people. Don't get me wrong, there are different views on the pro-Israel side.
It's a mess that has evolved due to history and you can kind of see various reasons why it evolved, but it's a mess all the same.
So this is a sign. The reason I picked this sign is it's outside Jericho. Jericho, if you know your Bible at all ... is an ancient city of what, of the Jews. So Jericho is an ancient Jewish city and Jews aren't allowed in.
So the area outside of Jericho, look at this for an absolute mess:
[Negotiations for extra time.]
All right. ... It's very hard to do the West Bank quickly. I'm talking about the current mess of a situation. I'm not going to be somebody saying: Well, this was all great. It was a great idea to end up in this position or whatever. All the decisions everybody made were right. I'm not going to say that. I'm going to say it's a mess. So what is the solution to that?
---
We want West Bank Arabs to have a good life
Well, first of all, again, I want you to understand, I think I do speak for most pro-Israel people that we want all these people here, the Palestinians who get to live here, we want them to have a good life. And we want all the Jews who live here to have a good life. We don't want the Jews all expelled from here to solve something or other. We don't want the Palestinians all expelled. I'd say I speak for 90% of pro-Israel people.
Nobody wants anybody expelled. Everybody wants everyone to have a good life. Is that possible?
Well, I'm actually here to say: No, it's not.
At least it's not without some fundamental changes. Which probably aren't going to happen.
tripling
from the start of the occupation over here up until, you know what happened here, Arafat launches the intifada and the whole economy goes to hell.
So that brutal Israeli occupation that you were complaining about, made the Palestinians three times richer over that period, up until the intifada.
[Talk interrupted.]
From
1:35:10
to 1:37:50.
[I continue with my slides from the interrupted talk.]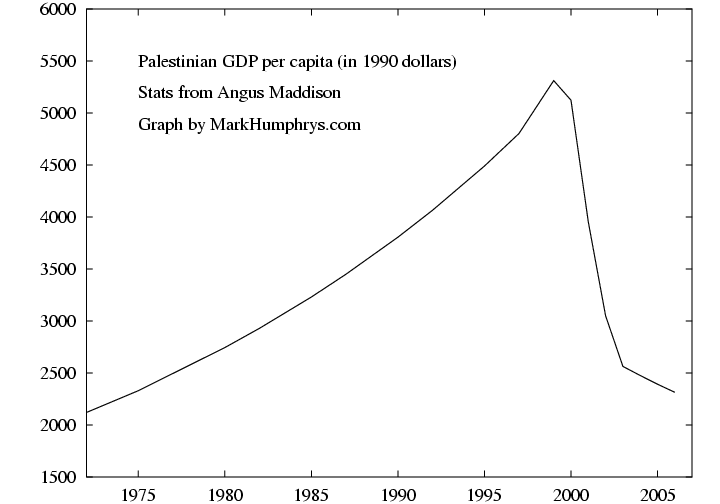 Palestinian GDP per capita under occupation.
Stats from Angus Maddison.
Look basically, I love this [LHS of graph]. Your GDP increases 3 times. You've got a nice society. You've got shops. Maybe you've got tourism, if you don't kill the tourists. That's the future. I hate this [RHS of graph]. This is Arafat and suicide bombing buses.

As at
2018
, Israel was issuing 100,000 work permits to Palestinians.
There are a vast number - there's 100,000 -
about 200,000 work permits for Palestinians
. And that's what we want to see. We want to see Palestinians participating in the Israeli economy.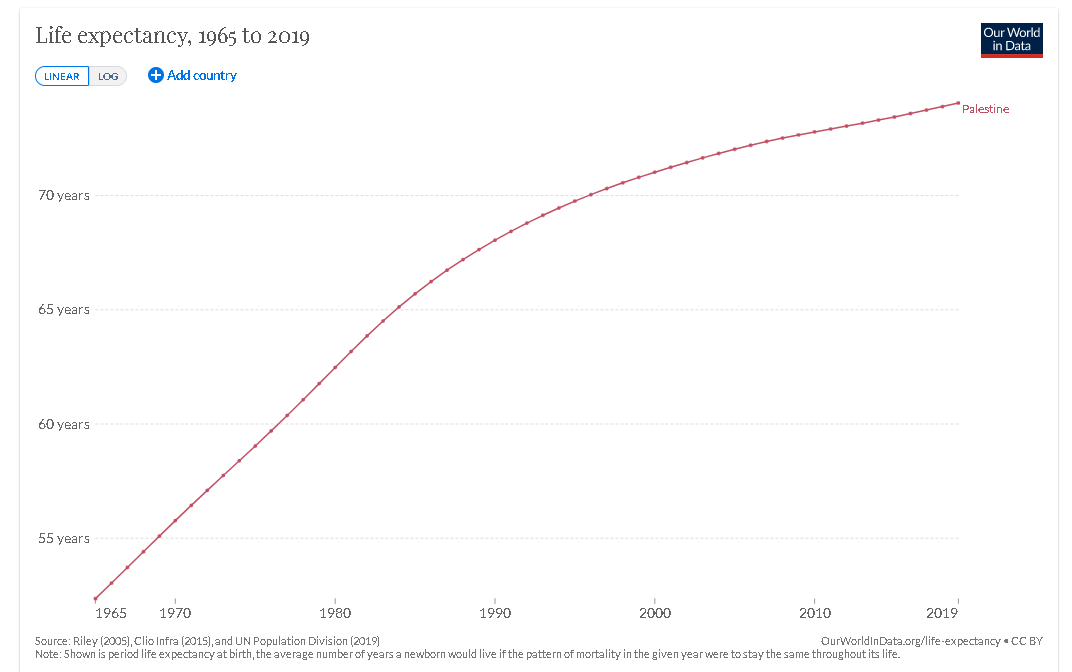 Palestinian life expectancy under the "brutal" Israeli occupation.
From
Our World in Data
.
Look at their life expectancy. Mr. Boyd Barrett has this whole narrative about how brutal the whole thing has been for Palestinians. Take a look at their life expectancy. This is "Our World in Data". The data is out there.
Their life expectancy rockets ever since occupation began.
It rockets up.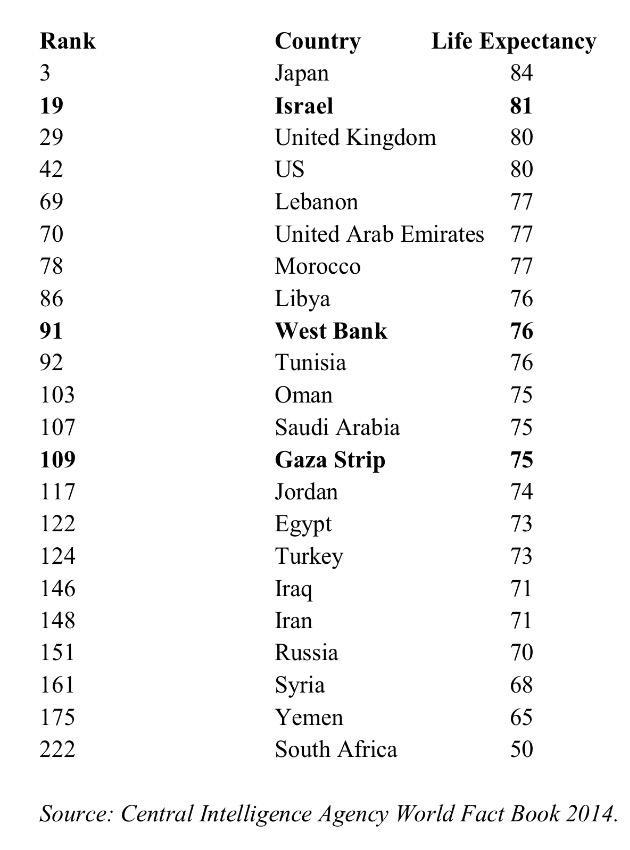 Gaza and the West Bank have higher life expectancy than their neighbours
Jordan, Syria, Egypt and Iraq
.
Turkey (lower life expectancy) sends aid to Gaza.
Here is life expectancy. Gaza and the West Bank have higher life expectancy than Jordan, Syria, Egypt, Iraq, and even Turkey, which sends aid to Gaza, on
ships full of jihadis
.
So they have higher life expectancy. How does that happen?
---
There is no solution
So is there any solution to the West Bank?
Solution to Gaza? There is. Some of you don't like it, but the solution is to just stop, and you "choose life", as they say.
The West Bank: I don't think there's any solution. The solutions that tend to be offered on that [anti-Israel] side are just:
Plan 1: End security
End security, so everybody can go everywhere.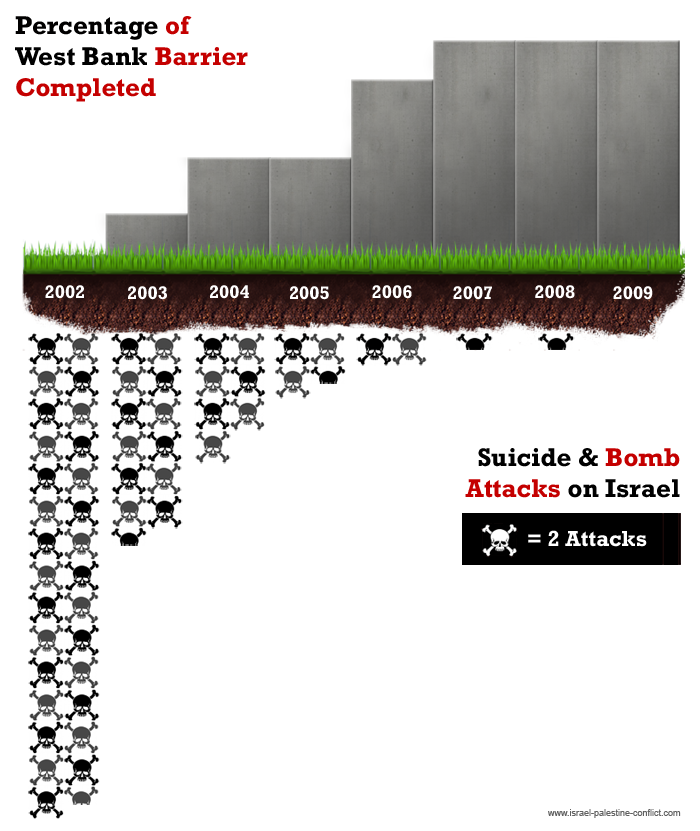 1. End the checkpoints.
2. Demolish the wall.
3. Bloodbath.
Well, that just means suicide bombs everywhere. So: End the checkpoints. Demolish the wall. No.3: Bloodbath.
Plan 2: Deport the settlers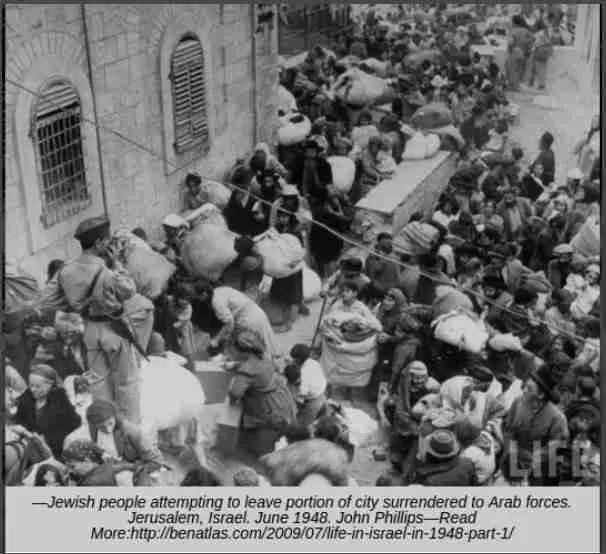 Jews being
expelled from the Jewish Quarter of Jerusalem
in 1948.
Some Westerners want to expel them again, for "peace".
1. Ethnically cleanse 0.6 million Jews.
2. Bloodbath.
The other thing [shows deportations]. Now, in fairness, Mr. Boyd Barrett doesn't seem to want deportations or anything, which is great because some people do. Which is: We're going to get everybody out from the 1967 borders, deport all the settlers. There are loads of people who want that. We ethnically cleanse 0.6 million Jews. And if you can live with that, then you get a bloodbath.
So you don't get any kind of reward for this ethnic cleansing, which is a terrible crime to begin with, but it doesn't even achieve anything. Absolute disaster.
Plan 3: One-state solution
The third option is a bit more like Mr. Boyd Barrett's, which is a one state solution. It may or may not bring in back
the 7 million people
, 95% of whom never lived in Israel. So you bring them all back. Again I believe that'd be a bloodbath. I'm just reporting what would happen. So I don't think there is any solution.
There is no solution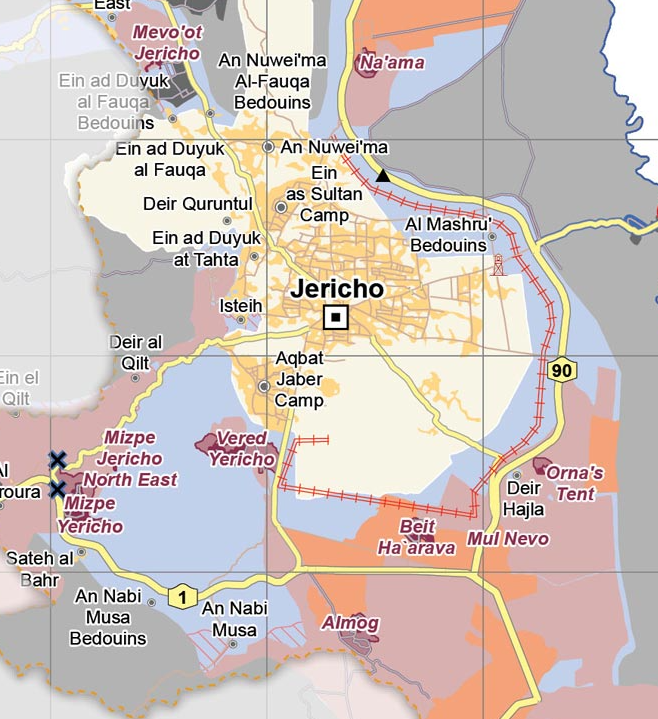 There is no solution.
There's no solution for this terrible mess here [Jericho picture]. Except there is one solution. There's only one solution.
[Puts up slide saying: "The Palestinians need to stop the war."]
And that's it.
---
---