Crime - Crime and the Internet
Crime and the Internet
This page is not about online crime. But rather about the difficulty of criminals in hiding information about their crimes in the world of the Internet.
The Internet is a serious threat to the privacy of criminals. It used to be that they were named in soon-lost newspaper reports. Now they are named online forever.
Privacy - friend of the thief, kidnapper, rapist, torturer and killer.
Now, criminals are named on the Internet forever.

Crimewatch UK - Another example of how the Internet can be used by the "good guys" as well as by the bad. All unsolved crimes should be listed on the Internet, searchable by area. All stolen property should be listed and described online, searchable by type.
Crimeline (Ireland)

Sex offender registries
---
In a small community, everyone knows you, and it is hard to get away with certain crimes. Commit one bad crime and it becomes hard to live there any more. Everyone will shun you. Potential employers and potential girlfriends will know about you. You may have to leave town and start again. This "public shaming" is a powerful
deterrent
to many crimes.
In the move to big anonymous cities, that deterrent was lost. But the Internet may be bringing it back. And that may be a good thing, not a bad thing. Criminals, before you act, consider this: What if you are caught, and every future girlfriend is only one Google search away from seeing what you did?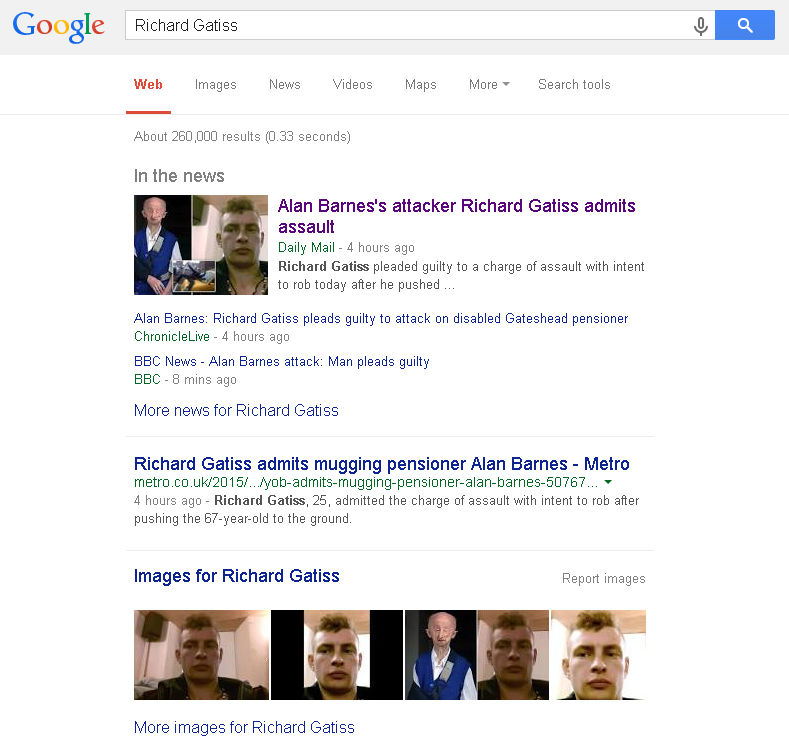 Richard Gatiss mugged a tiny disabled pensioner in 2015.
For years to come, whenever any potential girlfriend Googles
"Richard Gatiss"
, she will get this.
A fate worse than prison?
Is this wrong? That you can never get your life back after doing such a thing? That his name is poisoned forever?
No. You can get your life back. There is one way and one way only he can restore his name: Devote years of his life to the care of the elderly and disabled. Eventually, if he is sincere, the media will cover that story and cover his redemption, and it will neutralise the poison in his Google hits.
---
The Guardian publishes "Erwin James", who served 20 years in prison, and is now free to pontificate to the rest of us.
For 9 years, from 2000 to 2009, until forced to do otherwise, the Guardian did not have the guts to tell us (a) his real name, or (b) what he did. One presumed he was a killer, but they wouldn't tell us. Nor would they tell us his name. Typical Guardian.

Brilliant. He is outed in 2009. Hurray for the Internet:

It is ironic that the Guardian's favourite prisoner was a queer-basher.
Imagine what the Guardian would say if another newspaper published a column by the killer of Matthew Shepard or Brandon Teena.
Even today, the
Guardian
won't tell you his real name or what he did.


A similar case: Wilbert Rideau writes for Mother Jones magazine.
They neglect to tell us that he killed a female bank teller in a bank robbery in 1961.
---
Murderer John Hirst appears on TV, showing no remorse or sensitivity.
He expresses no remorse about the woman he killed.
He even grins about it.
Search for
more
.
---
Wolfgang Werlé and Manfred Lauber
murdered 64 year old actor
Walter Sedlmayr
in 1990. They were involved in a business dispute with him.
They have taken legal cases to stop people talking about this. Bizarrely, they consider that they have "served their time" and we should not be allowed to talk about this any more. Even more bizarrely, they think suing Internet sites is a good way to remove their names from the Internet (as opposed to propagating their names).
As at Feb 2011:
In a Google search for Wolfgang Werlé, the entire first page is all about the murder (except for a single link about another Wolfgang Werlé).
In a Google search for Manfred Lauber, the entire first page is all about the murder.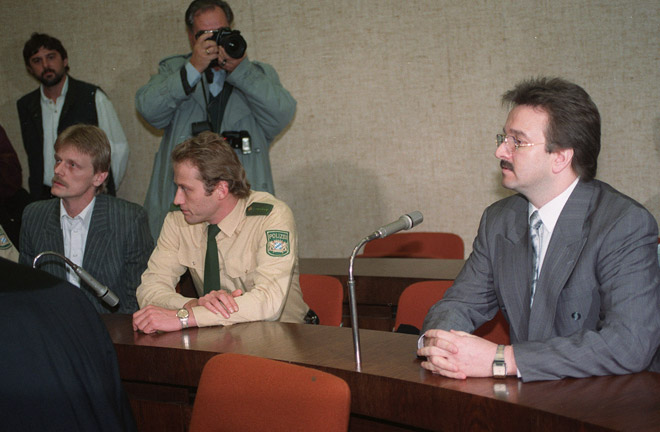 Manfred Lauber (left) and Wolfgang Werle (right) murdered a 64 year old man in 1990.
They say we should not be allowed to talk about this any more.
Photo from
Wired
.
---
The Streisand effect. The attempt to remove information from the Internet can have the unintended consequence of publicising the information far more widely.

Brett Kimberlin spent many years in prison, and has been trying to stop people talking about his past. A Google search for "Brett Kimberlin" shows that isn't working out very well.

German jihadist Marc-Daniel Jungnitz registered the terrorist site millatu-ibrahim.com, and then got upset when anti-jihad people pointed out its publicly available whois record with his name on it. He even hired a lawyer to try to stop people publishing his name.

This is ironic because the site advocates the overthrow of the democratic order and its replacement with an Islamic State. It is a violation of German law to advocate the overthrow of the democratic order.
Millatu Ibrahim banned in Germany, June 2012, after massive police raids on homes, meeting halls and mosques. "Interior Minister Hans-Peter Friedrich ... said authorities believed there were preparations under way to replace the German constitutional state with Sharia law, and warned that anyone who does so can expect to face prosecution." It is illegal to campaign for sharia law in Germany. Nice!