Ewan MacKenna
Irish sports journalist
Ewan MacKenna
has a deep hatred of Israel, and has hurled a lot of abuse at pro-Israel people.
Personal abuse, libel, calling me racist, targeting my job. I had to block him because of his behaviour.
However
However, he may be changing. He sent me a private apology for some of his behaviour, and I do give him some respect for that.
The fact is, politics makes people angry. A lot of politics is meme competition (in the original sense of the word "meme") rather than debate and logic. So people think they are fighting Nazis when all they are doing is promoting memes that are good at replicating (in the original sense of the word "meme").
---
Feb 2014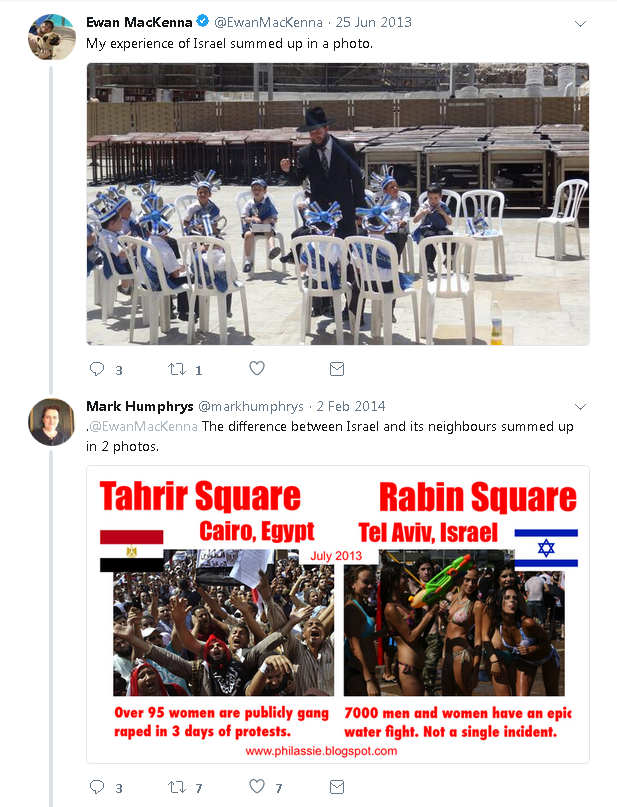 In
Feb 2014
I debated him for a bit. It started out as above.
Frankly, his tweet is pretty creepy. A bit like people who "sum up" America with a photo of some evangelical megachurch.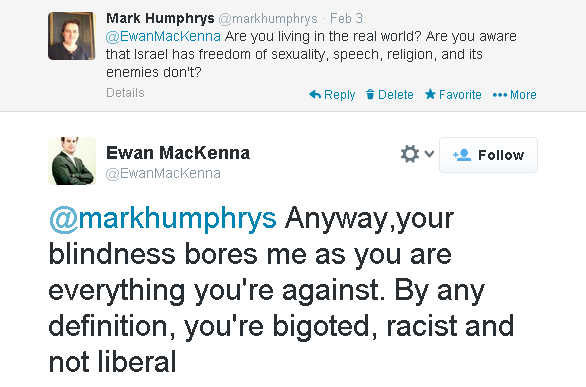 The debate went ok for a while, but then Ewan MacKenna started hurling abuse and libel.
He libels me as "racist" because I defend Israel.
I lost interest in debating him after that.
---
May 2018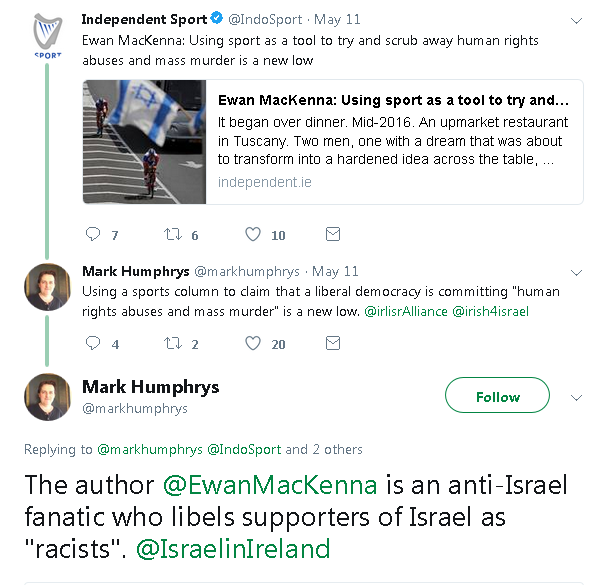 Debate kicked off again in
May 2018
in response to an
anti-Israel article
by MacKenna.
I suppose it's my fault for tagging him in.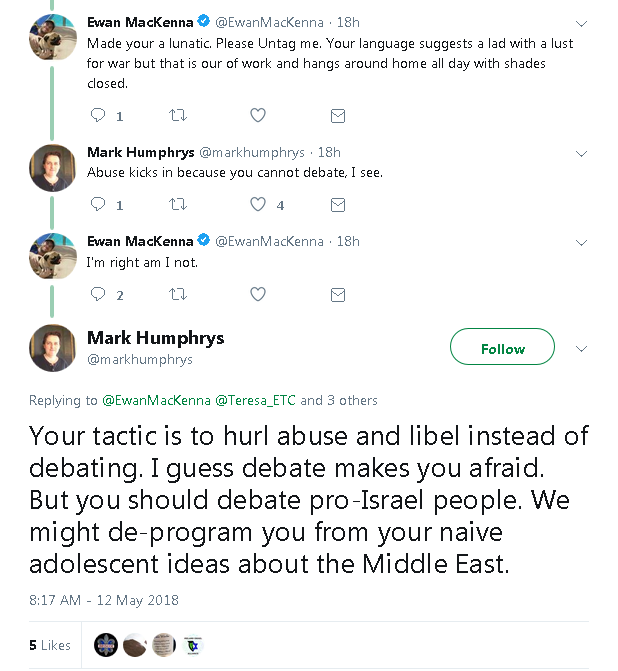 There was debate for a short time, but it did not take long before MacKenna got into some fairly sad abuse.
There was a lot more like this, as he tried to "imagine" my life.
It is easier than debating I guess.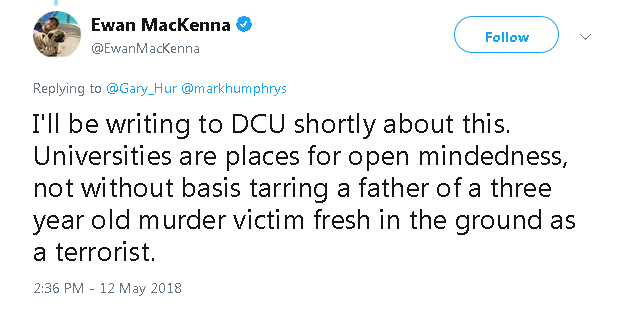 Finally he targeted my job so I blocked him.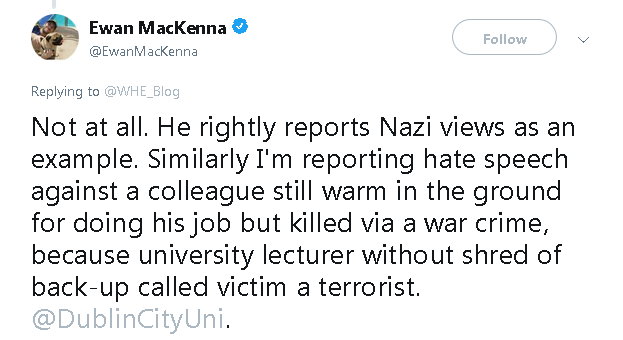 He
tags in
my employer.
---
Him targeting my job is based on an error
What is hilarious is that him targeting my job is actually based on
an error
.
I linked to the evidence that one of the journalists killed in the Gaza fence riots, Ahmed Abu Hussein, was a PFLP terrorist. To summarise: "the PFLP's military wing issued formal death notices for him; at his funeral red PFLP flags were carried; and the Ahmed Abu Hussein's Facebook page posted notices glorifying the PFLP".
MacKenna then confuses Ahmed Abu Hussein (who was not married) with Yaser Murtaja, another journalist killed in the riots, who was the father of a 15-month-old (apparently not 3 year old) son.
MacKenna says he knew Yaser Murtaja, so that is why he goes crazy. But the whole thing is based on his lack of reading skills!
Maybe he would have targeted my job anyway. He seems like that kind of person. But this complaint at least is just based on his error.

Later it turned out Yaser Murtaja was a terrorist too: Israel said Yaser Murtaja was an officer in Hamas. Also here.
---
June 2020: Insane libels from MacKenna
I block MacKenna because of his horrible behaviour, but he returned to my world in June 2020.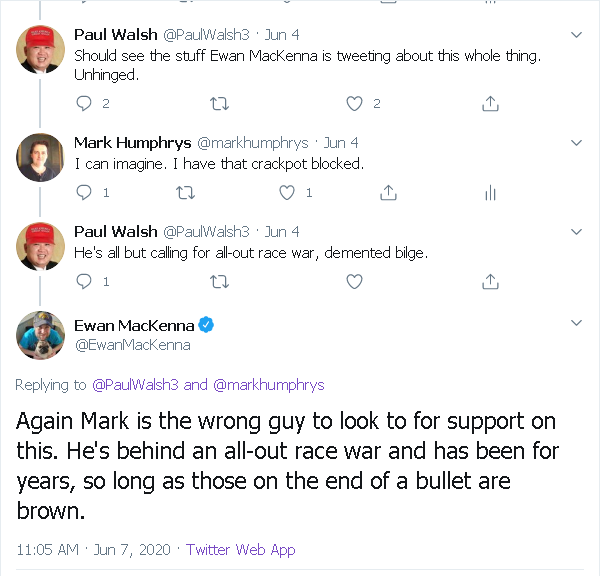 Background: In June 2020 I criticised the "Black Lives Matter" rioting in London.
This was the rioting after the death by police of George Floyd in America, which produced a kind of mass hysteria worldwide.
A guy called Paul Walsh, who is not me, has a go at MacKenna. What Walsh says is nothing to do with me.
But MacKenna, 7 June 2020, responds with the most vile libel about me. He claims I support "an all-out race war .. so long as those on the end of a bullet are brown."
That is some real libellous filth.
---
Apology
In May 2021, MacKenna sent me a private apology for some of his behaviour above. Notably for targeting my employer.
"My views on the Middle East haven't altered, but my views on how to engage with respect have."
He deserves some respect for that. I am impressed by the apology existing at all. Though less impressed when this page reminded me of everything he said. For example, just last year he said I support "an all-out race war .. so long as those on the end of a bullet are brown." What am I meant to do with that?
Anyway, maybe MacKenna is changing. Maybe he is realising that supporters of Israel can be just as interested in human rights as he is, just they think his arguments are nonsense.