1st troll: "OldDumpy" (Pretends to be Jewish. Hates Israel. Defends anti-semitic Jew-killers Hamas.)

2nd troll: Conor Farrell (Hates Israel. "Fuck Israel.")

3rd troll: "culturalfatwa" (Hates Israel. Defends anti-semitic Jew-killers Hezbollah.)
"OldDumpy" - An anonymous Israel-hating troll gets me banned from Twitter
As a supporter of Israel who uses my real name, I am a constant target over the years for Israel-haters and Jew-haters. They have
targeted my workplace
and
threatened violence
and set up
fake Facebook accounts
in my name.
In July 2019, "OldDumpy", an anonymous Israel-hating troll, got me temporarily banned from Twitter for supporting Israel and opposing terror against Jews.
I have said for years that Web 2.0 is utterly broken. This is a good example.
---
This came from a thread
here
in July 2019.
The thread was about a Palestinian terrorist who stabbed a soldier in June 2017 and was then shot. Israel-haters were angry that the terrorist did not get instant medical help. The entire thread was full of anti-semitic hatred of Israel and Jews.
I pointed out that she stabbed a soldier. Corbyn supporter and Israel-hater "OldDumpy" did not like that explanation. And then it went as follows.

I told him:
"Tell your jihadi friends to not stab people."
Then he went insane.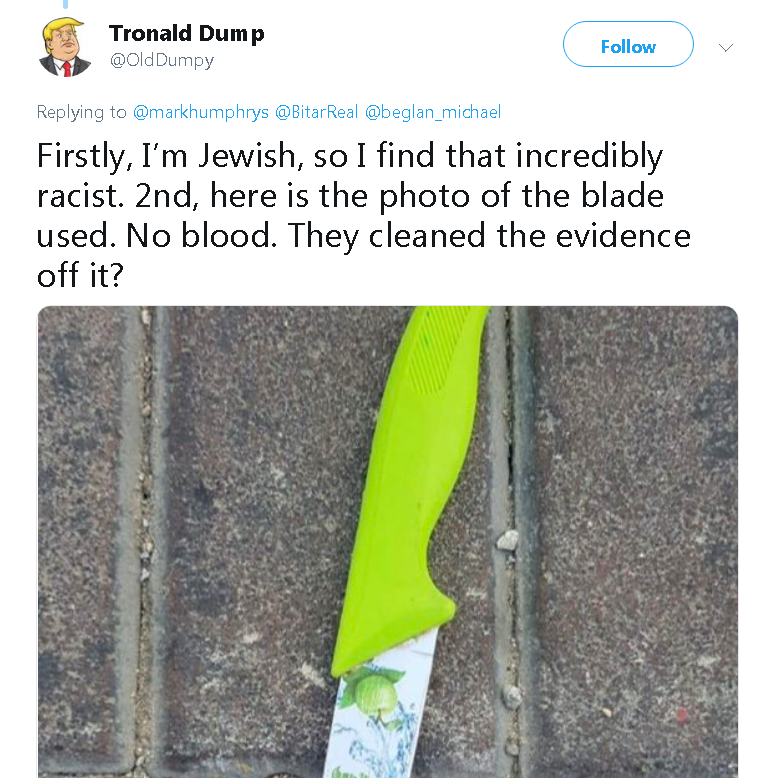 The troll suddenly declares he is "Jewish" and saying "Tell your jihadi friends to not stab people" is "incredibly racist".
Even though I did not know he is Jewish.
And even though he is not Jewish.
And even though he is literally defending a jihadi.


So I did not believe the troll is Jewish.
And then he really went insane and reported me.
Was that mean of me? Not really. I was right. He is not Jewish.
---
The Corbyn strategy
The Corbyn bots have a new strategy: Pretend to be Jewish. Then, if anyone is mean to them for their hatred of Israel and support of terror, claim they are being targeted because they are "Jews". As a strategy, it is both evil and clever. And it works. so expect more of it.
---
Is the Israel-hating troll Jewish?
So is the Israel-hating troll Jewish? No.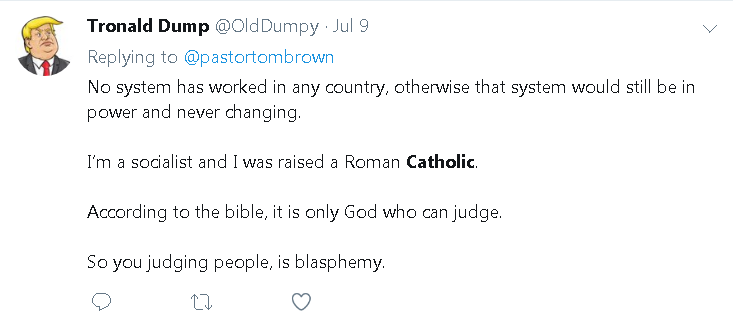 The troll
admits
he was raised Catholic and the whole "I am Jewish" thing is a lie.
---
What Twitter said
Twitter ludicrously claimed that I - a decades-long supporter of Israel - was targeting the anonymous Israel-hating troll because he is "Jewish".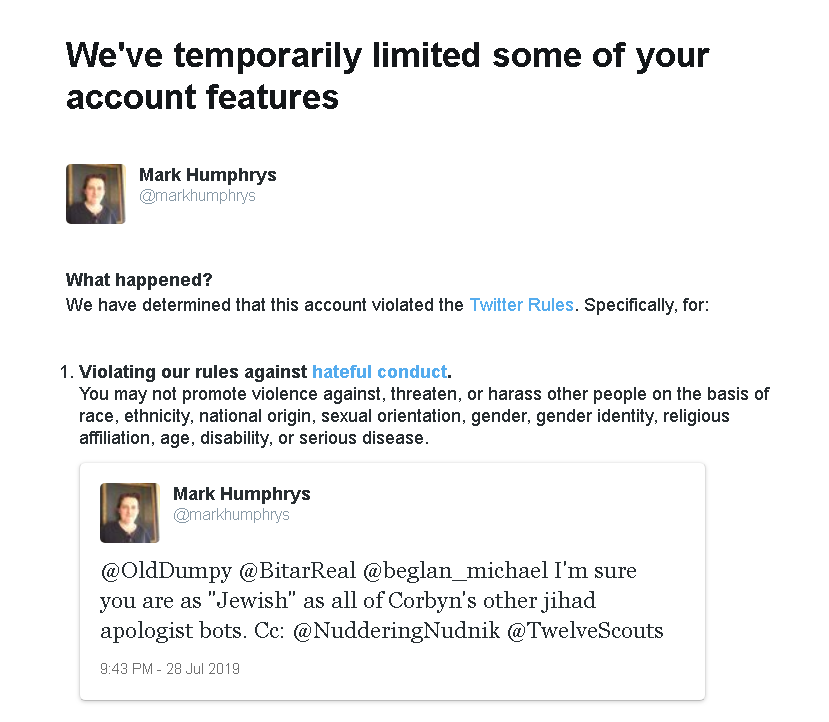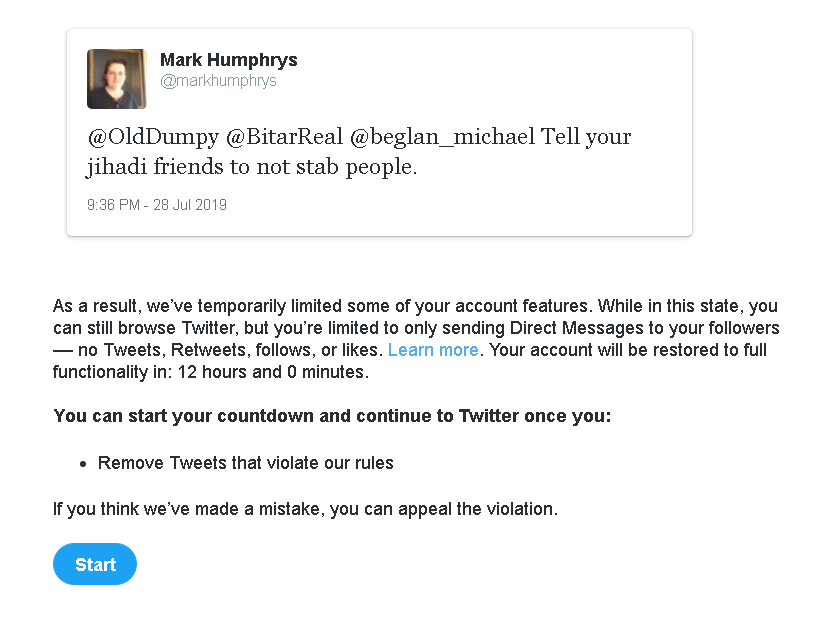 I just deleted the tweets. Why bother with appeals and have my account locked for ages until some low wage fool makes a judgement.
I deleted every tweet that referenced the troll. It is hopeless complaining about this nonsense. What is needed is a new Web 3.0 where this does not happen.
---
Twitter's business model: Listen to trolls. Ban regular users.
Compare me to "OldDumpy":
Mark Humphrys:

Uses real name.
Publishes in national newspapers.
Debates in public and on radio.
Been on Twitter for 10 years.
4,300 followers. Lots of Twitter users interested in my stuff.
Would happily pay Twitter a yearly subscription to use it.
Supports Israel. Fights anti-semites.

"OldDumpy":

Anonymous fake troll.
Hides his name with a stupid "Trump" nickname.
Been on Twitter for 1 month. Yes, 1 month.
70 followers. No one interested in him.
Hates Israel. Defends anti-semites and terrorists.
Pretends to be Jewish in order to make fake complaints.

And Twitter listens to the complaints of the latter user in order to suspend the former.
What a business model! Like taking the side of a drunk who invades your restaurant, and kicking out your regular customers.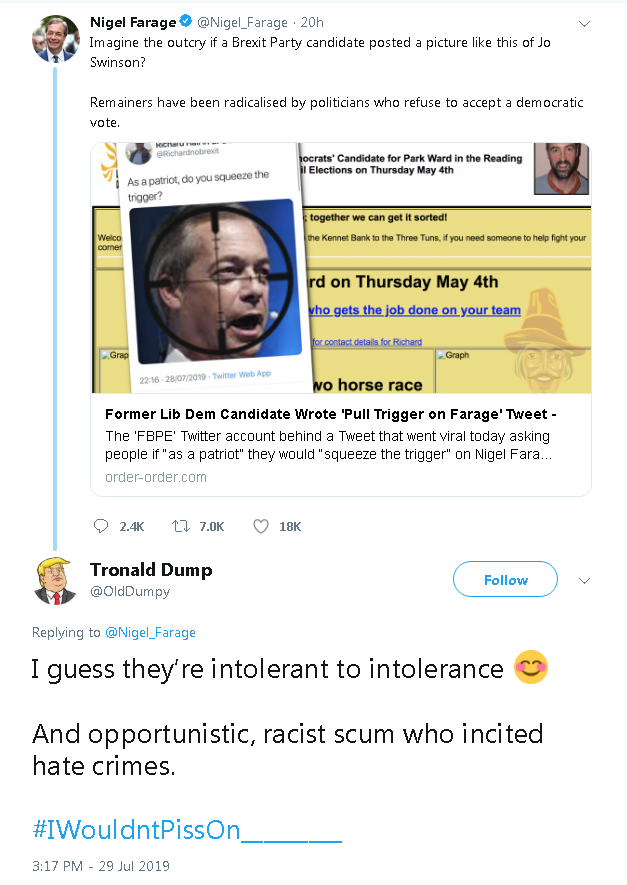 The troll
supports death threats
.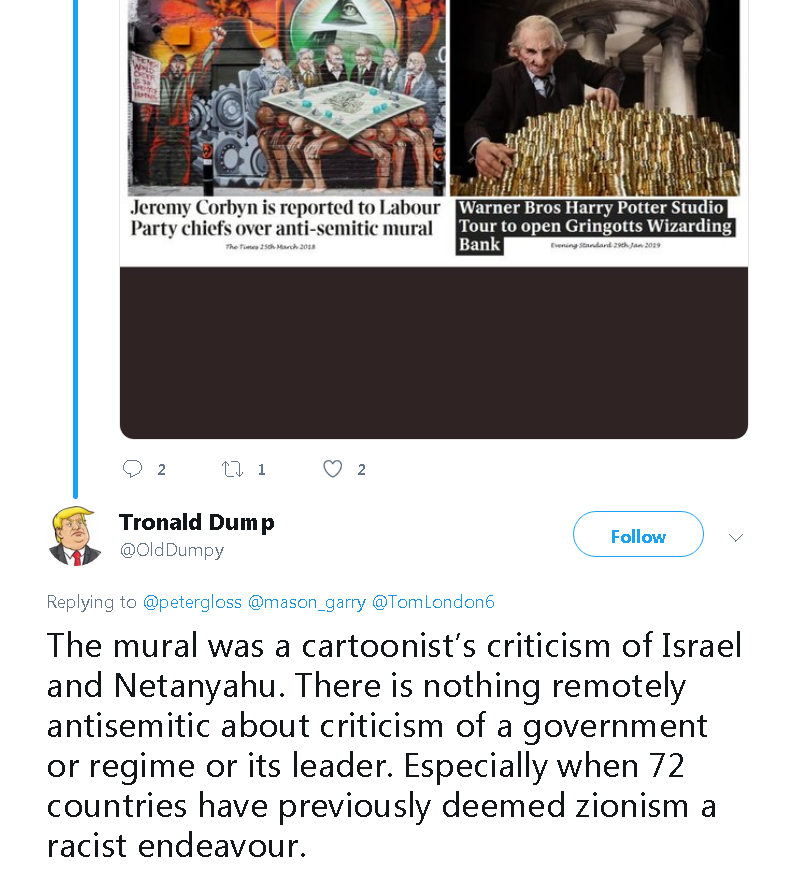 The troll defends an anti-semitic mural.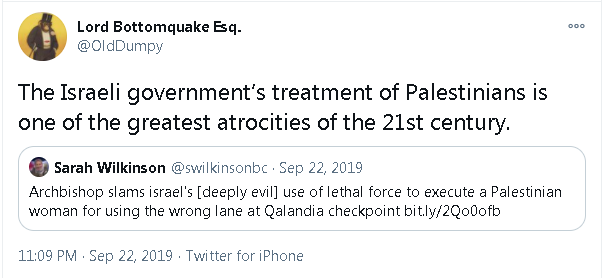 In Sept 2019, a Palestinian jihadist tried to carry out a knife attack at a checkpoint.
She was shot in the leg but unluckily this killed her.
In response to this, the troll declares that "The Israeli government's treatment of Palestinians is one of the greatest atrocities of the 21st century."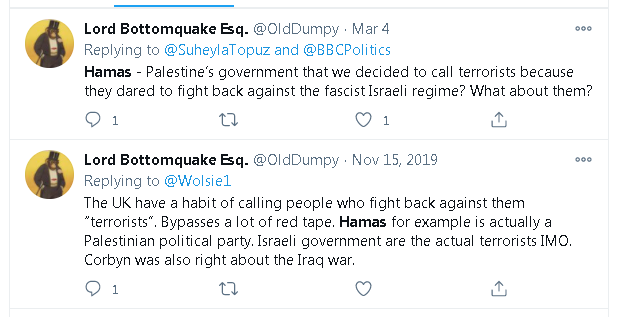 A "Jew" who defends the anti-semitic killers of random Jews on the street.
---
An Irish Israel-hater called
Conor Farrell
("APowerOfTen") joined in with "OldDumpy" and made a fake report about me. Shame on him.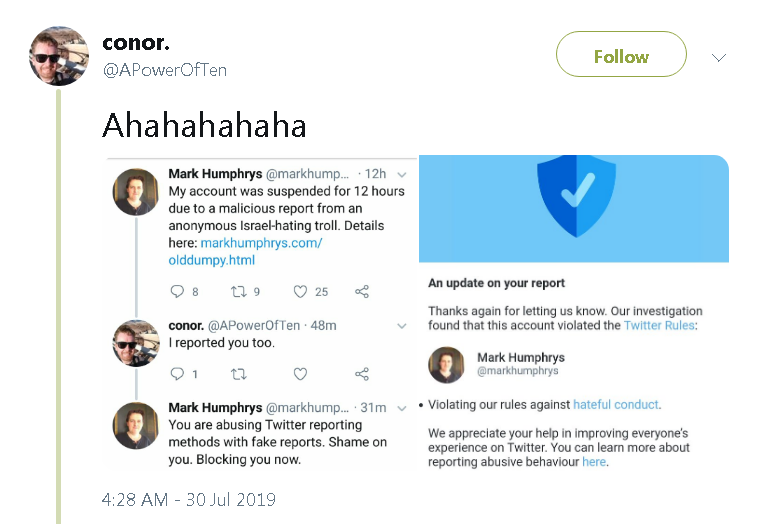 Conor Farrell's
fake report about me
.


I am trying to discover his motivation for making fake reports about me. Any idea?


What is his motivation? Can anyone figure it out?
---
A DJ called
"Krossie" or "Kross Phader"
, who tweets as
"culturalfatwa"
, joined the above and made a fake report about me.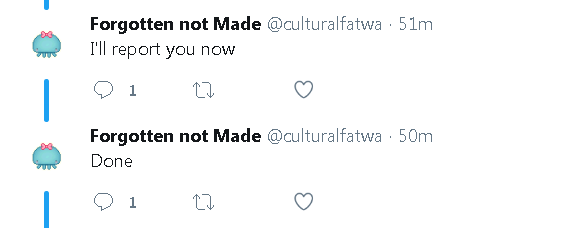 "culturalfatwa" makes a
fake report
.


I am curious about his motivation for filing a false report against me.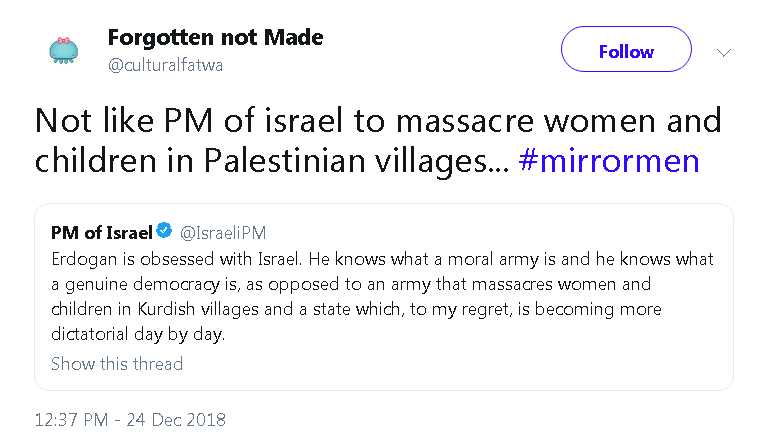 We may never know his motivation for lying about me.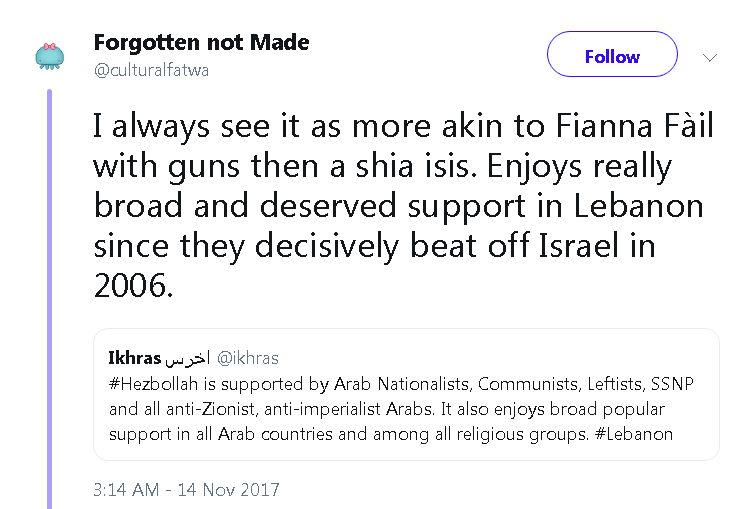 "culturalfatwa" defends anti-semitic Jew-killers Hezbollah.